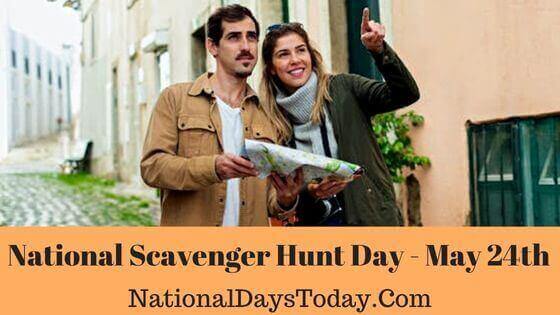 National Scavenger Hunt Day:
If you love solving clues, then you will love celebrating National Scavenger Hunt Day on the 24th of May every year.
| | | | |
| --- | --- | --- | --- |
| Year | Date | Day | Where |
| 2023 | 24th May | Wednesday | United States |
| 2024 | 24th May | Friday | United States |
| 2025 | 24th May | Saturday | United States |
Twitter Hashtags:
#NationalScavengerHuntDay
#ScavengerHuntDay
Related: Other National Days Celebrated on May 24th:
Aviation Maintenance Technician Day
Why National Scavenger Hunt Day?
The scavenger hunt is very similar to treasure hunting, where you solve a set of riddles or clues, to arrive at the final destination. However, creating these clues requires a lot of creative thinking. The time spent thinking about the clues, locations, places, themes, etc. can be quite exciting and is a valid reason to enjoy a day dedicated to this game. When there is a theme involved, there is a lot of excitement involved as well, and that is why celebrating this day can be quite exciting.
As you play scavenger hunting, it also encourages bonding between people and encourages teamwork. It gives a sense of belonging to the people participating and brings a unification among the kids as they work together. Studies also indicate that games like scavenger hunting can improve problem-solving skills among children. It gives them a sense of accomplishment as they solve every clue and readies them to face the real world. These are multiple reasons why you should have a day for this game and if not anything, it is a day to enjoy this game to the fullest.
How can we celebrate National Scavenger Hunt Day?
The best way to enjoy this day is to either participate in a scavenger hunt or organize a scavenger hunt yourself. You can choose the theme based on the age group involved in the game and hide clues and other riddles to find the final gift or answer. It can be for any age group and if you are organizing, you will need to be the narrator till the game ends.
Some cities have scavenger hunting tours. If your city has one, then this is the day for you to be part of such a tour. These tours come with a guide and you will be learning interesting facts about your city on this day as well. It could also be an excellent idea for a date night.
You can take a walk around the city and look for "hidden treasure" around you. There will be many places to explore and many things to find as you take a walk.
Share your experience in scavenger hunting on this day with #NationalScavengerHuntDay on your post to create awareness and spread the word about this game and the day.
Interesting facts about National Scavenger Hunt Day:
To make the day more interesting, we bring some interesting facts about scavenger hunting.
The scavenger hunt is used by many corporations as a way of publicity. For instance, the sportswear brand Levi's hid $100,000 in the country and conducted a scavenger hunt in 2009. The game involved finding hidden objects in 13 different places, completing challenges, etc. The campaign was called "Go Forth" and it ran for nearly six weeks.
In the year 2011, nearly 14580 people participated in the largest ever scavenger hunt conducted by Misha Collins in America.
While there are no animals, dead or alive, involved in the scavenger hunt games, the name is an imitation of the animals that scavenge dead animals. The name is also inferring to the nature of men who experience adrenaline as they hunt for clues and hidden treasure.
The longest-running game of scavenger hunt is the one conducted among Chicago's dorms where the participants have to find items based on that year's listing, starting with the list itself. The event started in 1987.
The billionaire Forrest Fenn, in the year 2010 buried a treasure, between the borders of Canada and Santa Fe and left a poem indicating its whereabouts. This treasure is yet to be found and the search is still on. Many thousands have tried to crack the poem and find the treasure with no luck.
History of National Scavenger Hunt Day:
There is no information available as to the origins of the day but we do know that the history of scavenger hunt dates back a long time in history. But the credit for the game, despite having been part of many folk games, is given to Elsa Maxwell from the 1930s. It is a popular game among all age groups and this day gives you enough reason to celebrate, no matter who or what initiated the celebration.