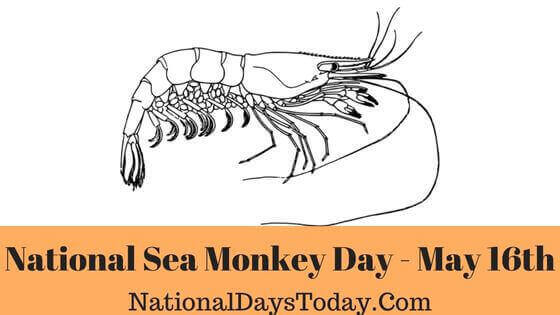 National Sea Monkey Day:
Every year, May 16th is commemorated as National Sea Monkey Day to celebrate the tiny, amazing creatures – the Sea Monkeys! Any thoughts on raring a pet? You can start with this easy-to-rare, much-loved creature today! Ever heard of them? Read on!
| | | | |
| --- | --- | --- | --- |
| Year | Date | Day | Where |
| 2023 | 16th May | Tuesday | United States |
| 2024 | 16th May | Thursday | United States |
| 2025 | 16th May | Friday | United States |
Twitter Hashtags:
#NationalSeaMonkeyDay
#SeaMonkeyDay
Related: Other National Days Celebrated on May 16th:
National Coquilles Saint Jacques Day
National Honor Our LGBT Elders Day
Why Sea Monkey Day?
The origin of Sea Monkeys can be traced back to the mid 20th century. They were so popular that almost every child had them. Most people still cherish mail-ordering their first-ever sea monkeys, which came with a mini aquarium.
Sea monkeys are technically known as Artemia Salina and belong to the brine shrimp species. They are fascinating creatures that were brought to life in a lab many years ago!
It was in 1957, that Harold Von Braunhut was inspired by the ant kits of that time, that he partnered with marine biologist Dr. Anthony D'Agostino, and began the pursuit of bringing Sea Monkeys to life with life-supporting minerals. They came up with a formula that could be added to water to create a livable environment for sea monkeys! They were scientifically engineered by cross-breeding different brine species and hence are not naturally existent creatures.
At first, they were called Instant Life and because of their long tails, were later being called sea monkeys. Their marketing was majorly done through comic books, and millions of them were getting sold each year.
Just like many animals that have traveled to space, sea monkeys have also been to space. In 1998, sea monkeys went to space along with John Glenn for about 9 days!
They stole the hearts of the young and the old by appearing in television shows like "The Simpsons", "Desperate Housewives", and "South Park". And finally, a show only featuring them – The Amazing Live Sea-Monkeys.
The sea monkeys have a short life span of two years and need feeding only once every five days thus making them low maintenance pets. They don't need much maintenance too! They are wonderful pets and don't cause any harm to our environment as they only survive in the formula created by Harold and Dr. Antony.
This day is widely celebrated as the sea monkeys make for an adorable pet for anyone who loves them!
How Can We Celebrate National Sea Monkey Day?
Buy yourself a few Sea Monkeys.
A simple way to celebrate the day is by getting yourself a few sea monkeys! You can order them online or you can buy them from pet stores and enjoy watching them grow day by day.
Help Kids Learn Pet Responsibility Via Sea Monkeys
This gives you an opportunity to educate your children about pets and pet care. It helps them learn responsibility as they feed the sea monkeys. Moreover, they are inexpensive and don't need much maintenance, so it won't be burdening for you as parents while you teach them these important life lessons.
Know children or adults who love water pets? Send them a few Sea-Monkeys today!
Share some sea monkey love!
Share your experience of having sea monkeys and useful tips to handle them for beginners by posting pictures, videos, or blogs about sea monkeys on social media today! You could use #NationalSeaMonkeyDay and #SeaMonkeyDay to share your pictures and information today!
Interesting Facts About National Sea Monkey Day:
Here are some interesting and fun facts about National Sea Monkey Day.
Sea monkeys have three eyes, and they breathe through their feet.
They display romantic characteristics as they are often found – kissing and cuddling each other to show their affection.
The creatures feed on algae too, so there is no worry about cleaning the aquarium unless it's extremely dirty.
You can eat sea monkeys for food!
The eggs of sea monkeys are frozen for storage.
If the aquarium is cold, the sea monkeys cannot grow.
Sea monkeys have the ability to change their color from white to dark red.
Female sea monkeys don't have whiskers on their chins, whereas male sea monkeys do.
Sea Monkeys are attracted to light, to find them you simply have to switch on your torch.
The perfect temperature for a sea monkey tank is 75- 80 degrees Fahrenheit.
History of National Sea Monkey Day:
The origin and the founder of this day remain a mystery. While we continue our pursuit in finding the roots of this day,  don't forget to enjoy the day with family, friends, and sea monkeys!