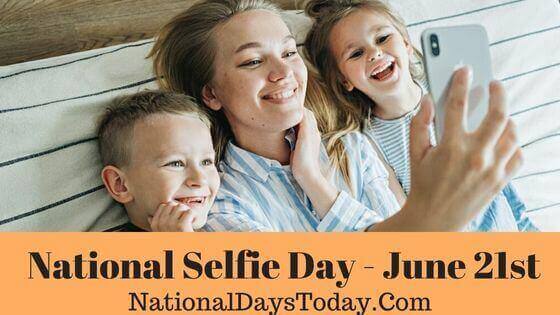 National Selfie Day:
We can't imagine the world without taking selfies. 21st June is officially considered the National Selfie Day since 2014.
| | | | |
| --- | --- | --- | --- |
| Year | Date | Day | Where |
| 2023 | 21st June | Wednesday | United States |
| 2024 | 21st June | Friday | United States |
| 2025 | 21st June | Saturday | United States |
Twitter Hashtags:
#NationalSelfieDay
#SelfieDay
Related: Other National Days Celebrated on June 21st:
National Daylight Appreciation Day
National Peaches 'N' Cream Day
Why National Selfie Day?
As noted above, our life is incomplete without taking selfies. Be it hanging out with friends or trying out the latest Instagram filter, taking selfies has become an essential part of our life. The popularity of taking self-portraits started increasing in the last decade.
So, why not dedicate a whole day to selfie lovers? Yes, this day is celebrated to encourage social media junkies to take creative self-portraits.
How Can We Observe National Selfie Day?
Since it started, selfie lovers have celebrated it in many unique ways. If you haven't observed it before, you can be creative with this special day. Let's find out how you can make this day memorable:
Kinda obvious. Be it for your social media or for a personal reason, you can start this special day by taking a selfie. Now, you can make it a special one by adding more details. For example, if you have been taking the same boring selfies, you can change the background. On the other hand, you can also use some different filters to get the perfect self-portrait. 
The idea of taking mirror selfies ain't getting old. There was a time when the craze for taking mirror selfies was at its peak. However, it decreased after the introduction of the front camera on our phones. Well, you can observe this by taking a gym mirror selfie. Gym mirror selfies are a bit trendy nowadays. So, why not give it a shot? 
Nothing better than taking a group selfie to celebrate the day dedicated to self-portraits. No matter if you are traveling with your friends or attending a family get-together, a group selfie can be the show stealer. It will be more special when you are taking a group selfie. The best thing is you can apply creative ideas to make it more memorable. 
Want to do something distinctive? You can take a self-portrait by ditching your face. Well, it's the best idea for introverts to observe this day. Plus, it's a good trick when you are not wearing make-up. On the other hand, you can show off your outfit with a headless self-portrait. 
If you want to take high-quality photos, using your phone's back camera is the best option. To take self-portraits with the back camera, you have to implement some techniques. In this case, you can watch some tutorial videos as well. If you feel uncomfortable using the back camera, you can even ask someone else to help you out. 
It's a special day for selfie lovers. And taking outdoor selfies can make it more beautiful. If you don't have a good background inside your house, outdoor is the ideal option. Plus, you can get better lighting by taking outdoor self-portraits. You can also pose with a new object to observe selfie day. For example, if you bought a new hat, it's time to take an outdoor selfie.
And Finally, don't forget to share your selfies using hashtags #NationalSelfieDay and #SelfieDay on Social media.
Interesting Facts About National Selfie Day:
Even though there's no background story of National Selfie Day, people celebrate it with full enthusiasm. If it's your first time observing this day, you can learn some interesting facts about 'selfie'. Let's find out:
Interesting Facts About Selfie
Robert Cornelius, an American photographer was the inventor of the selfie in 1839 (when 'selfie' wasn't even a word). Later, taking self-portraits became a trend during the 20th century.
The word 'selfie' was invented by a drunk man in 2002.
Besides humans, monkeys are quite fond of taking selfies. A photographer once left a camera with a monkey. And that monkey tried to take self-portraits with that camera.
Ellen DeGeneres's 2014 Oscar ceremony photo is the most popular and shared selfie. It broke Twitter with 3.4 million retweets.
Selfie sticks became the best-selling merchandise in the US in 2014. However, it was banned in several tourist places and music concerts throughout the country.
Kylie Jenner is popular for taking the most number of selfies on Instagram.
History of National Selfie Day:
As we noted before, the word 'Selfie' was invented in 2002. However, it gained popularity in 2013 after the Oxford English Dictionary made it the word of the year. In 2014, DJ Rick McNeely established 21st June as National Selfie Day.