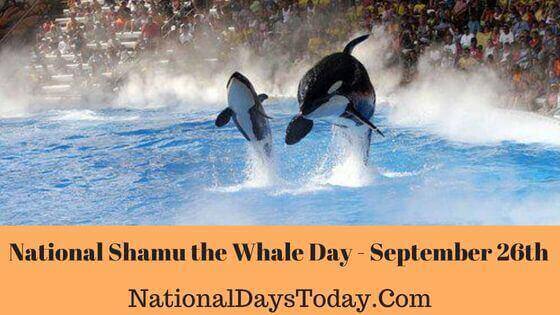 National Shamu the Whale Day:
On September 26, National Shamu the Whale Day celebrates the world-renowned Whale and brings awareness to orcas. Shamu is the title that is used in many of the SeaWorld orca whale exhibits.
| | | | |
| --- | --- | --- | --- |
| Year | Date | Day | Where |
| 2023 | 26th September | Tuesday | United States |
| 2024 | 26th September | Thursday | United States |
| 2025 | 26th September | Friday | United States |
Twitter Hashtags:
#NationalShamutheWhaleDay
#ShamutheWhaleDay
Related: Other National Days Celebrated on September 26th:
National Compliance Officer Day
National Situational Awareness Day
Why National Shamu the Whale Day?
There's a greater awareness of orcas.
For Shamu the Whale Day, we can learn more about the world of orcas and discover ways to keep them in good health.
We can appreciate the beauty of orcas.
This holiday you can watch as many documentaries about orcas as possible. We can take in the beauty and magnificence of their natural world.
We can assist in keeping orcas secure.
We can join with groups concerned about the health of orcas and also we can donate to this cause.
Reason why Whales can't be kept in Captivity?
Orca performances have existed for quite a while, and because of that, the consequences of captivity on these animals are well-documented. Through studying their behavior, it was discovered that captive whales often exhibit anger and intense stress symptoms. Due to this, some orcas are aggressive and engage in aggressive behavior; however, this isn't the usual situation with these animals.
Tillicum, who was also one of SeaWorld's most popular orcas, was infamous for killing three people, two of whom were his instructors. At first, the public was urging Tilikum to be sacked; however, marine mammal experts came forward and stood up for the orca. They claimed that Tilikum's violent behavior resulted due to the stress he was under in confinement. Over the years, we have observed that orcas aren't naturally violent, and there are no reports of non-captive whales intentionally hurting humans.
How Can We Observe National Shamu the Whale Day?
Increase awareness of orcas
It informs people of the wonder of the world of orcas. Use hashtags to share details on social media.
Watch documentaries on orcas.
Orcas often referred to as killer whales, are gorgeous creatures. Orcas documentaries are fascinating to observe.
Helping whale conservation organizations
You can donate to groups which help to keep whales secure. So we can all work together to save these cute animals.
It is National Shamu the Whale Day is a day which aims to increase awareness of Orcas. Orcas are stunning creatures that are meant to live in the blue ocean. Therefore, the best way to commemorate September 26 is to spread awareness of the whales that live on the brink of being captured by using social media to and support whale conservation groups by donating or becoming a member of help in saving orcas and the other SeaWorld Species or watch documentaries on orcas instead visiting the parks.
Learn more about orca whales and Shamu. Take a look at the videos on Shamu. Make use of #ShamuTheWhaleDay for posting via social channels.
Facts about Orcas-
We wanted to learn some of the facts surrounding orcas, so we've done it by listing our findings below. We hope everyone will enjoy what we've compiled to celebrate this holiday.
The enormous orca recorded was 32 feet long and weighed 22,000lbs.
Orcas are predators of the highest order.
There isn't any evidence of an orca killing an individual in the wild.
The wild orcas are known to have attacked vessels, however.
A female orca can have a child every 3-10 years.
History of National Shamu the Whale Day:
The Shamu first appeared as one of the Whales that became famous in the 1960s, and it was the centre of a stage show organized through SeaWorld Parks and Entertainment. People from all over the world enjoy the breath-taking performance of Shamu. Although they are known as killer whales by some, the orcas are primarily safe and enjoyable to observe, and this is why people love to see them. After the first Shamu passed away in 1971, later actors on the program were awarded the show's name as their name. SeaWorld eventually registered its name "Shamu" and has since used it to draw guests to their shows.
The significance of September 26 was that it marked the first time a mother and child survived baby Shamu in 1985. The day is observed to honor Shamu, the very first Shamu. After her demise in 2000,people started going to SeaWorld Parks and enjoy spectacular performances by killer whales worldwide.
However, orcas do better within their habitats. Many people are now encouraged to watch documentaries on orcas or figure out ways to go on a trip to their home rather than visiting parks to observe them.
The day is now celebrated more so for the awareness it brings about orcas as well as other sea mammals of enormous size. In celebration of Shamu the Whale Day, people gather to support killer whales living in a harsh environment. Many organizations are concerned about the well-being of orcas, and these organizations aid in keeping an eye on our favorite orcas while also helping ensure their protection.