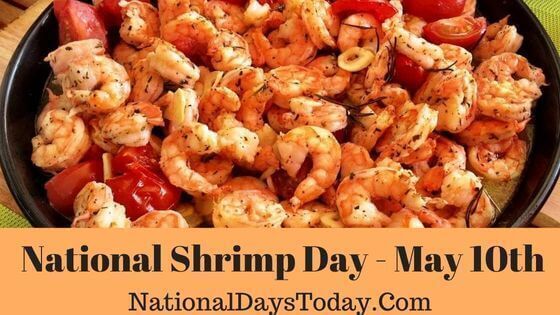 National Shrimp Day:
The beloved shrimp is celebrated in America on May 10th as National Shrimp Day. This day has provided chefs and seafood sellers, among others, an opportunity to appreciate the most loved crustacean in the nation.
| | | | |
| --- | --- | --- | --- |
| Year | Date | Day | Where |
| 2023 | 10th May | Wednesday | United States |
| 2024 | 10th May | Friday | United States |
| 2025 | 10th May | Saturday | United States |
Twitter Hashtags:
#NationalShrimpDay
#ShrimpDay
Related: Other National Days Celebrated on May 10th:
National Clean Up Your Room Day
Why National Shrimp Day?
Many might have heard that shrimp and prawns are essentially the same creatures, just in various sizes, but this isn't close to accurate. There are fundamental differences between the two beautiful crustaceans. However, both shrimp and prawns are decapod crustaceans, indicating they have ten legs and external skeletons. However, that's where their classification parallels end.
Shrimp are more miniature than prawns in most circumstances. Shrimp are marine organisms, while prawns dwell exclusively in freshwater. These classifications relate primarily to the most widely farm-raised types, including the giant tiger prawn and the white leg shrimp.
In North America, indigenous peoples collected shrimp and other crustaceans in fishing weirs and traps fashioned from branches and Spanish moss or utilized nets woven with fiber hammered from plants. Later shrimp started getting cultivated in farms.
Consumers in the United States enjoyed the cultivated shrimp mostly because it was more affordable than its wild counterpart and accessible year-round. Plus, the shrimp could be bred to standardized sizes, which allowed for wonderfully uniform dinner-plate presentations.
An average American eats around 4 pounds of shrimp every year. That is indeed more than almost any other seafood. Shrimp are typically 1–3 inches in length.
The shrimp are sourced from both cold and warm oceans around the world. The pinkish cold-water ones arrive cooked and peeled. Warm-water shrimp, either beige, brownish, or pinkish, are sold cooked or raw.
Approximately 90% of the crustaceans you consume come from these farms. They're grown in ponds on something like a restricted diet. Fishers collect wild crustaceans in coastal waterways. Those shrimps make up around 10% of what Americans eat in the U.S.
These crustaceans aren't just delicious; they are also healthy for you. Shrimps are low in carbohydrates and calories and rich in micronutrients. Shrimp are a perfect choice if you're attempting to drop some pounds. The antioxidants in crustaceans are healthy for your body. These compounds can safeguard your cells against harm. Research suggests that the antioxidant astaxanthin can prevent wrinkles and decrease UV damage.
Shrimp have a high level of selenium. Some research suggests this mineral inhibits specific types of cancer, but there wasn't enough data to determine how effectively it works.
Shrimp can be kept as pets too. They are fantastic for tropical community aquariums since they will not pester the fish you currently have in your aquarium; shrimps will happily live amongst them and consume the food they leave behind. They even clean up the algae in the area around them, so it helps keep the tank clean. Cherry shrimps are popular for being kept as pets.
How Can we celebrate National Shrimp Day:
Make your favorite shrimp recipes
This day is dedicated to buttered, garlic, citrusy, and wine-sauced shrimp cooking. Prepare the recipe using frozen or fresh shrimp. While preparing the dish, include a side of noodles or rice, steaming veggies, plus toasted bread or rolls. White wine goes very well with shrimp scampi. Because the dish is simple, a decadent dessert of pie or crème brûlée balances off the dinner.
Post a picture or maybe a video of you enjoying your homemade shrimp recipe using the hashtag #NationalShrimpDay
Recycling helps keep plastics out of the sea and decreases the quantity of new plastic that would otherwise circulate in the ocean.
Interesting facts About National Shrimp Day:
A shrimp can produce up to 1 million eggs in one go. The eggs take only two weeks to mature.
A shrimp's coloring relies on its surroundings. Some varieties are capable of adapting color to fit in.
Shrimps can be discovered in bottomless oceans that seem to be down to 16,000 feet below the surface.
Each shrimp is initially a male; several shrimps turn subsequently into females when they grow older.
Americans consume an average of around 1,000,000,000 pounds of shrimp annually.
Shrimp seem to have a spine but don't seem to have the divide we have. Shrimps also don't have any bones inside their bodies at all.
Some shrimps are capable of glowing in the dark due to the marine bacteria present. 
History of National Shrimp Day:
The National Day Timeline continues studying the roots of this seafood celebration, but it remains unknown.