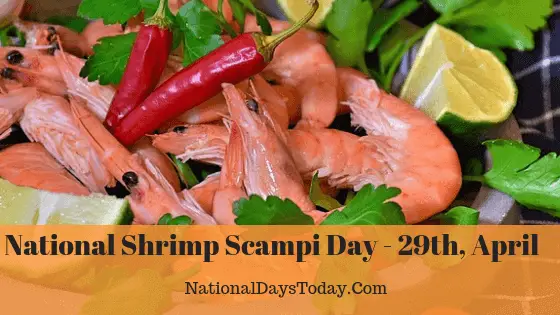 National Shrimp scampi Day:
Celebrated on April 29th every year. The day is to celebrate with Shrimp scampi dish.
| | | | |
| --- | --- | --- | --- |
| Year | Date | Day | Where |
| 2020 | 29th April | Wednesday | United States |
| 2021 | 29th April | Thursday | United States |
| 2022 | 29th April | Friday | United States |
Twitter Hashtags:
#ShrimpscampiDay
#NationalShrimpscampiDay
Why Shrimp scampi Day?
The day is to celebrate with Shrimp scampi dish.
The word "scampi" is a culinary name to represent the style by which the shrimp dishes are made. Hence the name shrimp scampi. This day is dedicated to relish the yummy shrimp dish prepared along with juicy butter, garlic, and green parsley.
How we can Celebrate National Shrimp scampi Day:
Turn out this national day to a fun-filling holiday by trying a simple delicious shrimp scampi.
Ingredients:
Large sized shrimp – 1 1/2 pounds (Deveined and cleaned)
Garlic cloves- 3(minced)
Sauvignon Blanc- 1/3 cups (if not available, use any other dry white
wine)
Flat leaf parsley- 1/4 cups(chopped)
Black pepper–1/4 tbsp( fresh, powdered) Lemon juice – 1 tbsp
Olive oil- 3 tbsp
Salt-1/2 Tbsp
Preparation:
Take a dry medium pan, heat it on a medium-high flame. Pour oil in the heated pan, add shrimp to it.
Saute it for two minutes. Add minced garlic to the shrimp and again saute it for a minute. Now stir in white wine, pepper, and salt, leave this the juicy mixture to boil. Minimize the heat to medium and cook for 30-40 seconds. Now it is the time to add parsley and lemon juice, toss it till parsley sticks evenly to the shrimp. Cook for 2 minutes. Enjoy this delightful juicy shrimp scampi along with your family and friends.
Few Tips to buy quality shrimps:
 It is better to buy frozen shrimp when compared to thawed ones. Frozen shrimp can be stored in the refrigerator for a week whereas thawed shrimps do not retain more than two days.
 When you buy, note that shell of the shrimp does not contain black spots. If it appears, it indicates crackup of meat.
 When you spot a yellowing shell on the shrimp it indicates a bleaching agent (normally sodium bisulfate) has been used to erase its black spots.
Health benefits:
 Presence of astaxanthin promotes eye health and protects our eyes from oxidative damage arising from exposure to sunlight. Studies reveal that astaxanthin in combination with other nutrients prevents eye-related diseases.
 Shrimp contains essential nutrients like calcium, zinc, magnesium, phosphorous thus helping in bone development and prevent arthritis.
 Exposure to industrial pollutants, smoking habits, and other external factors increase free radicals in our body, resulting in blocking oxygen supply to heart muscles. Ample amount of shrimp intake increases anti-oxidation production, helps in fighting these free radicals.
 Serotonin is a hormone found in blood platelets, brain and in the digestive system. These hormones help in building cognitive ability, learning and memory power. When these hormones secretion does not happen at the balanced level, insomnia, migraine, obesity, and negative thoughts arises. Shrimp Contains omega-3 fatty acids that neutralize serotonin production.
 Shrimp consumption heals improper menstrual cycle to a balanced routine activity for women.It regulates mood swings and reduces joint pains.
 Shrimp contains a substantial amount of zinc which augments hair growth and new cell growth to prevent aging.
Share your experience in relishing delicious dishes made from shrimps using the hashtag "#ShrimpscampiDay" to post it on social media.
Interesting Facts About National Shrimp scampi Day:
Shrimps are always born with male Chromosomes. During its growth, some shrimp slowly changes to female ones.
 A normal shrimp has 10 legs, the name of the fresh, raw uncooked name of shrimp is called "green".
 Nearly 1 billion pounds of shrimp are eaten every year. Five billion pounds of shrimp are cultivated every year.
 Shrimps are good at swimming. They also swim backward by stretching their tail and abdominal muscles
 Shrimps create loud sounds with their pincers to create fear and stun their prey.
History of National Shrimp scampi Day:
The origin of "National Shrimp Scampi Day" is not known.