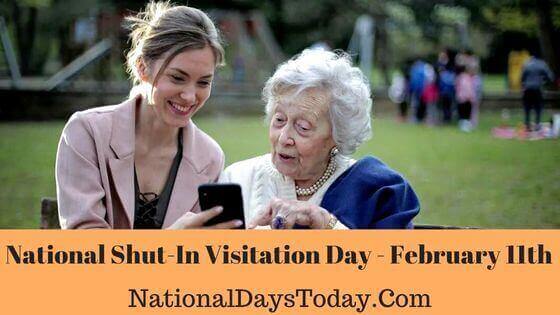 National Shut-In Visitation Day:
The National Shut-In Visitation Day is celebrated every year on February 11th to cheer up the people who cannot leave their homes or nursing homes due to various consequences. This mostly happens with people during their old age.
| | | | |
| --- | --- | --- | --- |
| Year | Date | Day | Where |
| 2023 | 11th February | Saturday | United States |
| 2024 | 11th February | Sunday | United States |
| 2025 | 11th February | Monday | United States |
Twitter Hashtags:
#NationalShut-InVisitationDay
#Shut-inVisitationDay
Related: Other National Days Celebrated on February 11th:
National Don't Cry Over Spilled Milk Day
Why National Shut-In Visitation Day? 
It is for those people who are unable to leave their homes anymore. Someone that remains shut-in behind the doors all around the year due to various physical, mental, or emotional reasons. These things can result in the person feeling depressed, sad, and cut out from the world. Sometimes they do not have families or friends or relatives to visit them; some even lack companionship. This causes them to develop a void in their lives that they cannot fulfill, often resulting in causing even more depression and loneliness in them. Celebrating this day shows us how often we take our freedom for granted, like going to gyms, shopping malls, etc. We all are busy in our lives, but a simple visit to such people who spend their lives in the shut-ins can greatly impact them. Your simple gesture and offering for a few minutes can make a huge difference to their regular monotonous lifestyle.
How Can We Observe National Shut-In Visitation Day: 
National Shut-In day can be celebrated by visiting some people who are spending their lives behind closed doors. Some activities that you can do may include:
Playing a board game: This can include playing chess, carrom, etc. You can even form groups if there are quite a few people present. This would increase the fun of the game and would brighten up their day.
Reading a book to them: You can offer to read some of their favorite books. Old people especially tend to lose eyesight gradually, so reading out books of their favorite authors would make them really happy, and you would also enjoy the same.
Watching some favorite movie of theirs: In these cases maybe the taste of films you enjoy might not match with theirs. But remember this day is to celebrate them, so sit and watch their favorite movie; this would give them a feeling of companionship, which they badly yearn for.
Solving a jigsaw puzzle: What's more fun than solving a jigsaw puzzle together. It creates a bond and develops a feeling of togetherness.
Trying out some new recipes: If you are visiting someone who loves to cook, but just for the sake of loneliness, they don't cook that much anymore, try some quirky new recipes with them. This would make them immensely happy, and they would really enjoy that.
Taking up a hobby that both you and the person you are paying a visit enjoys.
Exploring your ancestry together.
Show some love and encourage other people to visit such places by posting various photosensitive and videos on social media using the #NationalShutInDay to let people know about such places and grow even more volunteers to visit them.
Interesting Facts on National Shut-In Visitation Day: 
Here are some interesting facts for you to observe this day with more enthusiasm.
These people here are mostly lonely aged ones who even might have lost their partners.
Some might even don't have a family or distant relative to visit them, so having visitors on such a day really lifts up their mood.
People with mental illness are often ignored by society since they need extra care and attention.
Just staying with them for a few hours can bring out the immense difference in their lives.
You might get to hear their life stories and various experiences while sharing yours with them.
You might be able to create a lifelong bond with them; this is a very good way of befriending someone.
Volunteering in such places makes you a better person by developing more compassion and humanity in you.
History of National Shut-In Visitation Day: 
The origin of this day is still not known, and the founder still remains unidentified. But one must agree that it is one of the most selfless days that is being celebrated all across the United States. The motive behind celebrating such a day is to provide a companion to the old, and the left out ones and make us understand that even freedom should not be taken for granted. Furthermore, visiting such places on this special occasion of National Shut-In Visitation Day helps to generate more volunteers that help such organizations with their services all around the year.