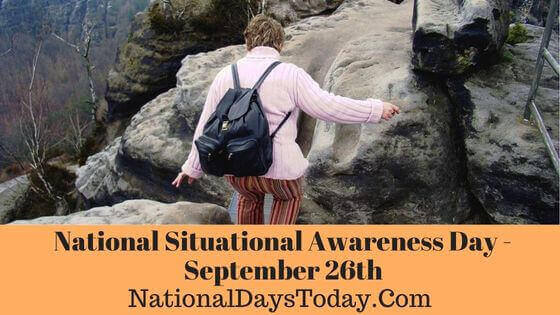 National Situational Awareness Day:
Observed annually on September 26th, the National Situational Awareness Day reminds us of the importance of personal safety and how danger can appear in various forms and means. In most cases they are unpredictable, and the skill to survive in these situations is vital for our own personal safety.
| | | | |
| --- | --- | --- | --- |
| Year | Date | Day | Where |
| 2023 | 26th September | Tuesday | United States |
| 2024 | 26th September | Thursday | United States |
| 2025 | 26th September | Friday | United States |
Twitter Hashtags:
#NationalSituationalAwarenessDay
#SituationalAwarenessDay
Related: Other National Days Celebrated on September 26th:
National Compliance Officer Day
Why Situational Awareness Day?
Imagine yourself walking down an alley and suddenly being attacked, such situations catch us off-guard and we are unprepared to face such a threat. Becoming aware of negative situations even a second sooner could also be a lifesaver. These are the kind of situations most people do not know how to handle, the main barrier being a lack of training or even basic awareness.
Situational awareness is crucial for our safety. It prepares us to be mindful of threats and dangers that we could face in our daily life. It is a skill that every person needs to develop because danger can come in any form, and being aware of it can help us avoid it by making improved decisions in all areas of life.
When a threat arises, the most common response would be fear, nervousness, shock, and panic attacks and in such conditions, a person loses the ability to think or act correctly and immediately therefore often becoming a victim easily. Though these reactions to a particular situation are natural, it is important that we do not become overcome by them but rather be able to think in these situations and take important steps. It is important to be vigilant and alert and knowledge about how we ought to act in such situations is vital.
Action is the key to personal safety, and awareness of the same can help us in taking the right measures to avoid the situation or escape from it. The action doesn't always mean self-defense in the sense to involve physically in a fight or any such activity, it could simply mean calling for help, and informing the concerned authorities.
Simply put, It is about knowing what to do and how to do it. It is mostly to do with our senses, therefore it is necessary to train them to be alert at all times. Thus, National Situational Awareness Day is an important reminder to everyone to understand the importance of situational awareness and its impact on our safety. It is a way to recognize the importance of situational awareness and also encourage many others to learn basic survival techniques for their own safety.
How Can We Observe National Situational Awareness Day?
Enroll in a situational awareness course
Many enterprises have taken initiatives to train individuals in personal safety and self-defense, even several firms offer training on situational awareness. One way to observe this day is to take one such course which will greatly benefit you and the people around you.
There are plenty of resources available on situational awareness. Learning about the possible threats and how to avoid them can be highly beneficial
Not many are not aware of Situational awareness, So let your friends on social media know using hashtags #NationalSituationalAwarenessDay and #SituationalAwarenessDay today!  
One of the efficient ways to spread awareness is by discussing the importance of situational awareness with your friends and family and encouraging them to take up lessons for the same.
Interesting Facts About National Situational Awareness Day:
Here's an interesting fact surrounding situational awareness day!
The inspiration for the Pretty Loaded LLC enterprise came from the incident in 2015 when Beth Warford and her children were attacked by a stalker. By the time she understood what was happening around her, it was almost too late. This led her to the realization that being aware and mindful of our surroundings can save us from accidents and threats. In response to this Beth Warford took the initiative to spread awareness and submitted for approval to be observed on the 26th of September which is the birthday of Dru Sjodin, their inspiration.
History of National Situational Awareness Day:
Pretty Loaded LLC submitted an appeal to dedicate a day to creating and spreading awareness about situational awareness. It was approved in the year 2016 as National Situational awareness day.  They also offer training to individuals and groups to be mindful of their surroundings. They offer Self-defence courses too! It is not celebrated as a public holiday.