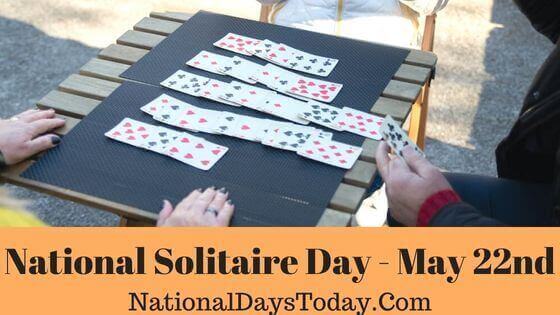 National Solitaire Day:
Recognizing the centuries-old card game, National Solitaire Day is celebrated every year on the 22nd of May.
| | | | |
| --- | --- | --- | --- |
| Year | Date | Day | Where |
| 2023 | 22nd May | Monday | United States |
| 2024 | 22nd May | Wednesday | United States |
| 2025 | 22nd May | Thursday | United States |
Twitter Hashtags:
#NationalSolitaireDay
#SolitaireDay
Related: Other National Days Celebrated on May 22nd:
National Buy a Musical Instrument Day
Why National Solitaire Day?
Solitaire is a card game with a history dating back to more than 200 years. The classic game of Solitaire, also known as Klondike is played using a deck of 52 cads. The player has to make a stack of cards from low to high and once the player completes all four suits, he/she is declared the winner. The game was included in the computer games combo of Microsoft in 1990, with their Windows 3.0 release. It was a game designed to teach users on effective usage of the mouse on computers and has become the most popular game since then. Ever since the invention and introduction of this game, more than 240 million people have played it. The game has been played many times across the world and in different languages too. The National Solitaire Day is celebrated in recognition of this game and its evergreen, ever-growing popularity over the years.
How can we celebrate National Solitaire Day:
Celebrating this day cannot be done without playing a good game of Solitaire. And with the game available on your smartphones and computers, you are not dependent on any external gaming apps or gaming stations to enjoy the game. Few things you could do to make this day a memorable event could be,
Playing a game of solitaire is the best way to enjoy this day. You can try playing the classic version of this game using a deck of cards instead of playing it on your computer or laptop. It would be a real retro version of the game.
You can have a get together planned with your friends and family to have a friendly competition of Solitaire to see who can win faster and enjoy playing together
You can learn and teach your kids about the game and how it has progressed over the years.
As you enjoy the day, share your thoughts and spread awareness about this day on your social media with the #NationalSolitaireDay on the posts.
Interesting facts about National Solitaire Day:
Let us find out some interesting facts about solitaire on this National solitaire Day.
The Solitaire is derived from "solitarius" in Latin. Some say it also has its name derived from French. The words "solus" and "solitas" can be attributed to the origin of this word and it means alone. The game is played alone and is probably why it is called so.
Solitaire is also known by the name of patience and yet if you are good, you might be completing the game in no time.
The game Solitaire in Microsoft is nearly 30 years old now and continues to be the most played game on computers to date.
The Microsoft Solitaire is played across 200 countries and in 65+ languages with nearly 100 million hands played daily.
History indicates the game might have been the base for fortune telling in the past.
The Microsoft solitaire was invented by an intern in the company, Wes Cherry.
Solitaire is played in different versions like Klondike, Freecell, Canfield, Tripeaks, Spider, Poker, and Pyramid. You can play each of these versions and decide on the one that is more appealing to you.
24113 is the highest score made on the Microsoft Solitaire game which includes the bonus points awarded for time.
You would be surprised to know that there are professional players for this game across the world. If you are a gamer, then you can make a career by just playing this game.
And there are plenty more interesting and cool facts about this game, that can be played alone anywhere you want. Enjoy a game of solitaire whenever you seek a break from monotony.
History of National Solitaire Day:
The day was founded on the 22nd of May 2018 by Microsoft celebrating the most famous of computer games. The 25th anniversary of the Microsoft Solitaire was celebrated in the year 2015 and the day continues to be a celebration of this event to date. Microsoft Solitaire happens to be the favorite even today despite the invention of many other computer games. The day was declared as the celebration day by the national registrar from the year 2018 to honor this famous and evergreen computer game.