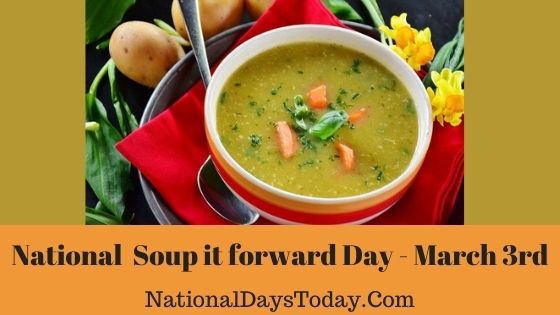 National Soup It Forward Day:
Celebrated annually on 3rd March, the National Soup it forward day is observed to encourage people to deliver love and kindness by the bowlful warm soup. This day has been observed since 2018.
| | | | |
| --- | --- | --- | --- |
| Year | Date | Day | Where |
| 2022 | 3rd March | Friday | United States |
| 2023 | 3rd March | Sunday | United States |
| 2024 | 3rd March | Monday | United States |
Twitter Hashtags:
#NationalSoupItForwardDay
#SoupItForwardDay
Related: Other National Days Celebrated on March 3rd:
National I Want You to be Happy Day
Why National Soup It Forward Day?
It is truly amazing how rare kindness is these days. In this competitive life that is fast and ever-changing, we rarely have the time to show just how much we care for the people around us. Even in these dire situations, a few individuals who are full of human spirit and zeal for kindness stand firm in their quest to spread love and care to all.
Soups were chosen as the primary agent of sharing a collective picture of love because; soups are a very fulfilling form of food. It can be tweaked according to nutrient requirements and budgets and yet, be delivered with aplomb. Further, it is easier to make and takes much less time to prepare than other forms of food. Soups also freeze well, and their regular intake help individuals stay hydrated and full. They are usually void of any germ or bacteria that could cause problems because; the constant boiling kills most of the germs in them.
Soups have been in use since 20,000 BC. It is believed to have originated at Xianrendong Cave, China, as per recorded history. As boiling on bark or reeds was a common technique of clearing the ingredients off of impurities. It was only after the invention of waterproof containers in the form of clay vessels that they came to understand the concept of a power concoction that had nutrients of meat, vegetables, and other ingredients together in one liquid. For this very reason, soups and decoctions of ancient medicines go hand in hand. Soups act as food and a source for the intake of a liquid that helps maintain homeostasis (water balance) in the body leading to better metabolism and, therefore, digestion of other foods. Hence, soups are an extremely beneficial type of food for people.
Soups are classed into two main types- thick or clear. It is subjective to prices and availability of ingredients and can be prepared accordingly. Soup chains are quite popular worldwide as they typically resemble the national cuisine in a liquid form. They are all fulfilling and inherently beneficial for all health types. They are appealing to all kinds of people, whether vegetarian, vegan, pescetarian or non-vegetarian.
The main idea behind the National Soup It Forward Day is to feel for the less fortunate while preparing your meals and soups at home. The notion is basically when you are making your favorite soups at home, just "Soup it forward."
Soup Sisters organization encourages people every March the 3rd to bring home-made soup to a family member, a friend, or a homeless person in need. It is an amazing experience to be a part of, and everyone is welcome to contribute to whatever amounts they can.
How Can We Observe National Soup It Forward Day?
Soup it up!Use this opportunity to reach out to people who have become distant or reach out to the people less fortunate with your family and feed them your home-made soup.
Take your kids with you while reaching out to people with soups. Educate them about helping other people.
Post photos and videos of yourself observing the day and share them using tags like    #HugInaBowl and #SoupItForwardDay on various social media platforms.
Interesting Facts on National Soup It Forward Day:
Here are some facts for you to enjoy the day!
Soups have been eaten as food for more than 22,000 years.
In some cultures, soup is consumed cold.
National Soup It Forward Day has seen more than 1.5 million people being fed so far.
The organization 'Soup Sisters' feeds more than 40 homeless shelters in North America every month.
History of National Soup It Forward Day:
Sharon Hapton launched the 'Soup Sisters' in the year 2009. It has since operated as a non-profit organization to feed people in homeless shelters, on the streets, and victims of abuse who had fled their places of origin. The National Soup it Forward Day came into being after the initiative to register it in the National Day Calendar was taken by Soup Sisters in 2018.