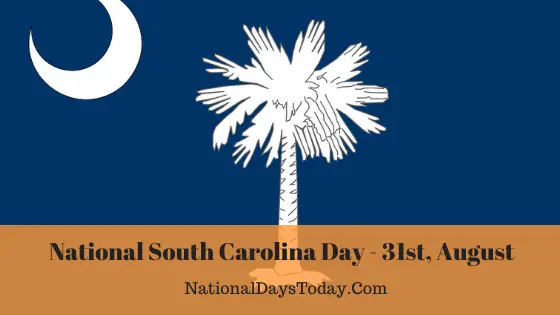 National South Carolina Day:
Celebrated on August 31st every year. The day is for South Carolinians to celebrate it in their own way.
| | | | |
| --- | --- | --- | --- |
| Year | Date | Day | Where |
| 2023 | 31st August | Thursday | United States |
| 2024 | 31st August | Saturday | United States |
| 2025 | 31st August | Sunday | United States |
Twitter Hashtags:
#NationalSouthCarolinaDay
#SouthCarolinaDay
Related: Other National Days Celebrated on August 31st
National Diatomaceous Earth Day
Why South Carolina Day? 
South Carolina Day is celebrated to recognize the beauty, culture, and history of South Carolina. South Carolina fondly called The Palmetto State because of the large amounts of Sabal Palmetto trees. It was earlier also known as the Iodine State due to the high amount of iodine present in its fruits and vegetables. South Carolina became the eighth state to be authorized by the U.S.Constitution in 1788. Its early economy was highly agricultural and now most of the islands here have become tourist destination spots with a large number of resorts and over 100 golf courses. The highest point in the state, Safrassas Mountain is 3560 feet at its summit, while the state's coastal plains, known as the 'low country' are just above sea level.
How can we celebrate South Carolina Day?
Post a few interesting facts about South Carolina on social media using hashtag#NationalSouthCarolinaDay. Visit the State and learn about its vast culture and enjoy its delicious foods and celebrate the day.
A few important places to visit are: Charleston historic district, Myrtle Beach, Fort Sumter and Charleston Port, the South Carolina State Museum in Columbia, Huntington Beach State Park, Caesars Head State Park, Greenville zoo, Riverbanks Zoo and Garden, South Carolina Plantations.
Interesting Facts about South Carolina Day: 
The Palmetto tree is an important icon of South Carolina since the American Revolutionary War. When the British attacked a fort near Charleston, the cannonballs bounced off spongy palmetto logs used to build the exterior walls.
The State motto is the Latin Phrase "Dum spiro, spero" which means "While I breathe, I hope"
Slavery and civil war played a significant role in South Carolina's complex social, political and economic profile.
The smallest town in the state is a patch of land called Smyrna which is only around 0.7 square miles with a population of 45 people.
A 297 feet tall, St.Matthew's Lutheran Church is the tallest structure in the city of Charleston.
Legendary tennis player Althea Gibson, boxing champion Joe Frazier and future NBA Hall-of-Famer Kevin Garnett were all born in the Palmetto State.
There are more peaches produced in South Carolina than in Georgia, which is the Peach State. In the town of Gaffney, there is a landmark water tower shaped like a giant peach that was built in 1980 to honor the peach farmers.
The Arthur Ravenel Jr. Bridge that connects Charleston and Mount Pleasant was the longest cable-stayed bridge in North America when it was opened in 2005.
A resident of town Bowman named Jody Pendarvis has built a large "UFO Welcome Center" in his backyard, in case any aliens decide to park their ships.
The largest living cat, an adult male liger(half lion and half tiger) named Hercules lives at the Myrtle Beach Wildlife Safari.
Delicacies of South Carolina:The food in South Carolina reflects its history. A few of them are Shrimp and grits, black-eyed peasant rice, Beaufort stew. Lying on the coastlines we can enjoy the best of the Seafoods and Barbecues. Few other delicacies are boiled peanuts, macaroni and cheese. Mint julep, the best-selling cocktail in the State and Iced Tea, the best one in the whole country. Few food critics say that "southern food is the mother cuisine of America". So let's savor the adventure!!!
History of South Carolina Day:
In 2017, National Calendar Day decided to celebrate each state, starting with the day they entered the Union. Thus began the celebration of National South Carolina Day every year on August 31.