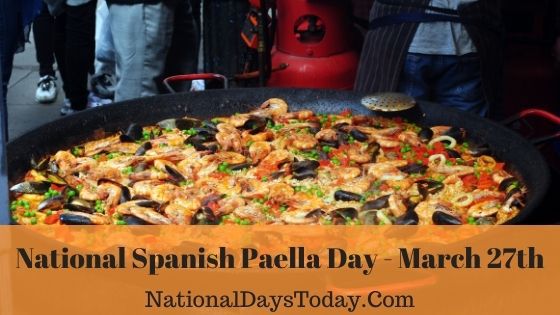 National Spanish Paella Day
Every year we celebrate the National Spanish Paella Day on the 27th of March. We have been celebrating this day as the National day by honoring the Spanish dish Paella known worldwide now.
| | | | |
| --- | --- | --- | --- |
| Year | Date | Day | Where |
| 2023 | 27th March | Monday | United States |
| 2024 | 27th March | Wednesday | United States |
| 2025 | 27th March | Thursday | United States |
Twitter Hashtags:
#NationalSpanishPaellaDay
#SpanishPaellaDay
Related: Other National Days Celebrated on March 27th:
Why National Spanish Paella Day
It is so nice to celebrate something like this as a National Day by people all over the world, especially in the United States of America. The Spanish Paella Day has been celebrated by the people in the United States for a long time. It is being celebrated to honor the dish, Paella, that is originally originated from Spain.
Paella was originally originated in Albufera, where the Valencian Community have a tradition for this. The people cooked paella as it was affordable and basic. They used to make this with ingredients that are available in the countryside. There are varieties of Paella available. The Seafood Paella is prepared in the coastal areas and has ingredients that are available in that region.
This dish from Spain, Paella, is nothing but a rice dish that was being cooked in an open fire on a pan. This Paella is considered to be too special because great chefs or cooks did not cook it, but our lovely and kind peasants cooked it. The Peasants had a habit of cooking Paella, the rice dish, when they were on a break, especially during lunchtime from working on the farms.
This Spanish Paella dish can be cooked with any rice or meat, or fish. The best part is its delicious sauce and taste. In fact, nowadays, there are numerous variations of recipes of Paella that one can cook sans any difficulty. However, since we got to know about the Spanish Paella dish, it has been a long time, but till now, this dish is being eaten directly from the Paella Pan. It was a tradition then and a tradition now and a tradition which will remain forever.
People all over the world no matter, however they celebrate the day, are still unaware of how this day, March 27, was selected to celebrate and who had introduced this National Day.
The National Day, i.e., The Spanish Paella Day, is annually celebrated by people all over the world in March on date 27 by doing all sorts of different and fun kinds of stuff with loved ones.
How Can We Observe National Spanish Paella Day
The great National Spanish Paella Day can be observed and celebrated in not just one way but many ways. Some of the ways of how you can celebrate this day are as follows:
On the National Day, i.e., on 27th March, organize a small or a big party inviting your near and dear ones and serve varieties of dishes made of Paella. In this way, people who are unaware of this traditional dish will also get to taste and know about it. Party is the best way to celebrate something and anything.
You can try out new dishes and recipes of Paella on the Spanish paella day. You need not follow the same recipes as it was done in the earlier days, but you can invent a new recipe made with Paella. You can also spend the day eating only Paella.
Challenge your friends on Paella
Another best way to celebrate this national day is to take it to social media. Social media never go out of style or trend. So, you can just create a challenge with #NationalSpanishPaellaDay and challenge your friends and relatives on social media.
Interesting Facts On National Spanish Paella Day
Under this section, you have got quite a few interesting and fascinating facts on the Spanish dish Paella for you to read and enjoy. So, here we go:
Out of all the recipes of Paella, the Valencian Paella is regarded as the original one.
Paella is of various types. They are Seafood Paella, Valencian Paella, and also mixed Paella.
All different kinds of recipes of Paella use Olive oil for cooking.
The 27th March is celebrated annually worldwide as the National Spanish Paella Day.
The most important part of Paella is the Socarrat, the lightly toasted paella that is at the bottom of the pan.
The person who eats the Socarrat part of Paella is said to be the lucky one.
History Of National Spanish Paella Day  
Although we got to learn about the different ways to celebrate and why we celebrate this day, we still are not aware of the history and origin of the Spanish Paella Day. This has remained unknown for a long time now.