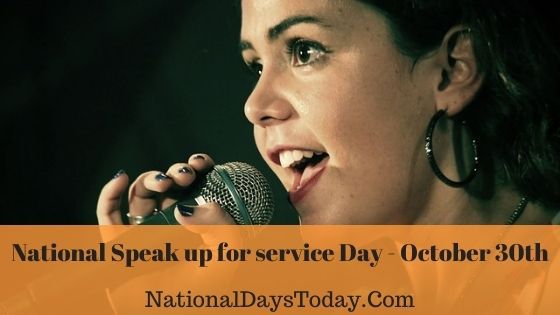 National Speak Up for Service Day:
National Speak Up for Service Day is celebrated on 30 October annually since the year 2014, it is observed for young people to be enthusiastically involved in different community services.
| | | | |
| --- | --- | --- | --- |
| Year | Date | Day | Where |
| 2023 | 30th October | Monday | United States |
| 2024 | 30th October | Wednesday | United States |
| 2025 | 30th October | Thursday | United States |
Twitter Hashtags:
#NationalSpeakupForServiceDay
#SpeakupForServiceDay
Related: Other National Days Celebrated on October 30th:
Medical Assistants Recognition Day
Why National Speak Up for Service Day ?
It is all about telling others what unnoticed deeds performed by young minds to their communities and the world are. This can create a role model for others to stand and make up something that can help you and your community.
Sometimes we encounter circumstances where we notice something ethically questionable or disagree with someone's opinion. Our inner self urges us to get up and Speak up everything which comes in our mind. Take decision according to the instance situation, but then we hold on, we stop ourselves. Not because we had wrong thoughts, not because our decision is not up to the marks. It's because we do not hold the strength to take that step. Because Speaking up is hard to possess.
This day is celebrated to recognize what changes the young people are creating over our environment, which leads to encouragement to other groups and communities.
How can We observe National Speak Up for Service Day?
On this day, We talk about the service initiatives taken by the people for the community. This day is acknowledged for the project, services, and support the youth has initiated and helped whenever the services are acclaimed or chalk up our youth, youngster, and community blossom. This gets up chaining and lets others get involve and evolve in such services.
It creates ample opportunities for others to join in supporting their community. It leaves and positive impact on the life and growth of others.
A brilliant example of service for the community is Robin Hood Army (RHA), which join youngster to help the poor and needed people. It provides food, clothes, and other essentials.
Always remember whenever you celebrate Speak Up for Service, let others join your company, which can lead to leaving life long everlasting impact on them to work for others.
For this purpose, if you use any social media, do not forget to use the hashtag #SpeakUpForServiceDay; this may help others to know more and more about this campaign.
Stories about National Speak Up for Service Day
On the Occasion of National Speak Up for Service, many ordinary people come up to bring change around the world. There are many personalities we should know who left and a positive impact on the youth.
Greta Thunberg of Sweden: Greta Thunberg, at her age of 15-year-old started a school strike for climatic conditions in 2018. She was aware of the condition and threat of global warming. She even cut her classes every Friday and cultivate the hashtag #FridaysForFuture, where she educates the people by setting up the table in front of Sweden parliament, which lead to encourage 100+ countries to take part in this protest and help our environment to recover.
There are several examples like Greta, who comes forward to fight the current environmental and social problems.
Interesting Facts  of National Speak Up for Service Day:
Every year public speaking contests are organized, and students, professionals, and advisors are called upon to share their views and talk about the Service they provide.
The contestant and winners are given scholarships and goodies for their participation.
Public Speaking helps us to build our credibility and boost our confidence.
Many new ideologies are upfront during these speak up.
It helps us connect people from different areas, ideologies, and communities to share the same platform.
It encourages and enthusiast the youth to create a positive environment with a helping attitude.
History Of National Speak Up For Service Day: 
National Speak Up for Service Day was founded by The Mandan Lions Club in 2014. The project starts way back in 2003, during the public speaking content for High school students organized by the Fargo, ND Lions Club in memory of Laura Christensen Espejo.
Laura Christensen dedicated her entire life to improvising the health care facilities available to underprivileged people around in the Fargo circle and Peru, Lucho, from where her husband belongs.
This local-level program got Lion Robert Littlefield's sponsorship, which coordinated to launch it as a state-level program in 2010-2011 around his district.
The very first annual Lions Speak Up for Service contest took place in 2010, where different contestants took part and spoke about the youth and their community at North Dakota State Lions Convention in Grand Forks.
The winner of the particular competition was Brent Johnson, a senior at Shanley High School. Winners and other participants also received Scholarships for their interest and involvement, which helped others be aware of the competition and encourage them to participate.