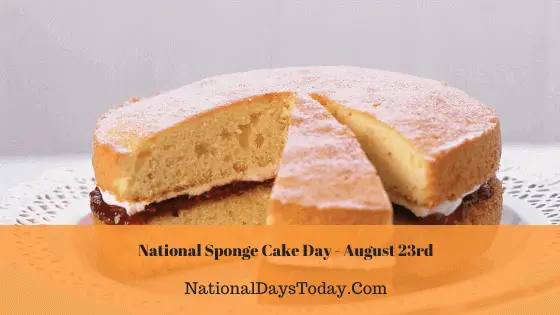 National Sponge Cake Day: 
Every year 23rd August is celebrated as "National Sponge Cake Day" in the United States to enjoy the ever delicious Sponge cake.
| | | | |
| --- | --- | --- | --- |
| Year | Date | Day | Where |
| 2023 | 23rd August | Wednesday | United States |
| 2024 | 23rd August | Friday | United States |
| 2025 | 23rd August | Saturday | United States |
Twitter Hashtags:
#NationalSpongecakeDay
#SpongecakeDay
Related: Other National Days Celebrated on August 23rd
Why Sponge Cake Day?
This national day is dedicated to thanking the wonderful cake variety-"The Sponge cakes". These cakes are non-yeasted which is one of the characteristics that make it popular worldwide. Start and enjoy this day along with your kids by trying different sponge cake recipes and sharing among your friends.
How to celebrate National Sponge Cake Day?
Let us celebrate this national day with a simple and elegant low-calorie sponge cake recipe
Yellow Sponge Cake:
Ingredients:
Eggs-4 nos
Powdered sugar -1 1/2 cup
All-purpose flour-1 cup
Baking powder- 1 tbsp
Butter(melted) -3 tbsp
Water( heated) -2 tbsp
Vanilla extract – 1tbsp
How to do?
For a minute, beat 4 eggs in a bowl using a whisk and add powdered sugar in three intervals, start whipping for 15-20 minutes. Stop whisking when the batter falls like a ribbon when it is dropped from a few inches height. Make sure the batter is heavy and thick such that it takes few seconds to fall from the spatula.
To the beaten mixture add 1 spoon of vanilla extract.
Using a sieve, slowly add all-purpose flour and baking powder, beat until all the ingredients get well mixed into one another. You can also insert a spatula into the batter and move it in the shape "8" to make the batter smooth and silky.
Take a cup, add melted butter and 2 tbsp of hot water, blend them well.
Add the melted butter- hot water mixture into the batter and carefully mix with a spatula until no traces of liquid are seen.
Take an 8-inch pan and line it with aluminum foil, spread a thin layer of butter over the surface of the foil and dust with flour to make it non-sticky.
Make the oven preheated it to 350F.
Pour the prepared batter into the foil-covered pan.
Approximately 30 minutes, bake the cake placed in the middle rack of the oven. If you are new to cake preparation, you can check whether the cake is baked by inserting a toothpick inside the cake. If the took pick comes out clean with no crumbs stuck onto it, the cake is great to be removed from the oven. If it is not cooked well, let the cake bake for 5-10 minutes.
Once the sponge cake gets baked, remove it from the oven and let it cool for 15 minutes.
Use #SpongeCakeDay to pen down your innovative spongecake recipes on social media.
Interesting facts about National Sponge Cake Day:
On this day, let's see some interesting facts about  National Sponge Cake Day
1) Sponge cakes possess a firm and effervescent structure resembling a sea sponge; Ergo, it is called as "Sponge cakes".
2)Technically, a recipe with lots of whipped eggs without no baking powder or soda is a Sponge cake
3)Formerly yeast was used as raising agents for cakes. During the mid of 18th century, yeast was fallen to disuse and replaced by egg whites to make the cakes fluffy.)
4) Despite Sponge cakes are similar to angel cakes, sponge cakes are made of whole eggs, while angel cakes are prepared with egg whites.
5)Yule log is a dessert made of sponge cake taken in the form of sheet, filled with cream, and then rolled up. It is coated with chocolate cream to bring out the bark-like structure of the tree. It is presented during the Christmas festival.
6)There is custom being followed in the Passover festival that no leavened dishes should be prepared and presented. As sponge cakes are not leavened they are considered as the exemplary dishes for the feast.
7) Forerunners of today modern sponge cakes were cookie-shaped biscuits found in Europe during the early 19th century. These cookies were often called biscuit bread or sponge fingers. In Portugal, Spain, and Italy it was named "sweetbreads".During the 17th century, English cookbook writers penned down the recipes for fine bread and biscuits that were closer to sponge cake. Precursors of all these cakes backdate to the 15th century (Renaissance), these cakes have a prominent role in all desserts. In 1808, a letter by Jane Austen and his fondness for sponge cakes was the most recent reference of sponge cakes found in the Oxford English Dictionary.
8)During tea time, Queen Victoria had a sponge cake topped with raspberry jam and vanilla cream. Hence the cupcake got its name 'Victoria Sponge cake'.
History of National Sponge Cake Day:
From our exploration, we are unable to find the creator of National Sponge Cake Day.