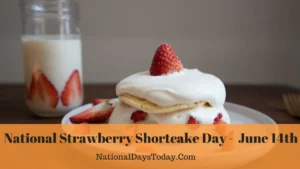 National Strawberry Shortcake Day:
National Strawberry Shortcake Day is observed every year on June 14 during the height of the strawberry season.
| | | | |
| --- | --- | --- | --- |
| Year | Date | Day | Where |
| 2023 | 14th June | Wednesday | United States |
| 2024 | 14th June | Friday | United States |
| 2025 | 14th June | Saturday | United States |
Twitter Hashtags:
#NationalStrawberryShortcakeDay
#StrawberryShortcakeDay
Related: Other National Days Celebrated on June 14th:
National Pop Goes the Weasel Day
Why Celebrate National Strawberry Shortcake Day: 
You can eat cake for any reason.
The cake doesn't require an explanation. But, in any case, Strawberry Shortcake Day provides us with a justification for eating unlimited amounts of cake.
The most excellent way to celebrate the day while creating a cake at home is to do so with loved ones. It's a good idea to take a break and reconnect during the height of summer.
Assisting small businesses
Helping nearby strawberry farmers or in-house neighborhood bakers is ideal on this day. Everyone has the opportunity to support these small businesses today by generating some sales.
Today, strawberries may grow year-round, but historically, this wasn't the case. It was previously only harvested throughout the summer. The strawberries that are available during the summer are still juicier and tastier.
During this time, there are various ways to consume strawberries, including slicing, dicing, mixing, and cutting them. They are also occasionally used to make savory dishes like strawberry shortcakes. Along with July 4, or Independence Day, this mouthwateringly sweet dish is also frequently consumed.
How To Observe National Strawberry Shortcake Day:
There are multiple ways and methods to enjoy today. Of course, making a strawberry shortcake to share is the first and most simple way. However, Strawberry shortcakes can also use to make other delectable treats.
It is an obvious choice. So why not prepare your strawberry-filled shortcake in honor of  Strawberry Shortcake Day?
Patch to add some adventure to the day. You can make Strawberry shortcake trifles, and ice cream with this flavor is delicious. Also, include mixed berries in your shortcake!
Have fun doing it with loved ones.
It is improper to eat a strawberry shortcake by yourself. It is always preferable to have friends and family for brunch so that you can spend time together enjoying this dessert.
Visit a nearby bakery on this D day and provide a hand by giving your time or just purchasing some of their delectable baked products!
Don't forget to look at the calendar's other strawberry-themed events. There is enough for everyone! Use the hashtag #StrawberryShortcakeDay to share your favorite recipes on social media.
5 Unknown Facts About National Strawberry Shortcake And Strawberries:
A sweet biscuit is a shortcake.
In actual American meaning, a shortcake is a sweetened biscuit; the inclusion of baking soda or baking powder makes it crumbly and crunchy.
The standard components for baking a shortcake are flour, butter, eggs, baking powder or soda, a lot of sugar, a dash of salt, and milk or cream.
The only fruit that bears seeds on the outside rather than the inside is possibly the strawberry.
Americans consume roughly 1.8 pounds of frozen strawberries annually.
A strawberry shortcake that is enormous
In 2012, the Pasadena Strawberry Festival served the largest strawberry shortcake; it had 3,200 pounds of strawberries and 280 pounds of whipped cream frosting.
Other Facts:
On this day, remember the various celebrations that share a passion for dessert. For example, the giant strawberry shortcake served at the 2012 Pasadena Strawberry Festival.
Strawberries are highly valued in both the US and Canada and are extensively grown in every province.
Since California produces three-fourths of the strawberries consumed in the US, there will never be a scarcity of strawberries to enjoy on this day.
History Of National Strawberry Shortcake Day 
The comprehensive history of strawberry shortcakes is not widely known. However, a recipe for the delicacy first appeared in an English cookbook in 1588, making that year the first known mention of shortcake.
Strawberry shortcake was offered in various locations in the middle of the 19th century, but more like a fruit treat or a biscuit. It was served with sweetened cream or butter numerous times to enhance the flavor. Soon after, people began asking for a particular day during the summer to commemorate this cake. So finally, in honor of this meal, June 14 was designated for this amazing day.