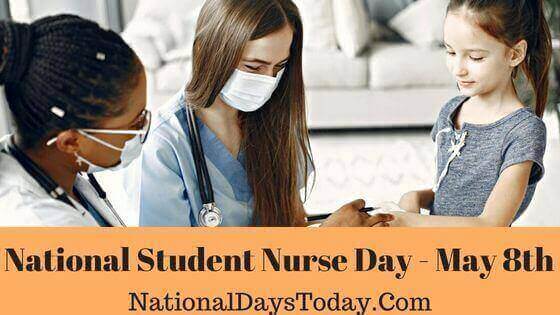 National Student Nurse Day:
Set on the 8th of May every year, the National Student Nurse Day comes on National Nurses Week in honor of the student nurses who pursue nursing careers in medicine. The day is meant to appreciate them for their contributions to society.
| | | | |
| --- | --- | --- | --- |
| Year | Date | Day | Where |
| 2023 | 8th May | Monday | United States |
| 2024 | 8th May | Wednesday | United States |
| 2025 | 8th May | Thursday | United States |
Twitter Hashtags:
#NationalStudentNurseDay
#StudentNurseDay
Related: Other National Days Celebrated on May 8th:
National Coconut Cream Pie Day
Why National Student Nurse Day?
This special day honors students pursuing nursing careers in medicine and was established to encourage them and make them feel valued. Being part of the National Nurses Weekday means a great deal for medical professionals. It encourages them to do well in their studies so that they are going to turn into excellent medical professionals.
Student nurses in their academic pursuits are strategically positioned to leverage technology and use it as key enablers for their careers and professional practice. Technology has made it possible for them to get exposed to the latest life-saving techniques. In the same way, they practice the skills that will position them to add value to the lives of patients by attending to their medical needs.
Similarly, student nurses practice skills within the programs their respective institutions have set for them. These programs are established in medical science. With the growing need for nurses that we see year upon year, the nursing field requires more people who are not only passionate about medicine but also dedicated to delivering quality medical care.
The drive of nurses to care for patients they have never seen or met before is amazing. They are driven to learn and specialize in this very complex field, which makes a difference in the lives of people worldwide.
To be recognized as a registered nurse (RN), one has to attend 4 years of nursing school to qualify for a bachelor's degree in nursing. Eventually, nurses also branch out into diverse specialties depending on their individual areas of passion and interest, an action that helps them set their lives upon a defined career.
How we can observe National Student Nurse Day:
We can observe or celebrate this remarkable day by:
Learning about the this day
One of the ways to celebrate or observe this amazing person is by taking the time to learn about the student nurses from within your region. Do this to understand their motivations and efforts towards helping those they serve to get well and leave healthy lives.
Read about the National Student Nurse Day.
You can also observe this day by reading about this day. With the right information about this national holiday, you will develop a better understanding of the day and its importance. The information will also enlighten you about nurses and their role in the medical profession.
Honor those who serve as student-nurses for their regions and institutions
Another key way of observing this day is honoring the Student Nurse that you know because they represent your region. Spend time recognizing their service on this national holiday that has been set explicitly for student nurses.  Do this by visiting their practicing institutions or at campus and volunteering to sponsor some of them to pursue their studies as far as they want to go.
You can also observe this amazing day by posting on social media using the #NationalStudentNurseDay.
Thank a Student Nurse for their hard work and commitment
Thanking student nurses for their hard work and commitment is another way to observe this day.
Interesting facts about National Student Nurse Day:
There are many interesting facts about this day. Among them include:
President Ronald Reagan officially announced May 6th to be celebrated as "National Recognition Day for Nurses" in 1982.
Florence Nightingale, otherwise termed "The Lady With the Lamp" is known to be the pioneer in modern nursing.
The nursing occupation has improved dramatically since the 1800s fuelled by the ventures of Nightingale. From then to now, it has evolved substantially to become a gender-neutral profession with endless career opportunities for both male and female nurses.
History of National Student Nurse Day:
The history of this day goes back to 1953 when the U.S. Department of Health's Dorothy Sutherland proposed the observation of a Nurses' Day. As much as there was never a proclamation, the following years came the observance of the National Nurse Week. Since then, there have been multiple efforts, including when the American Nurses Association established the National Student Nurse Day to recognize student nurses twenty three years heretofore.