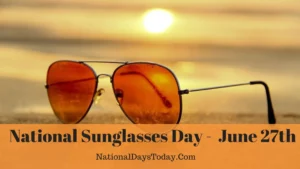 National Sunglasses Day:
All of us have that one favorite shade of sunglasses that we wear every time we step out in the sun. Isn't it? In order to celebrate the love for sunglasses, National Sunglasses Day is celebrated every year on June 27th.
| | | | |
| --- | --- | --- | --- |
| Year | Date | Day | Where |
| 2023 | 27th June | Tuesday | United States |
| 2024 | 27th June | Thursday | United States |
| 2025 | 27th June | Friday | United States |
Twitter Hashtags:
#NationalSunglassesDay
#SunglassesDay
Related: Other National Days Celebrated on June 27th:
Why National Sunglasses Day?
Sunglasses are not only meant for making a fashion statement, but it also protects the eyes from the harmful UV rays of the sun. So if you are going to a beach during the hot summers, make sure you have your favorite sunglasses always with you.
However, most people are not so aware of this protective action of sunglasses and consider them as one of those normal accessories. Thankfully, some organizations like The Vision Council have taken this in hand and made several people aware of the benefits of wearing sunglasses.
Out of so many shades and so many brands, choosing one for your eyes is literally a tough job. However, get yourself a sunglass which not only goes with your outfits but also saves your eyes in the best possible way.
We know you are struggling with a lot of questions in your mind right now. Do not worry as we are going to address all of them one by one. So let's get started!
Till now we discussed what National Sunglasses Day is. Now we will be talking about the reason for celebrating this special day. After hours of research, we couldn't find out a specific reason behind observing this day every year on a fixed date.
But what we realized, after so many hours, is that this day is just to promote the use of sunglasses for optical care. It also celebrates the affinity of people for sunglasses and their spirit to make a fashion statement using them.
So if you are one of those people who still doesn't have a sunglass, what are you waiting for? Show some love to your eyes and let the sunglasses take care of them.
We hope that now you understand the reason behind celebrating this day. So now we will move on to the most interesting part which is all about the ways you can celebrate this special day.
How can we observe National Sunglasses Day?
Nobody wants to spoil a special day with some dull and boring activities.We know you were waiting so long for some of the best ideas. So without much delay let us quickly take a look at all the little ways of making your day memorable.
Buying a pair of sunglasses on this day can never be a bad option, provided you are ready to spend a few bucks. Enjoy your day by choosing your favorite shade from your favorite brand. Protect your eyes while looking absolutely trendy and fashionable.
You can visit a beach and protect your eyes with the best sunglasses on this special day. It will also help to enhance your beach look. Post a selfie in this look with #National Sunglasses Day.
Go for lunch with your family and friends wearing your favorite sunglasses which go with your outfit. After all, you need to stand out in terms of fashion.
Last but not least, you can gift a pair of sunglasses to your close friend or family member on this day. No other gift can be better than a sunglass which makes you look attractive and protects your eyes as well.
Interesting facts about National Sunglasses Day
Wanna know some interesting facts about this day? We are equally excited to tell you all the facts which we have in store. So let's begin!
The first one is that you already know that sunglasses are not just for style but also for the protection of the eyes from harmful UV rays.
Next is the invention. It was first invented by China around the 12th century. They simply used some smoky quartz to protect the eyes from harmful rays.
Another interesting thing about sunglasses is that Chinese judges used to wear shades at the courts to hide their facial expressions.
One of the most unique designs of sunglasses is the aviators. Aviators were initially made for pilots to protect their eyes while flying. The purpose of this design was to protect the eyes from every possible angle.
Lastly, you may have seen some celebrities wearing sunglasses at night. This is because they are always surrounded by cameras and those shades help block the flashes.
History of National Sunglasses Day
Not much is known about the origin and source of Sunglasses Day. However, it started around 2009 with major contributions of some organizations like The Vision Council in the USA which aimed at promoting better eye care.
As we have already stated it is absolutely essential for the protection of the eyes besides its other style benefits. So to spread awareness and to celebrate the love for shades, a specific day is marked in the calendar.
Are you ready to celebrate this unique day with our unique ideas? If yes, rush to your nearest store and grab your favorite sunglasses and get ready to be the center of attraction at any party or social gathering.