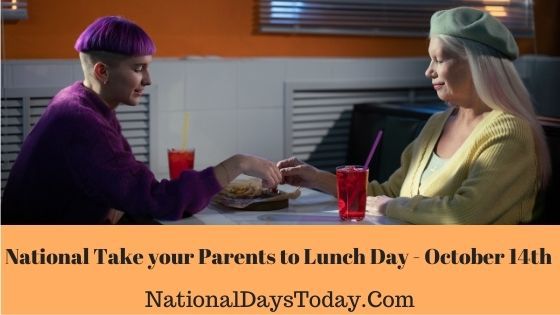 National Take your Parents to Lunch Day:
The National take your Parents to Lunch Day is an event that occurs on October 14 every year. It is a day when kids enjoy taking lunch with their parents in the school.
| | | | |
| --- | --- | --- | --- |
| Year | Date | Day | Where |
| 2023 | 24th October | Tuesday | United States |
| 2024 | 24th October | Thursday | United States |
| 2025 | 24th October | Friday | United States |
Twitter Hashtags:
#NationalTakeYourParentsToLunchDay
#TakeYourParentsToLunchDay
Related: Other National Days Celebrated on October 24th:
Why National take your Parents to Lunch Day?
The National take your Parents to Lunch Day is an event where parents go to their children's school and enjoy lunch with them. Due to the busy schedule of both children and parents, it can become very difficult to share a bonding time. However, this day offers the perfect opportunity for you to enjoy a few hours bonding with your parents or children. The day also presents a unique chance for parents and children to learn how they can have healthy meals. This is by learning together what is comprised in a healthy meal plan. You will gain insight into some of the things that you can add to your child's meal. Parents can also learn more about their children by enquiring about what it is that they enjoy about school lunches as well as their most favorite meals.
How can we celebrate National Take Your Parents To Lunch Day:
Invite your parents to school
The main thing to do to commemorate this day is to invite your parents to have lunch with you in school. You can then sit with them in the school cafeteria and then share your lunch with them. Make sure that you tell your parents what you love most about school lunches as well as the most favorite meal on the school menu. You can also use the time to bond with them and talk about some of the things you love about your school.
Join your children in school
As parents, you should mark this day by joining your children in school. Join them in the school cafeteria and partake in their meals. This will show them that you are willing to learn more about them. You can also liaise with the school to develop healthy eating plans that will help the students become better in their studies. If the school that your children attend does not mark this day, you can introduce the concept to them and be part of organizing the event.
Parents and children can use this day as an opportunity of visiting the school kitchen and airing their opinions on a number of issues. You can give suggestions on how the school menu can be improved to make the food as healthy as possible. Parents and school administrators can also come up with a better plan to improve the school cafeteria and the system.
The other thing that you can do as you mark this national holiday is to show your participation on social media. You can do this by taking videos with your parents or children and sharing them on your social media pages. You should also use your social media platforms to share some of the benefits that you have realized from participating in this day. Using the hashtag #NationaltakeyourParentstoLunchDay and #TakeYourParentsToLunchDay will also go a long way in motivating more people to participate in the event.
Interesting facts about National Take your Parents to Lunch Day
Some of the most interesting facts that you can learn about school meals include the following:
One in every three school-going children is overweight because of consuming a lot of calories in school. This necessitates improving the school menu.
Children are now having more fruits and vegetables in school cafeterias as a way of improving their diet
Improved school guidelines have made sure that parents are involved in the planning for school menus
The new limit for calories in school meals is 850, and this is strictly obtained from healthy meals.
History of National take your Parents to Lunch Day:
The National take your Parents to Lunch Day is celebrated on Wednesday in the second full week of October. The celebration was initiated by the Kiwi magazine, which also holds annual celebrations to commemorate the event. In as much as the history pertaining to the discovery of this day is brief, it is still one of the most important days in the school calendar. It ensures that parents can focus on other aspects of their children besides their grades. They will make sure that their children are maintaining healthy eating habits when at school because this also has an impact on their performance.