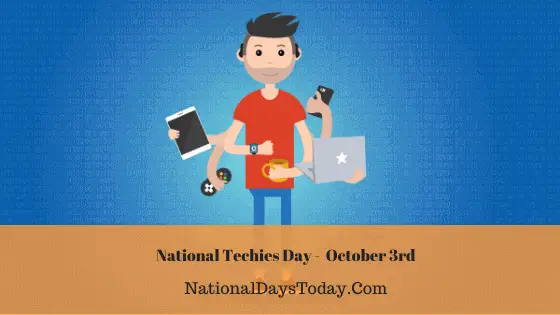 National Techies Day:
Celebrated on October 3rd, every year. The day is to celebrate and acknowledge , remember the great technies of all era.
| | | | |
| --- | --- | --- | --- |
| Year | Date | Day | Where |
| 2023 | 3rd October | Tuesday | United States |
| 2024 | 3rd October | Thursday | United States |
| 2025 | 3rd October | Friday | United States |
Twitter Hashtags:
#NationalTechiesDay
#TechiesDay
Related: Other National Days Celebrated on October 3rd:
Why Techies Day?
Our country is an excellent source for Technology that includes health care, software development, information security etc. We have more jab opportunities in these categories when compared with other developed countries. We have enough job opportunities, however most of the American are not excels in the tech jobs due to lack of interest. Therefore, the country is in urge to take employees from other countries. This day is to create awareness about the huge opportunities in tech field and to provoke the Americans to be educated in the Advanced Technologies. So Dears, I request you all to use those opportunities and become a great Techies.
How we can Celebrate National Techies Day:
Use this hashtag #TechiesDay to post on social media.
Interesting Facts About National Techies Day:
Techie refers to a person who is an expert in or enthusiastic on technology, especially computing and it commonly refers to people working in Information Technology. There are so many invincible Techies around us.
The topmost American techies who become inspirational energy for all the Americans are being listed below:
Bill Gates: William Henry Gates III commonly known as Bill Gates is an American Business Magnate and founder of Microsoft Corporation.
Steve Jobs: born in February 1955. he was an American business magnate and entrepreneur. He was chief executive officer, a co-founder, and the Chairman of Apple Inc. In addition, he holds the maximum share of Pixar, an American animation studio until his death. Apart from these, he was a member of The Walt Disney Company's board of directors after Walt Disney acquires Pixar. He was the founder, chairperson, and chief executive officer of NeXT, an American Computer, and Software Company. Steve Jobs is well remembered as a pioneer of the microcomputer revolution of the twentieth century along with Steve Wozniak, Apple co-founder. He died on October 5, 2011, aged 56.
Mark Zuckerberg: Mark Elliot Zuckerberg, an American technology entrepreneur well known for co-founding and leading Facebook as its chairman and chief executive officer. His accomplishment as the board member of the solar sail spacecraft development project is another achievement of him.
Lawrence Edward Page & Sergey Brin : Lawrence Edward page known as Larry Page, an American computer scientist and Internet entrepreneur and Sergey Mikhaylovich Brin, an American computer scientist and Internet entrepreneur founded Google , a world-famous American multinational technology company.
Jeff Bezos: Jeffrey Preston Bezos, born in New Mexico is  an American technology entrepreneur, investor, and charity donor who founded Amazon, another world-famous American multinational technology company. Amazon surpassed Walmart, an American multinational retail corporation that has a chain of stores worldwide and becomes the top brand in Market Capitalization.
In addition, Top ten Tech Hubs are San Francisco. Houston. Washington D.C, Dallas, Atlanta. Chicago, Seattle, Boston, Austin and New York City Silicon Valley. 
History of National Techies Day:
CNET Network and Techies.com introduced this day as national Techies Day to encourage the future generation to be excel in Computer science and software technology. By 2020, it job opportunities expected to reach 20 percent high from the current jobs vacancies. This day is created to encourage the younger generation to emphasize in Tech field.