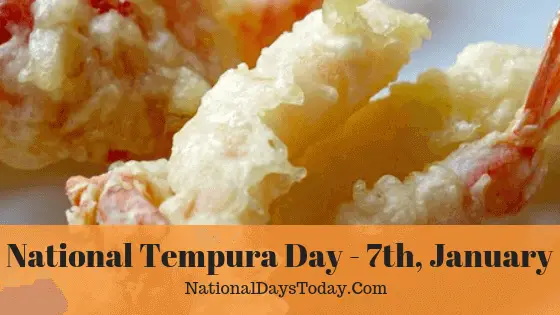 National Tempura Day:
Celebrated on January 7th, every year.The day is to enjoy with Tempura,a famous Japanese food.
| | | | |
| --- | --- | --- | --- |
| Year | Date | Day | Where |
| 2023 | 7th January | Saturday | United States |
| 2024 | 7th January | Monday | United States |
| 2025 | 7th January | Tuesday | United States |
Twitter Hashtags:
#TempuraDay
#NationalTempuraDay
Related: Other National Days Celebrated on January 7th:
Why Tempura Day?
The day is for the one of most Japanese famous food Tempura, which composed of either vegetable or seafood. Variants like Shrimp Tempura, vegetable Tempura, Tendon, and Tempura Udon are quite famous ones. It is prepared by fried cooking method that is battered usually and fried. This cooking technique was actually introduced by Portuguese to Japan before few centuries.
How we can Celebrate National Tempura Day:
Enjoy the day with Tempura. And, don't forget to post your recipes using this hashtag #TempuraDay on the social media.
Try a recipe on this day if your time permits and enjoy the day with homemade tempura.
To prepare Tempura batter:
Step 1: Take a bowl and two eggs. Separate the white and egg yolk; place only the egg yolk in the bowl.
Step 2: Add a large glass of water and blend it well. Add an ice cube or two, ice cubes are recommended since it will deprive the formation of gluten up to certain level in the batter when the flour is mixed with egg.(if you use large amount of flour, add more ice cubes).
Step 3: Add two cups of all-purpose flour, cake flour works well. Stir it well until the eggs and water mixture collides well with the flour. That's all, batter is ready.
Tempura Shrimp:
Step 1: Take at least 10 shrimps, you can take out the scales if you want or else you can take as it is.
Step 2: Take a frying pan, pour some oil for frying. Let it set hot.
Step 3: Dip a shrimp into the batter and fry it until it becomes golden brown.
That's all! Over. Serve hot. The combination of tempura with Mayonnaise will be mindblowing. Have a nice day.
Interesting Facts About National Tempura Day:
Tempura is derived from a Latin word "Tempora", means "times".
In around mid-16″' century, the missionaries from Portugal settled in Nagasaki where they introduced this dish to the Japanese people. Tempura was an extremely popular dish in Japan until 18″' century. In olden days, the processing of batter will be similar as per the traditional method in all hotels, but now different ingredients are used to make batter since the batter only matters in Tempura. Even a change of an ingredient could produce some different versions of Tempura.
Seafood's like Shrimp, Crab, fish, Catfish, Pollock, scallop, squid, white fish, Sea bass, Sea perch, ray, skate, etc. are commonly preferred. Vegetables like broccoli, asparagus, mushrooms, Onions, Carrots, pumpkin, beans, butternut, yam, eggplant, potato, watery vegetables etc. are also widely used. However, in the United States, Chicken and Mozzarella are also used along with cheese. Ingredients like baking powder, starch are also commonly used. Tempura is normally eaten either as a snack food or with steamed rice, noodles etc. Tempura centric ice creams (fried ice creams) also very popular in Japan, Bangladesh and Taiwan.
History of National Tempura Day:
The history of National tempura Day is unrevealed with my research. Please post in the comment section if you find or know any facts with respect to the history of the Day.