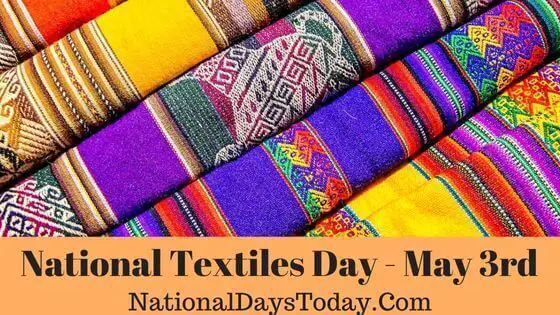 National Textiles Day:
The National Textiles Day set on the 3rd day of May is celebrated on a yearly basis to recognize the amazing contributions of textiles in improving the love of the users. Textiles have a wide range of applications, including fashion and style as well as in the provision of multiple design possibilities.
| | | | |
| --- | --- | --- | --- |
| Year | Date | Day | Where |
| 2023 | 3rd May | Wednesday | United States |
| 2024 | 3rd May | Friday | United States |
| 2025 | 3rd May | Saturday | United States |
Twitter Hashtags:
#NationalTextilesDay
#TextilesDay
Related: Other National Days Celebrated on May 3rd:
National Chocolate Custard Day
National Garden Meditation Day
National Specially-Abled Pets Day
National Raspberry Popover Day
National Two Different Colored Shoes Day
Why National Textiles Day?
The woven fibers of natural and synthetic materials create textiles that make life very easy as well as comfortable. The resultant fabric makes coverings for a wide range of applications. The clothes we put on daily, the beddings we sleep on, the material that covers our furniture, and the rugs we use all over the house. These are all textiles. The drapery and canvas we use in art and painting are all applications of textiles.
Textile comes into play for so many reasons and is popular for their versatility. The ability to take different colors and textures makes for a wide range of possibilities for both design and expression. Fabrics play a key role in the protection of elements. In as much as we may change the textile to suit the individual needs we have, textile remains a very firm yet so delicate material and will always suit the intended design. This means that while other textile forms are sporty because of their breathing allowances, others are able to resist wind, rain, and even the sun.
The sustainability, as well as the environmental friendliness of textile, is a factor that is considered during the manufacturing process. For instance, Valley Forge Fabrics, a company serving by working synonymously with the environment are very keen about the textile they produce as fabrics. This company features a reclamation take-back program for most of their products since their inception many years ago.
How we can observe the National Textiles Day:
There are so many ways through which we can observe this remarkable national holiday. They include:
Put on something that has a textile fabric
The most basic way to observe this remarkable day is by wearing something that has textile. This could be a trouser, jacket, shirt, and pair of shoes, bag or even a pouch.
You can observe this amazing day also by recognizing the remarkable work of the person that uses fabric or textiles in making the clothes you wear. Do this by letting them know how their wonderful skill has made your dressing look beautiful and presentable. Alternatively, take a note of appreciating textile manufacturers for their amazing creations.
You can also choose to observe this day by replacing the old fabrics or materials in your wardrobe with new ones. For instance, if your clothes are old and torn, take some time to go out and shop for fabric that will later be used in mending the cloth. This is one of the applications of fabric. With new fabric or textile and of different colors and designs, you will be able to stand out in marking this day for what it really is, and thereby ensure that the significance of the day upholds timelessly.
You can also observe this wonderful day by posting on social media using the handle #NationalTextileDay and sharing this across your following on different social media platforms like Facebook, Twitter, and Instagram.
Sharing your textile experiences with friends and colleagues
You can also choose to observe the National Textile Day by sharing with friends and colleagues about the design as well as the structure and model of the textiles that have been integrated into your clothes, shoes, bags, and pouches. Alternatively, take the time to discuss some of the ways that textiles have made your clothes more appealing and how long certain models have served you.
Interesting facts about National Textiles Day:
Some of the most interesting facts about this auspicious national holiday include:
Bangladesh celebrated this special day in 2019 recently. On their occasion, they made the highlight and theme of their celebration as 'globalization of the textiles sector-sustainable development'. With this celebration, they made the decision to spend the rest of their lives trying to grow the sector in prosperity and vibrancy.
The textiles sector plays a very key role in enabling rural poverty alleviation. It is also an enabler for women's empowerment and the generation of employment opportunities.
History of National Textiles Day:
The history of this amazing day traces back to 2016, a period when the Valley Forge Fabrics came forward to propose that this day be observed. Their main motivation was to bring attention to the versatility as well as the beauty of textiles. The Registrar at the National Day Calendar was quick to embrace this proposition and officially declared it for May 3rd annually.