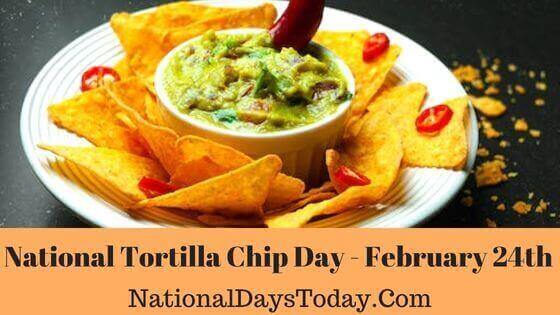 National Tortilla Chip Day:
Observed annually on every February 24th, the National Tortilla Chip Day honors the globally adored crunchy snack – the Tortilla Chips! Plain or served along with salsa, cheese dip, guacamole, or any other dip, the tortilla chips don't seize to make you fall in love with them!
| | | | |
| --- | --- | --- | --- |
| Year | Date | Day | Where |
| 2023 | 24th February | Thursday | United States |
| 2024 | 24th February | Friday | United States |
| 2025 | 24th February | Sunday | United States |
Twitter Hashtags:
#NationalTortillaChipDay
#TortillaChipDay
Related: Other National Days Celebrated on February:
Why National Tortilla Chip Day?
Tortillas originated in Los Angeles during the late 1940s, although they have always been known as a Mexican dish!
Rebecca Webb Carranza & her husband are credited for making the tortilla chips popular with their tortilla factory! It all happened when their tortilla-making machine glitched and produced misshaped tortillas. Carranza swung into action to save the day, by cutting them further into triangles, fried them, and sold them successfully! This brilliant idea not only was one of the biggest contributions to the Mexican food industry but also landed her the Golden Tortilla Award in 1994! Today the US has a huge market for tortilla chips!
Tortilla chips are prepared using yellow corn, although they could be made from red, blue, or white corn! Tortilla dough is made using corn, salt, water, and vegetable oil!
Tortilla chips attained their ultimate fan following around 1943 when Ignacio Nacho Anaya created "Nachos"! He served the tortilla chips with shredded or melted cheese along with additional toppings such as salsa, tomatoes, lettuce, sour cream, jalapenos, meat, refried beans, olives, and diced onion!
These crispy triangles are among the best social food as they make sharing simple and easy! They are so classy that you can even throw a party with tortilla chips and some salsa!
They are not only for the party days but also a comforting snack when you need some me-time or want to satisfy those instant cravings!
The best part is that the tortilla chips complement different flavors perfectly enabling you to enjoy various combinations! They are gluten-free food! Heavenly isn't it?
The tortilla chips have become so popular that they even beat burgers and hotdogs in the competition!
What better way to enjoy, share and cherish the tortilla chips than with a dedicated National Tortilla Chip Day?!
How Can We Observe National Tortilla Chip Day:
Load up on Tortilla chips!
Celebrate the National Tortilla Chip Day by shopping for your favorite tortilla chips and snacking on them the whole day! Or have fun exploring the neighborhood for the best nachos in town today!
Honor National Tortilla Day by switching the regular popcorn with the tortilla chips for your movie night! Choose your favorite dip and enjoy the blasting combination!
Get messy for tortillas chips!
To make it a family event, make tortilla chips at home! Involve your children in the tortilla chip-making process and get some messy hands today! Whip up your family members' favorite dip or just buy some salsa or guacamole to celebrate the day! You could also do a tortilla chip-making activity on a boring rainy day to keep your children engaged!
Invite friends and family for a night of tortilla chips and dips! Mix up the tortilla chips brought in by them and explore them with different toppings and dips today!
Take your love for food experimenting to the next level with different dips! Don't be afraid to mix different dips and explore some unique flavors today! If the experiment ends up wrong, at least you know which dips should not end up together!
Creative tortilla chips recipe coming up!
Crazy about tortilla chips recipes? Celebrate the day by putting together a tortilla chip dish just like you always imagined! Extra cheese, extra olives, extra salsa or give it your native continental twist with native spices, herbs, seaweed, or even noodles!
Pass on the tortilla chips love!
Inspire others to try the amazing tortilla chip recipes on social media today! Share your favorite tortilla chips photos, videos, recipes, and history to offer valuable content today! Use #NationalTortillaChipDay and #TortillaChipDay with all your posts!
Interesting Facts About National Tortilla Chip Day:
Here are some interesting facts related to National Tortilla Chip Day!
As of 2015, Doritos was ranked in the top position for its $1.3 billion sales of tortilla chips!
In 2003, Texas announced tortilla chips and salsa as their official snack! It was proposed by an elementary school group!
Tortilla chips are hit at social gatherings as they are gluten-free!
Blue corn tortillas are considered to be the healthiest version as they have 20% more protein and less starch than other corn!
History of National Tortilla Chip Day:
The origin and the founder of the National Tortilla Chip Day remain unknown. While we remove the cheesy-gooey-crispy layers of history to continue finding them, don't miss to chill out with a bag of those crispy national treasures! Happy National Tortilla Day!