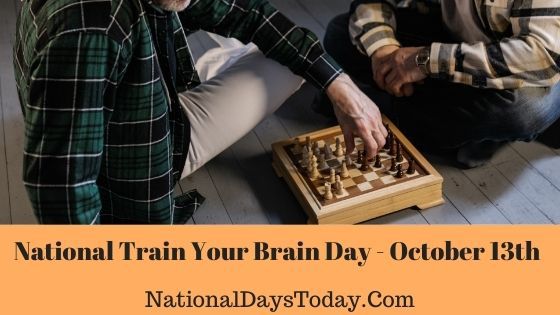 National Train Your Brain Day:
This day is celebrated on 13th October every year and is one of the smartest days in the year or makes you smart.
| | | | |
| --- | --- | --- | --- |
| Year | Date | Day | Where |
| 2023 | 13th October | Friday | United States |
| 2024 | 13th October | Sunday | United States |
| 2025 | 13th October | Monday | United States |
Twitter Hashtags:
#NationalTrainYourBrainDay
#TrainYourBrainDay
Related: Other National Days Celebrated on October 13th:
National Yorkshire Pudding Day
Why  National Train Your Brain Day?
When we ask or try to find out the answer to how much of our brain we actually have used, it can be really disappointing. It is majorly because our regular or routine activities cannot keep our mind sharp. It is pretty thwarting as to how little effort we take for our mental health when we can indulge in so many experiences that will fill the room with experience and knowledge. This day is an inspiration to expand and exercise our brain so that we can use it up to its full potential and capacity, and unlike other days this day is a creation for us to focus on ourselves (particularly) so that we remind ourselves of the impact we can have over us and other by following the right manners. This day can be a day we specifically dedicate to our cognitive skills because if we're doing the same thing every day, we're probably not solving too many problems.  A human brain is a gift that is not cherished and used up to its full potential. The brain gets bored. You'd get bored, too, if you watched the same episode of the same TV show every day.
This day can be celebrated either solo or in groups too. The purpose of the day is to improve our thinking power since exercising our brain is as important as any other physical exercise.
How do we observe National Train Your Brain Day
The basic way to celebrate this day is to solve a lot of riddles and puzzles and do many different activities. Some ideas are given below:-
Playing games, including brain activities like treasure or scavenger hunts.
Playing or doing simple paper activities like Sudoku.
Break your regular routines and keep trying something (even minutely) different
Riddles and word games are a popular part of this day.
Tap into a different side of yours by learning a new skill or trying problem-solving to another level
If nothing, you can learn something/anything because it has its own benefits too.
Expand your horizons to things you never thought you would try ever
If going to the same places, try taking different and rather longer routes.
Even changing experiences for your taste buds help you somewhere or the other.
Writing poems and stories.
Solving crossword puzzles
Doing something as simple as meditation also helps.
Play games like memory and match
Working and making jigsaw puzzles
If nothing, you can definitely read your daily newspaper.
Solving brain teasers and riddles
Take turns telling stories and continuing them with your families.
Try eating and writing with non-dominant hands.
Give your brain a challenge by trying to read or learn a new language.
Learn new words and play word sudoku
Try getting more sleeping hours.
Try changing your routine like doing it differently and to include a challenge due to it in reverse or alphabetical order, just for kicks, you know!
If you do not want to do any of these, just try a simple way of switching off the tv and doing something, anything (even something you might do in daily life).Use the hashtags #trainyourbrain #nationaltrainyourbrainday to share your ideas!  
Interesting facts about National Train Your Brain Day:
Some interesting things related to this day are mentioned below:-
This day is believed to be celebrated by improving and upgrading any individual's cognitive skills.
Physical activity is also a great way to train your brain too.
If out of ideas, you can dive into a creative ratio of your mind with the help of activities like art and craft, writing, reading, etc.
On this day, you can not only solve word puzzles and searches, riddles, number games, and trivia, but also you can find solutions to your problems in different ways.
With training your brain, you also need to maintain a healthy diet with physical exercise.
People are very often seen doing things with their non-dominant hands on this day.
It can take approximately 18 to 254 days to develop a new habit. The average value of these days is considered as 66 days.
The brain is considered the strongest muscle (and is considered your worst enemy) 
History of National Train Your Brain Day:
The history of the day is yet unknown. Still, the fact everyone is aware of is that this day was specifically created for everyone to exercise and expand their brain while discovering new things with the power and ability that this day has it can affect a profound amount of lives.