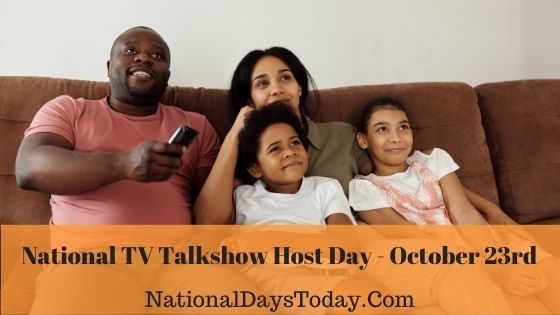 National TV Talk Show Host Day:
The National TV Talk show host day is on the 23rd of October. This day is the birthday of one of the legendary TV talk show hosts, Johnny Carson. This day acknowledges the contributions of this legend.
| | | | |
| --- | --- | --- | --- |
| Year | Date | Day | Where |
| 2023 | 23rd October | Monday | United States |
| 2024 | 23rd October | Wednesday | United States |
| 2025 | 23rd October | Thursday | United States |
Twitter Hashtags:
#NationalTVTalkshowHostDay
#TVTalkshowHostDay
Related: Other National Days Celebrated on October 23rd:
National Swallows Depart From San Juan Capistrano Day
Why National TV Talk Show Host Day?
The National TV Talk Show Host day is the day the legendary TV show host, Mr. Johnny Carson, was born. Mr. Carson is considered the King of late-night television. He has entertained the people for years together and has gained a very respectful fan base. Carson has hosted for 29 years, 7 months, and 21 days. He managed to build a strong fan base all over the world with his humor and wit.
The birthday of the legendary talk show host was declared as the National TV talk show host day to commemorate and honor the man's contributions. It also aims to acknowledge and applaud the contributions of all such hosts who have relentlessly made us laugh and entertained us for years. Their dedication to their profession and their contribution to the industry and all our lives are recognized on this day.
These individuals influence our lives constantly. Many of us look up to these personalities and aim to develop a charming personality like theirs. They never cease to amaze us with their unique talents. Some of them have become part of our family lives when we all sit around the table and watch our favorite programs.
In an attempt to acknowledge their work, October 23rd was declared as a national tv talk show host day. We have had thousands of brilliant hosts over the years. These individuals relentlessly work to bring a smile to their faces. The whole industry of Talk shows and Late night shows has changed, yet the idea remains to this day. Even today, millions of people gather around televisions to laugh their tough days off. This day is to celebrate all that they do for us. 
How can we celebrate or observe National TV Talk Show Host Day?
Have a T.V show marathon. Call your friends home and binge-watch episodes from the talk show.
Watch episodes of the shows hosted by Johnny Carson. We need to honor his work. Let's go back in time and watch these famous shows that made him the king of late-night television.
Discover news shows on this day. Often we choose to stick to shows that we are familiar with. Use this day to discover new and unique talent.
Post the pictures of the show you are watching on social media with the hashtag #NationalTVTalkShowHostDay and #JohhnyCarson and #TVTalkShowHostDay.
Have a TV talk show-themed party and invite your friends over. Discuss your favorite hosts and talk about them.
Write to your favorite hosts, thanking them for their sincere contribution to the industry.
Interesting Facts about National TV Talk Show Host Day:
Here are few very interesting facts on National Tv Talkshow Host Day:
National Talk Show Host Day is actually the birthdayof the famous talk show host Mr.Johnny Carson.
Johnny Carson became one of the legendary personalities of TV Talk shows and went on to be named the King of late-night shows.
Every year National Tv Tal Show Host Day is celebrated on the 23rd of October.
Johnny Carson started his career as the host of "The Tonight Show Starring Johhny Carson in the year 1950.
He set the standard of the show with his Phoenix. People loved his show because of its ability to portray different roles. 
History of the National TV Talk Show Host Day:
National Tv Talk Show Host Day is celebrated on Johnny Carson's birthday, one of the Tv talk show industry legends. This day commemorates one of the most iconic figures of TV Talk Show history. He started his career in 1950 when he first started the Tonight Show as a host. This was the beginning of a legacy that would carry on for another 42 years. He would be remembered for generations as the man who changed the face of Tv Talk Shows. His ability to portray a variety of roles gathered his fame for his role.
His show was a variety show, and he played many roles over the years. Talk Show Host Day was set on his birthday to honor him. This day acknowledges all the contributions that he made to the industry. His fans use this day to go back to all the lovely episodes that he gifted us with. This is the history of the national TV Talk Show Host Day. Apart from celebrating Johnny Carson, this day also celebrates all the TV Talk show hosts. This day was declared to thank all the hosts for their wonderful contributions and their efforts always to keep us entertained.