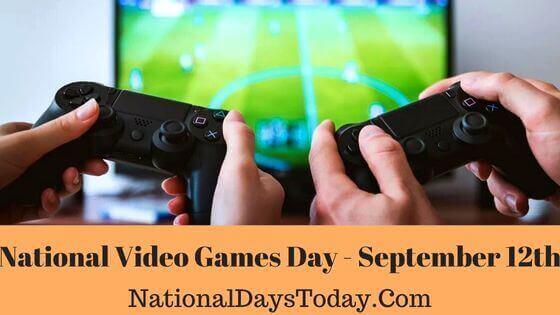 National Video Games Day:
National Video Games Day is celebrated on September 12th every year to celebrate the history, popularity, and cultural impact of video games.
| | | | |
| --- | --- | --- | --- |
| Year | Date | Day | Where |
| 2023 | 12th September | Tuesday | United States |
| 2024 | 12th September | Thursday | United States |
| 2025 | 12th September | Friday | United States |
Twitter Hashtags:
#NationalVideoGamesDay
#VideoGamesDay
Related: Other National Days Celebrated on September 12th:
National Report Medicare Fraud Day
National Chocolate Milkshake Day
National Boss/Employee Exchange Day
Why National Video Games Day
National Video Games Day is a day to celebrate the joy that video games bring to our lives. According to the Entertainment Software Association, 65 percent of American households have at least one person who plays video games regularly. That's over 164 million people in the United States alone! Whether we play for fun or for competition, video games offer us a way to escape from reality and bond with friends and family.
National Video Games Day is an excellent opportunity for gamers of all ages to come together and share their love for video games.
It is a day to celebrate video games and the positive impact they have on our lives. In honor of National Video Games Day, let's take a look at some of the benefits of playing video games.
Benefits of playing video games.
Video games provide a number of benefits for people of all ages.
playing video games include improved hand-eye coordination, increased problem-solving skills, and enhanced strategic thinking.
helps to improve reflexes and can boost cognitive function.
can help relieve stress and tension, promote socialization, and even improve academic performance in some cases.
Drawbacks of playing video games
Video games are a popular form of entertainment enjoyed by people of all ages. Though they provide hours of enjoyment, there are some drawbacks to playing video games.
can be addictive.
Some people become so obsessed with winning that they neglect their responsibilities and obligations.
lead to social isolation as players can become so engrossed in the game that they lose touch with reality.
can desensitize players to violence and lead to increased aggression.
How Can We Observe National Video Games Day
It was created by Jeremy Shaffer in 2007 as a way to celebrate and appreciate the video game medium. The day is typically marked by gamers playing video games together, sharing gaming experiences online, or watching gaming-related content on YouTube or Twitch.
Ways to Celebrate
It is a celebration of all things video games. Here are some fun and easy ways to celebrate the day:
Play your favorite video games.
Watch videos of people playing your favorite games.
Check out gaming news and reviews online.
Read about the history of your favorite games or gaming consoles.
Play games with friends or family members.
Attend a gaming convention or meetup.
Interesting facts about Video Games Day:
some of the interesting facts about Video Games,
Video games are a pastime that many people enjoy. Though they may seem like mindless entertainment, there is more to video games than meets the eye. Here are some interesting facts about video games.
Some video games are so realistic that they cause seizures in the players.
The Nintendo Entertainment System was the first video game console to have a light gun.
Playing video games can cause you to become more aggressive.
Many of the most popular video games are based on movies or books that were previously released in theaters or on paper.
The Nintendo Entertainment System is the most popular video game console of all time. It has sold more than 100 million units worldwide.
Types of Games
There are a variety of different types of video games to suit everyone's interests.
There are mostly two types of games:  action and strategy.  Action games focus on the action, which can be a fighting game, shooter, or sports game.  Strategy games focus on strategy and planning over action. Action games are the most popular type of video game, and they tend to be very fun. Strategy games usually involve a lot more strategy than action, but they can also be very fun too.
History of National Video Games Day
This day was created to celebrate the history and impact of video games on popular culture. This Day was first celebrated in 2007 by John Staudhammer, who is also known as the "Father of National Video Games Day". This day is a great opportunity for people to come together and celebrate their love for video games.
The first video game ever created was called "Spacewar!", developed by three students at MIT in 1962. In addition, the first commercially successful video game console was called the Atari 2600, which was released in 1977. Finally, the best-selling video game of all time is "Pac-Man", with over 350 million copies sold worldwide
Video games have come a long way since the days of Atari and Pong. These days, gamers can enjoy countless options across all platforms, including PC, consoles, mobile devices, and more.