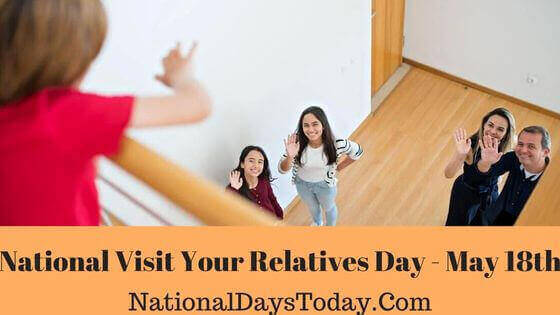 National Visit Your Relatives Day:
A day to remind us to remember our relatives, the National Visit Your Relatives Day celebration is done on the 18th of May every year.
| | | | |
| --- | --- | --- | --- |
| Year | Date | Day | Where |
| 2023 | 18th May | Thursday | United States |
| 2024 | 18th May | Saturday | United States |
| 2025 | 18th May | Sunday | United States |
Twitter Hashtags:
#NationalVisitYourRelativesDay
#VisitYourRelativesDay
Related: Other National Days Celebrated on May 18th:
National HIV Vaccine Awareness Day
Why National Visit Your Relatives Day?
Living in a fast-paced world, we often do not have time to ourselves, leave alone have time to spend with our family and friends. While technology has managed to bridge the distance and has given us easier means to communicate, we still do not have the time to call or visit our relatives often. Our environment, including our family, relatives, and friends have a hand in shaping our personalities and our success. It is time to reach out to all our close ones and spend quality time with them. The National Visit Your Relatives Day reminds us of the need to connect to our relatives and how spending time with them becomes the most precious time of our lives.
How can we celebrate National Visit Your Relatives Day?
While humans have evolved and families have lost their influence on the kind of life we need, you cannot undermine the importance of families in shaping our personalities. There is more than one way to celebrate this day and here we have a few tips on how you can do it this year.
The first thing you can and must do on this day is to Visit your Relatives on this day. Plan out an outing with all your relatives who live in the same locality as you on this day.
If you have relatives living across the city or in some other part of the country, you can use this day to make a trip to meet them. This would give you a chance to meet your relatives and also explore new cities and countries alongside.
You can plan to meet up with family every year on this day in a new place. It would be a good break from your monotonous life and also give you a chance to catch up with family, getting to know them better.
You can have some videos and photos taken on this day to keep the day fresh and memorable in your memories.
Share your pictures, memories of time spent together, your thoughts, and a special message to your loved ones on social media with #NationalVisitYourRelativesDay.
Interesting facts about National Visit Your Relatives Day:
On this special day, let us get to know more about relationships and their evolution over the years.
Being happy can have a positive impact on your heart health. That is why it is important to enjoy a loving relationship with people in your life.Happiness in your heart can keep your hypertension at bay.
Many animals commit to monogamous relationships like barn owls, seahorses, wolves, beavers, otters, etc.
When you share a strong bond with a person, as you gaze into your eyes, your heartbeats synchronize. This is a proven fact through studies.
Over the years, there has been a steady increase in divorces and therefore, a steady increase in remarriages too.
It is not just the apple that keeps the doctor away but being in love can also do the same. Some studies indicate that the fuzzy feeling you have in love can act as a painkiller.
With more than 86 years to their marriage, Herbert Fisher and Zelmyra Fisher hold the Guinness record for the longest-standing marriage.
While there are many flowers, nothing spells love out as much as the red roses. But you can choose the flowers you want to express your emotion in specific relationships.
Children feel safe in a robust family environment and nurturing relationships. The environment teaches them to learn about communication, teamwork, appreciating others, etc.
Siblings and relationships with them can have a huge impact on our behavior, personality, and outlook.
History of National Visit Your Relatives Day:
There is no specific information available on how the initiative of this day began. But we do know that the history of families and values around them have been in existence forever. The family system and values have not changed over the years. However, with the time and our tight schedules, we have lost touch with our relatives and this day serves as a purpose to remind us of the same.