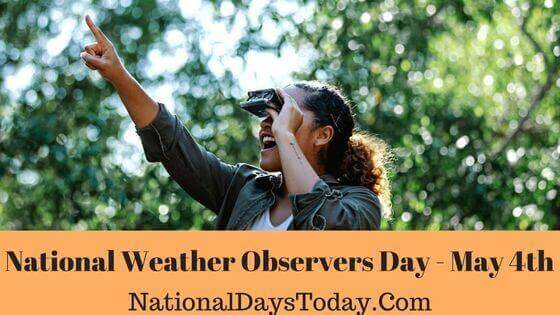 National Weather Observers Day:
Celebrated annually on May 4th, the National Weather Observers Day is a day for those who make weather observations and enjoy exploring weather conditions.
| | | | |
| --- | --- | --- | --- |
| Year | Date | Day | Where |
| 2023 | 4th May | Thursday | United States |
| 2024 | 4th May | Saturday | United States |
| 2025 | 4th May | Sunday | United States |
Twitter Hashtags:
#NationalWeatherObserversDay
#WeatherObserversDay
Related: Other National Days Celebrated on May 4th:
National Candied Orange Peel Day
Why National Weather Observers Day?
The main idea of this day is to highlight the importance of people who work in weather services round the clock and help warn people of impending storms and other weather changes.
It's amazing how these weather observers, or Storm Spotters as they are generally termed, are very helpful to communities and the country. These Storm Spotters assist the National Weather Service.
Around the world, weather stations and weather spotters make about a thousand weather observations in a day. From all three places, land, sea, and air, these observations provide valuable information that informs the public about impending storms in advance. They also help in understanding the weather phenomena in a better manner and also study historical data.
How can we Observe National Weather Observers Day:
Sign up for a Weather Spotter's Course- When you celebrate National Weather Observers Day next time, and if you are interested in learning about weather phenomena, make sure you enroll yourself for a Weather Spotter's Course. You will learn how to identify different types of clouds, shifting weather, and it will also prepare you for the different types of weather in your climate.
Learn how to make a Barometer- You can even try your hands on making your barometer for this day. It's very easy to make and can be made with just a few materials in your home. You can refer to video tutorials to guide you in a step-by-step procedure on making a barometer. After making, you can immediately start tracking the weather in your nearby area. #NationalWeatherObserversDay
Post your photos of celebrating this day on your social media. You can post a photo of your barometer or of you learning the Weather Spotter's Course. #WeatherObserversDay
This holiday aims to have fun observing the weather for the day. People share stories and photos of weather phenomena. So, to get into the mood of this day, take out your camera, lounge chairs and enjoy a whole day of observing clouds, sun, and stars with your friends and family.
You can watch the morning news about weather conditions on this day.
Predict the next week's weather with your family and then find out who's prediction was right as the week progresses.
Read some weather books together. 
Interesting Facts about National Weather Observers Day:
Let's have a look at some interesting facts about this day.
Storm Spotters were first used during World War II to alert the military artillery plants of approaching lightning.
On this day, it is a tradition in families to carry blankets, gather on them, look up at the sky, and observe all that's happening. It's usually done in the mornings, and families enjoy seeing the clouds move past them. They even make out characters and shapes from these clouds.
Some weather clubs celebrate "Sky Parties" on this day and gather for food and snacks under the sky. Astronomers gather under the night sky and observe the movement of stars. They have their Astronomy clubs who follow this tradition on this day.
History of National Weather Observers Day:
The day got its recognition in 1989 by Alan Brue, who was a psychology major at the State University of New York and founded this day on May 4th. He created this day for people who are weather enthusiasts and professionals to celebrate their love of weather. This day is celebrated on May 4th every year and is for people interested in observing the various weather phenomena. A huge number of people and networks help the National Weather Service achieve its mission of protecting people and property with their observations and weather reports. These networks include Cooperative Observers, SKYWARN Storm Spotters and Ham radio operators, CoCoRaHS Observers, and of course, the ever-vigilant public.
Even you can join the CoCoRaHS Observers Team as a volunteer as this program is open to all, and everyone works together to measure and map the precipitation. You will receive all the equipment and training in this program on measuring and mapping precipitation and how to write the reports. It's all very easy to set up; take out a gauge, put it out during the rainy season, check the amount of rain in the gauge, and write your observations on the website of the National Weather Service.