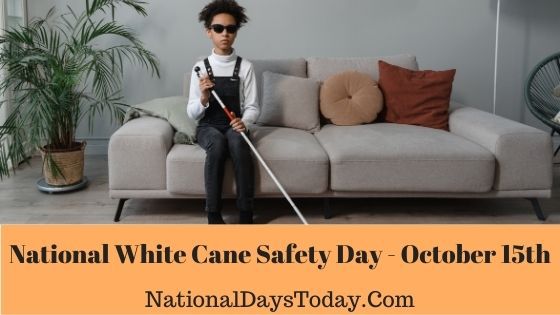 National White Cane Safety Day:
Celebrated annually on October 15th, the National White Cane Safety Day stresses the importance of a white cane especially among motorists to help the visually challenged move safely and independently!. It is also a wonderful day to celebrate their achievements and independence despite the challenges they face every day!
| | | | |
| --- | --- | --- | --- |
| Year | Date | Day | Where |
| 2023 | 15th October | Sunday | United States |
| 2024 | 15th October | Tuesday | United States |
| 2025 | 15th October | Wednesday | United States |
Twitter Hashtags:
#NationalWhiteCaneSafetyDay
#WhiteCaneSafetyDay
Related: Other National Days Celebrated on October 15th:
National Latino Aids Awareness Day
National Pregnancy and Infant Loss Awareness Day
Why National White Cane Safety Day?
A white cane is an important tool to aid the blind and the visually impaired people to move and navigate. It also serves as a symbol to help others acknowledge visually impaired people around them.
The National White Cane Safety Day, founded by President Lyndon B. Johnson has been celebrated as a federal holiday since 1968 only with different names. The tradition was carried down by the succeeding Presidents as well! If you hear White Cane Safety Day, White Cane Awareness Day, White Cane Day, or Blind American Equality Day don't be confused they are all the same. The names evolved as the need and challenges of the visually challenged people changed with time.
The National White Cane Safety Day recognizes the right of the visually challenged people to achieve independence, and travel alone on the busy streets!
But in the first decade of its establishment, only a few blind people enjoyed complete independence and surprisingly the next decade didn't see any increase in the numbers as vehicles wouldn't stop and travel was not accommodating their needs.
Thus White Cane Safety Day lays the precedent for equal rights to access roads for the sighted and the blind.
It is very easy for us to ignore the needs of the visually challenged but remembering that they are humans just like ourselves who need a little extra care is the first step towards creating a better and fair world!
So this National White Cane Safety Day, remember to stop your vehicles when you spot a white cane handler or a person traveling with a guide dog to help them have a safe commute!
How Can We Observe National White Cane Safety Day?
You can observe National White Cane Safety Day by simply stopping your vehicles at least 5 feet away when you spot a white cane holder or a person being led by a guide dog.
While the visually challenged people are crossing show courtesy by not honking at them.
If you find them to be struggling to cross the streets gently lend your elbow for them to follow.
Volunteer for the blind schools
There are several people, schools, and organizations that would be happy to have your help to move, read and learn or assistance in many other ways!
Get trained from O&M specialists
If you are visually challenged, enroll for training from an O&M specialist for confident mobility!
Share the importance of National White Cane Safety Day with friends and family on social media! Use #NationalWhiteCaneSafetyDay and #WhiteCaneSafetyDay to share your posts today!
Interesting Facts About National White Cane Safety Day:
Here are some interesting facts related to the white cane safety day!
Thanks to George A Bonham, white-colored canes with red stripes were first suggested by him when he witnessed a man trying to cross a street with his black cane and motorists were unable to notice it.
As per TSA, you can take your white cane on your flight travel and it must pass through the X-ray machine
Today high-tech canes are being designed with ultrasonic devices that can detect obstacles up to nine feet away and give vibrations to the cane user to warn of potential hazards in their path.
Only 2% to 8% of the visually challenged people use a white cane while the rest depend on their usable vision, sighted guide, or a guide dog.
White canes come in three types. A standard mobility cane to navigate, a support cane for navigation and mobility, and the foldable ID cane are used by people with partial sight.
To become a certified O&M Specialist for the visually challenged, it is mandatory to spend a minimum of 120 hours navigating with a white cane blindfolded.
Today white canes weigh as light as seven ounces and are usually made from carbon fiber, fiberglass, or aluminum.
The Braille Institute hosts an annual Cane Quest for children aged between three and twelve to encourage them to become independent by mastering the right white cane techniques.
It's illegal in some states to use a white cane to achieve right-of-way while crossing a street if you are legally not visually impaired.
History of National White Cane Safety Day:
National White Cane Safety Day was authorized by President Lyndon B. Johnson to be celebrated on October 16th every year! However, it is not a federal public holiday!