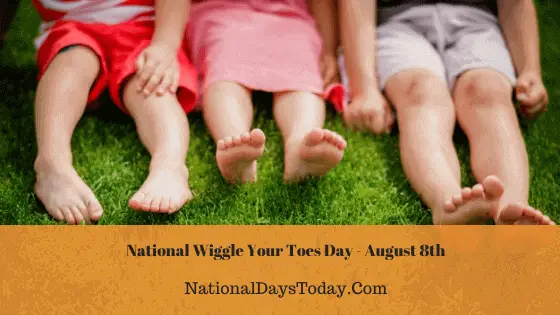 National Wiggle Your Toes Day:
Every year August 8th is celebrated as "National Wiggle Your Toes Day" in the United States to create consciousness to wiggle your toes in order to take care of toes and feet.
| | | | |
| --- | --- | --- | --- |
| Year | Date | Day | Where |
| 2023 | 8th August | Tuesday | United States |
| 2024 | 8th August | Thursday | United States |
| 2025 | 8th August | Friday | United States |
Twitter Hashtags:
#WiggleYourToesDay
#NationalWiggleYourToesDay
Related: Other National Days Celebrated on August 8th
National Happiness Happens Day
National Sneak Some Zucchini Into Your Neighbor's Porch Day
why National Wiggle Your Toes Day?
In recent years, with the increasing consciousness, we tend to do work out to maintain our fitness levels, indeed our feet and toe health often become unnoticed, this national day is exclusively dedicated to create attention and to take care our toes and feet. Make your friends and relatives get acquainted with the significance of our toe health and enjoy this day by sketching smiley faces on your kid's toe and by indulging them to play.
How we can observe National Wiggle Your Toes Day:
On this national day, be a self-starter for maintaining healthy toe-feet, by trying below suggested simple exercises.
1)Marble pickup:
Take 2 bowls. One is filled with marbles of 20 numbers, while the other bowl being empty. Place these two bowls before a chair at a distance that your legs can touch it. By doing this the pre-requisites for this exercise are done. Keep yourself calm, sit erect in a chair and start picking marble one by one using your left leg toe and put it into the empty bowl lying on your right. Repeat this exercise with your right leg.
Benefits: Help us to build up the muscles lying underneath our feet and toes
2)Toe curls
Sit straight in a chair with your feet touching the ground. Spread a towel in a fashion such that the shorter end of the towel is near your feet. Place your left foot on the towel and using your toes start scrunching the towel towards you. Rehearse this movement with your right leg for a few minutes.
Benefits: Improves the strength of the flexor muscles
3)Tennis ball roll
Sit unbowed in a chair, place your feet on the ground. Keep a tennis ball under your feet and begin rolling it in a way, it touches all of your feet and toes. Exercise this action on both feet for half a minute.
Benefits: Mitigates pain related to arches in feet and plantar fasciitis.
4) Doming: 
Remove your shoes and sit flat with your feet on the floor. Make an effort to clinch the floor with your feet like an arch. Withhold for 7 seconds. Repeat this exercise 10 times for both the legs. Take a break for 5 seconds when you are switching between legs.
Benefits: Develops the abductor halluces muscle of your feet.
6)Toe flex
   Stand close to the wall with 2 feet distance. Flex your toes and try to press one of your feet against the wall for 5 seconds. Keep your feet back to the flat floor. Repeat this step on another foot and exercise it for 10 times.
5) Toe Pull
Sit in a chair with your left leg resting on the floor. Place your right ankle in the left thigh. Gently pull the big toe up and down, Do this exercise for 5 seconds. Have a break for a second and then repeat this exercise for your right leg.
Benefits: It helps the bones get back to their natural position hence easing the toes to feel good.
Below are the few tips to prevent your feet pains
1)Get your toenails trimmed, cleaned, and moisturized.
2)Get your legs covered with socks when using shoes. This habit reduces the friction between the feet and the shoe.
3) Inspect your feet regularly. Check whether any rashes, sores, blisters are present.
4)Stay at your healthy weight, Minimize the regular usage of high heels.
5)Wander with bare feet over the marbles. This will stimulate the nerves associated with our body parts
Discover more workouts for feet and toe and use #WiggleYourtoes to post it on social media.
Interesting facts about National Wiggle Your Toes Day: 
Did you know that,
1) Our feet are the most ticklish body part than any other.
2) Do you have second toe larger than big toe?? If yes, then you have Morton's Toe. It's nothing but a name given to this particular appearance of a toe
3) Our big toe controls our body balance, the shape of the feet reflects the human body.
4) Approximately, there are around 250,000 sweat glands present in each foot.
5) Generally, our feet tend to get swollen in the afternoon. Buy shoes in the afternoon time, hence it will make you comfortable all the time.
6)Big toes are made of two bones named 'proximal' and 'distal'. Big toes bear the greatest weight of your body.
History of National Wiggle Your Toes Day:
From our exploration, we are unable to find the creator and origin of "National Wiggle Your Toes Day".