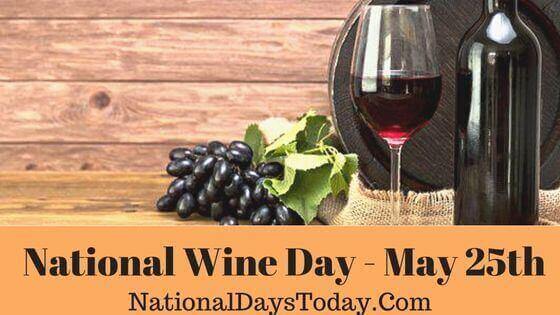 National Wine Day:
Every year May 25 is celebrated as National Wine Day, to drink and to relish in a glass of Wine!
| | | | |
| --- | --- | --- | --- |
| Year | Date | Day | Where |
| 2023 | 25th May | Thursday | United States |
| 2024 | 25th May | Saturday | United States |
| 2025 | 25th May | Sunday | United States |
Twitter Hashtags:
#NationalWineDay
 #WineDay 
#WineDayCelebrations
#FlavorsofWine
Related: Other National Days Celebrated on May 25th:
National Missing Children's Day
Why National Wine Day?
Today is to Save Water and to drink Wine! Though we always have time for a glass of wine and do need not need a separate day to drink! Why not take a chance of this day to try all flavors of Wine and to enjoy with the bottle of poetry.
Enjoy the National Wine Day with All flavors of Wine:
Flavors of Wine:
Violet Wine: This violet-colored Wine is associated with Red Wine. The Younger Wines are normally Violet in color. The less colored grape skin produces this variety of Wines.
Red Wine: A quite Mature Wines are normally in Red Color. Red is the most prominent color of Wine. The Juice from the Red grapes are mostly greenish-white and the red is from the anthocyanins present in the skin of grapes turns the wine into bright red. The color and quality are determined by the contact  with the grape skin in the process.
Brown Wine: The extremely older versions of the wine are in Deep Meerun or Brown Color.
White Wine: To produce White Wine, the grapes are immediately crushed and drained from the Grape skin to avoid contact with the skin. Mostly, White grape varieties are used.
Rose Wine:  Lesser contact with the Grape skin produces Rose Wine. All colors of Wines are carefully made by allowing some thresholds of contact with the Grape Skin.
Orange Wine: Otherwise called as Amber Wines, Orange Wine are made of White grapes and allowed to soak with the Grape Skin.
Sparkling Wine: Bubbled wine! They undergoes secondary fermentation process to create bubbles, the concentration of carbon dioxide escaped from the fermentation process forms bubble.
Dessert Wine: Dessert wine has high level of sugar concentration. Otherwise called as Sweet Wine.
Fruit Wine: Not all Wines are made of Grapes, it sometimes made of Apples, berries and called as Apple Wine etc.
Meed: Otherwise called as honey wine, It is made from Honey fermentation process.
Barley Wine: made from fermented Barley.
Rice Wine: Made from fermented Rice which was the earliest method of making Rice mixed grape wines.
These Barley and Rice wine are similar to that of beer and not with original flavors of Wine.
Ginger Wine: It is similar to that of brandy.
If you know any other flavored wine variety, share it using the hashtag #WineFlavors and post it in the comment section.
How can we observe National Wine Day?
Typically, we don't need a day to drink! There is always time for a glass of wine. But this is a national observance to enjoy with wine.
Drink Wine: Hold a bottle of your favorite wine and post it in social media using the hashtags #NationalWineDay and #WineDay.
Showcase your Collection: if you have the habit of collecting Vintages, Share it along with the description. You can sell it for better price if you want to.
 funny Quotes: share some funny quotes about Wine and enjoy this day.
"SAVE WATER, DRINK WINE"!
Know the terms:
Aging of Wine: Good Old Vintages. The collecting bottles of wine and preserving it for long time. Though, mostly 90% of wine in bottles are to be consumed within the year. Some Old Vintage wines are still available in the market. About 50% of the so-called vintages are fake and added with cheap elements. The ability of Wine Aging is influenced by viticulture, Wine Making Style and Ingredients.
Investment Wine: While most of the wine are purchased to be consumed immediately. Some people do invest in wine to sell them for higher prices in the future. This is something equivalent to Share market investment. However, it's difficult to find a good aged wine without adulteration.
Storage of Wine: For Long term Aging. As stated in the investment Wine, it is still considered as one of the few commodities who values up with aging. As the three factors which are responsible for great value is light, humidity and temperature. Its elusive to expect the favorable storage conditions.
If you know any other business with respect to Wine Storage, do share it for others using the hashtags #NationalWineDay and #WineCommodity.
Interesting facts about National Wine Day:
Let's see some of the interesting facts about that you might not know!
Wine has been produced for hundreds and thousands of years.
The term "Old World wine" refers to Wine being produced in Europe including Mediterranean basin  and North Africa and Near East.
The term "New World Wine" refers to Wine produced from United States, Australia, South America and South Africa.
However, Wine now a days produced globally that has lessened the distinction between terms like "Old" or "New".
Today, the largest five wine producing countries are Italy, Spain, France, the United States, and China followed by Argentina, Chile, Australia, South Africa and Germany!
About 40% of the people of legal drinking age consumes wine with 26% who do not drink at all.
In most of the countries, men drink at least three times when compared to women.
In accordance with the survey from statistics, The United States ranks first in wine consumption followed by France, Italy, Germany, And the United Kingdom.
The earliest winery is traced to be in Armenia, By 4100 B.C.
The earliest traces of Grape Wine found to be in Georgia 6000 B.C though by 7000 B.C Rice Grape mixed fermented drink were in use.
In Iran, Wine was consumed from 5000 BC
In Italy, Grape wine became common by 4500 BC
About Wine:
The tyoe of grape and the contact with the grape skin determines the color and style of the Wine.
Maceration is a process where coloring agents are leached from the Grape skin,seeds and stems.
Red Grapes which are Long contact with grape skins produces Red wine
Red Grapes which are short contact with grape skins produces Rose Wine
Red Grapes with No Contact with Skin produces White Wine.
White Grapes Which are Long contact with grape skins produces Orange Wine.
Wines are not only produced from grapes but also from other fruits like Apple, berry etc and from Honey and Starch.
To say it as wine, The bottle should consist of at least 75% of Grape Wine.
In the United States,
A wine bottle, to be vintage dated, the AVA (American Viticultural Area) percentage must be higher than 85% to add the label with country of Origin.
If the 95% of the Grapes not harvested from the current year, then the bottle will not be labelled with vintage dated or country of Origin.
Wine tasting will be done on all vintage collections.
A fine wine is old for $35 to $50.
Château d'Yquem, A premier vintage wine manufactured on 1863 to 2003 is being sold for $1.5 million.
A track record of holding the bottle well over time must be furnished for labelling as Vintage Collection.
History of National Wine Day:
The origin of this day is not yet found. But the history of Wine dated back to 6000 B.C
The first traces of wine are from Georgia. The first archaeobotanical evidences of Grape wine if was found in Georgia. Through Georgia, it spread to Iran, Greece, Rome by 4500 BC. Previously wine is consumed only for intoxicating effects.
Prior to Georgia, the first evidence of Rice and Grape mixed fermented drink was found in China by 7000 BC. However, it was only in Georgia, the earliest traces of Grape Wine, Viticulture practices and vineyards were found.