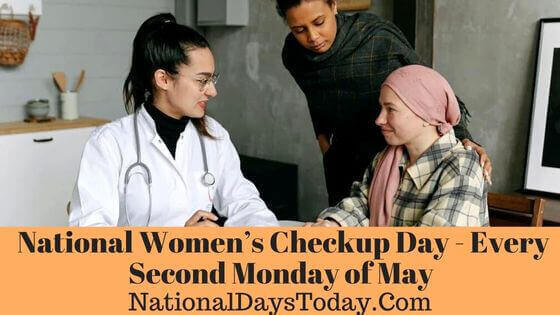 National Women's Checkup Day:
Celebrated on the 2nd Monday in the month of May every year, the National Women's Checkup Day emphasizes having regular checkups, especially for women.
| | | | |
| --- | --- | --- | --- |
| Year | Date | Day | Where |
| 2023 | 8th May | Monday | United States |
| 2024 | 13th May | Monday | United States |
| 2025 | 12th May | Monday | United States |
Twitter Hashtags:
#NationalWomen'sCheckupDay
#Women'sCheckupDay
Related: Other National Days Celebrated on May:
Why National Women's Checkup Day?
Women's health week is celebrated every year in May to provide insights into the steps one can take, especially women can take to maintain good health. With regular checkups you can catch up on any possible issues regarding your health and detecting them early will help you to prevent possible problems in the future. You can raise your possible concerns about your health, symptoms or signs you might be facing, concerns that can be alleviated, or signs that need to be monitored with your physician. This day is a reminder of how you can avert major health issues by focusing on the minor signs that you face today and discussing them with your physician on time. The day is to observe the need for a regular checkup, more for women who give more to our society and their family, than anyone else.
How can we observe National Women's Checkup Day:
The day emphasizes the importance of having a regular checkup, especially for women. Whether you are a woman or not, there is a need for regular checkups to keep yourself aware of your physical health. Here we have some ways that you can follow to observe the day this year.
If you are a woman, then it is just the day for you to schedule your routine checkup. You can also make this a day to arrange a checkup for the women in the family otherwise. Before going for a checkup remember to list out the medical concerns or family history of issues if there are any, to get an easy observation.
Find out the best way to keep your body in prime condition all the time. Join the fitness programs and other activities which can help you to keep in shape.
You can check with your doctor on the positive changes you want to make in your life that will benefit you or the women in the family.
Spread awareness about the need for regular checkups and routine tests for women through your online forums and social media platforms. And remember to include the hashtag #NationalWomen'sCheckupDay on your posts to create awareness about this day as well.
Interesting facts about National Women's Checkup Day:
It is important to have a yearly wellness visit to your physician, and when you do you have to include family history, health habits, receive screenings if necessary, set your goals for the upcoming year, etc. And to make this day more interesting, we have some interesting snippets about Women and wellness here that you need to follow to make your life truly healthy.
You need to engage in physical activity to keep yourself fit. Choose an activity that engages you physically and yet doesn't strain your body too much. You can try swimming or any of your favorite sports.
You can partner up with a friend which will make doing these things more interesting and also exciting.
You can have varying routines to keep your activity more interesting. It is like having to swim one day, walk another day, take a run one day, and bicycle another day. This will help to avoid monotony and make your days count truly.
You don't have to work out at any particular time of the day. You can choose your own time to work out, a time that is more comfortable for you. Of course, make sure that you don't work out immediately after having your food.
Listen to some interesting songs or dance to a tune to make your working out more exciting and fun to do. You can also enroll in a dance class and learn it as part of your physical activity.
Most importantly remember to have regular checkups with your physician to understand more about your health and to stay fit every year.
History of National Women's Checkup Day:
The National Women's health week is a celebration observed by the US Department of Health and Human Services in May. The National Women's checkup Day is a part of this week-long celebration. We do not have any further information on how or why this day is being celebrated and who initiated this day.