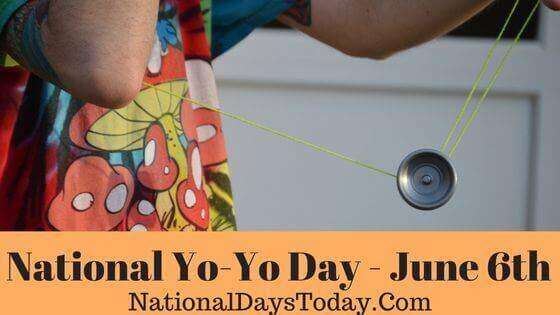 National Yo-Yo Day:
The iconic string is celebrated on National Yo-Yo Day every year on the 6th of June.
| | | | |
| --- | --- | --- | --- |
| Year | Date | Day | Where |
| 2022 | 6th June | Monday | United States |
| 2023 | 6th June | Tuesday | United States |
| 2024 | 6th June | Thursday | United States |
Twitter Hashtags:
#NationalYo-YoDay
#Yo-YoDay
Related: Other National Days Celebrated on June 6th:
National Gardening Exercise Day
Why National Yo-Yo Day?
When we speak of Yo-Yos, it is something that has been there for literally forever. The history of this iconic string dates back to more than 2000 years. For those who do not know, the Yo-Yo is two disks connected with an axle with a string looped through it. You have to hold the string's free end and let gravity work its wonder. You can also throw which will spin and then unwind the yo-yo string allowing it to wind up by itself again.
The day is a celebration of the founder of the toy company which popularized the iconic string toy and is a day to let your inner child out and relive your childhood days. Given that these are not indoor toys, you will enjoy a lot of moments outdoors, especially with friends and family.
How can we celebrate National Yo-Yo Day?
Wondering how to make the National Yo-Yo Day very memorable, then here we have some interesting options for you to check out.
You can have a party of course with the yo-yo theme. You can have your guests bring in their favorite yo-yo while participating in the party. You will find plenty of Yo-yo options to choose from like a vintage model, a custom-made one, etc. You can even have a treat inspired by yo-yo to enjoy on this day. Let this idea loose and you would be surprised by the varieties of pastries, cakes, etc., that you can make with this theme.
You can have a competition among friends and families on who can be a better player in yo-yo. And the prizes can be related to yo-yo itself to add to the emphasis. You can even have a competition where everyone can make their yo-yos.
Take a lot of pictures of the happenings and share them all on your social media. Remember to tag #NationalYo-YoDay to spread awareness and to bring attention to this day.
Interesting facts about National Yo-Yo Day:
The toy has an ancient history and there are other facts you might find interesting about the Yo-Yos. Some of them are listed here for your perusal.
Chico in California has the National Yo-Yo Museum housing the biggest wooden yo-yo in the world and it was part of the Guinness Book of World records. The museum also has many memorabilia related to yo-yos and their history along with the largest displays of many different yo-yos from across the world.
Duncan Yo-Yo was elected to the National Toy Hall of Fame in the year 1999.
There is a Greek vase depicting a boy playing with a yo-yo dating back to 500 BC evidencing that the invention of this string toy happened in Ancient Greece.
The first of the yo-yos were made out of metal, painted disks, wood, etc. The toys were manufactured in plastics post the 1960s.
Patented by Charles Hettrich and James L. Haven, the second oldest yo-yo dates back to 1866.
There were modern Yo-Yos brought in during the 1920s which had string looped around an axle.
While the history of these toys dates back to 500 BC, these toys have also made history by being the first to be in space. It happened in the April of 1985 as part of the "Toys in Space" project by NASA.
There is a world championship held annually with players from 33 countries playing against each other with their yo-yos. Japan has won more titles so far, with nearly 75 to their credit.
History of National Yo-Yo Day:
The National Yo-Yo Day is a celebration of the birthday of the founder of the Duncan Toy Company. Pedro Flores brought this toy from the Philippines when he was young who later created a business around it. He later sold the company to Donald Duncan. The Duncan Toy company is known for the Yo-Yos, the celebration was initiated by Daniel Volk who helped make the toy popular. To pay a tribute to Duncan, he decided to have a celebration of the National Yo-Yo Day on Duncan's birthday, the 6th of June. However, the birthday is only on the 8th but the celebration was made for the 6th and is nevertheless a good day to celebrate this oldest ever toy.