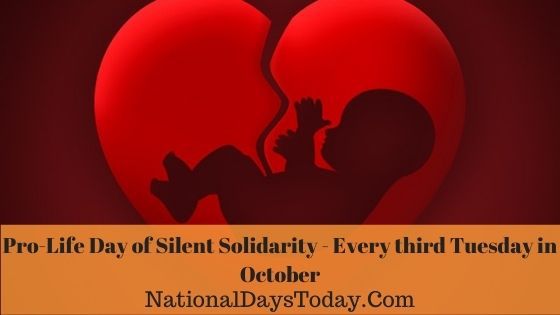 Pro-Life Day of Silent Solidarity:
Celebrated annually on every third Tuesday in October, the Pro-Life Day of Silent Solidarity encourages students to raise awareness against abortion in the US. Students observe silence and stand in solidarity representing the 3000+ voices that are lost each day to abortion practices.
| | | | |
| --- | --- | --- | --- |
| Year | Date | Day | Where |
| 2023 | 17th October | Tuesday | United States |
| 2024 | 15th October | Tuesday | United States |
| 2025 | 14th October | Tuesday | United States |
Twitter Hashtags:
#pro-LifeDayOfSilentSolidarity
Related: Other National Days Celebrated on October:
Why Pro-Life Day of Silent Solidarity?
Pro-Life Day of Silent Solidarity begun in 2004 as a voice against abortion by doing the opposite – by giving up voice for the day.
Abortion is the removal of a fetus or embryo intentionally using pills or any other medical practice. With laws supporting abortion up to six weeks and in some cases 13 weeks, the US has witnessed over 4,000 abortions every day. This number seems to be only rising day by day with the current laws and people's ignorance says Pro-Life founder Bryan Kemper.
He believes that the fetus is living right from its first heartbeat and strongly stands by the biblical commandment of "thou shalt not kill".
Our generation seems to be more pro-choice. But we are failing to understand that being pro-choice about unnecessary abortions is denying choice of life for the baby in the womb.
Bryan got the idea for Pro-Life Day of Silent Solidarity when he was brainstorming with a student who asked how they could involve and work with students to be pro-life and stop abortions.
On this day every year, Bryan meets students in high schools, and colleges to spread awareness about the rise in abortions and how although we are legalizing it, it is still against God's commandment.
Bryan also believes that the only way people can be pro-life is by having Jesus in their hearts as only God can truly change the hearts of people.
Thus on Pro-Life Day of Silent Solidarity students across the US are seen wearing red tapes on their mouths or armbands with life written on it and vowing to silence to represent the thousands of voices we lose every day due to abortions.
Although debates are still going between pro-choice and pro-life, your conscience is key here.
Students are tomorrow's citizens, who can make or break a nation.
Raising awareness among students and helping them to be pro-life seekers is a great way to prevent the rising abortion cases.
If for one day your unheard voice could make the world silent, imagine the silence caused by the lives lost to abortion and the silence of people who fail to stand up against this practice.
Pro-Life Day of Silent Solidarity shouldn't just be observed on the third Tuesday in October but every day!
How Can We Observe Pro-Life Day of Silent Solidarity:
The best way to celebrate Pro-Life Day of Silent Solidarity is to join in with the students to show your support. Plan with your friends and family to collect the mouth covers and bands to observe silent solidarity.
Know more about Students For Life
If you like what they stand for, learn more about Students For Life and become a member to be better equipped! You could also become a volunteer for Pro-Life!
Know more about Bryan Kemper
Read about Bryan Kemper to know more about his fight against abortion and what he wanted to be in life!
Organize your abortion awareness program
You could also raise awareness against abortion in your little ways on your campus and among friends!
Give Pro-Life Day a shout out on social media
If you support pro-life and love what Student For Life is doing don't forget to give them a shout-out on all your social signals! Use #ProLifeDayOfSilentSolidarity in all your posts today!
Interesting Facts About Pro-Life Day of Silent Solidarity:
Here Are Some Interesting Facts Surrounding Abortions
Over 60% of women in their 20s receive abortions over financial concerns while 25% and 12% were in their 30s and teenage respectively.
There are several types of abortions based on which trimester you are
According to one study, banning abortion will not necessarily stop its happening as women choose abortion over various reasons
Between 2006 and 2015 US saw a 26% drop in the abortion rate
Research shows that people who had comprehensive sex education were less likely to become pregnant unintentionally than those who had no sex education or who received abstinence.
History of Pro-Life Day of Silent Solidarity:
Pro-Life Day of Silent Solidarity was founded by Bryan Kemper in 2004 when a discussion with a student sparked an idea to work along with students against abortion practices. It has been organized ever since. Bryan also founded Rock for Life, Stand True, and is Priests for Life's Youth Outreach Director!