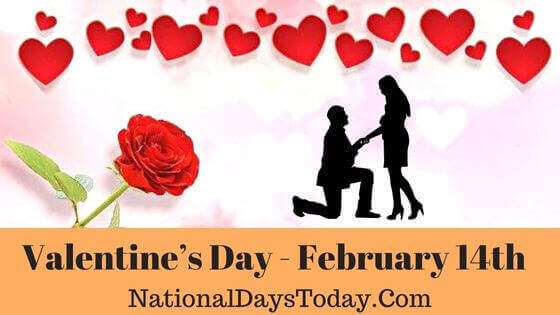 Valentine's Day: 
Celebrated annually on February 14th, Valentine's day is observed as a day to unlock and reveal the love that you have been harboring in your love-sick heart. This day was previously known as Saint Valentine's day or the Feast of Saint Valentine.
| | | | |
| --- | --- | --- | --- |
| Year | Date | Day | Where |
| 2023 | 14th February | Tuesday | United States |
| 2024 | 14th February | Wednesday | United States |
| 2025 | 14th February | Thursday | United States |
Twitter Hashtags:
#Valentine'sDay
Related: Other National Days Celebrated on February 14th:
National Cream filled Chocolate Day
Why Valentine's Day?
There is no such emotion that has been celebrated, examined, and scrutinized as much as love in the history of mankind. Whether you are interested in the ontological and teleological aspects of how this emotion propels human existence or if you are merely baffled about your own feelings for a person you can't get out of your head; Matters of love have always been a bittersweet experience that keeps you in a boiling pot of emotions!
Love seems like an elusive, non-exhaustive subject even with the numerous depictions, stories, and poems that try to convey its meaning and the nexus of associated sentiments to its audience. Even if cupid never struck an arrow at you or if you luckily escaped the mysterious forces that cast the love spell on you; these melodies, movies, and songs can leave you love-struck, heartbroken and what not! Yet all that we know about love seems to be a drop in the ocean. Declaring the monopoly of this emotion on mankind we celebrate it with all due extravaganzas.
While Valentine's day is popularly considered a romantic celebration that has been commercialized in recent years, it started out as a liturgical observance which later caught on the breeze of romance. The origins of the celebration were thought to be associated with the Roman festival, Lupercalia. Lupercalia was celebrated mid-February marking the arrival of the spring season as a symbol of fertility accompanied by an odd practice of matchmaking by a lottery system. The pagan festival was dismissed by Pope Gelasius and it was replaced with St Valentine's Day towards the end of the 5th century.
The valentines day feast and observance were conducted in order to honor the martyred Christians who were named Valentine. Some sources claim that the name was borrowed from the priest who was martyred by Claudius II Gothicus in 270 CE, while others claim that it referred to a bishop, St Valentine of Terni. The possibility of both the saints being the same individual has also been considered as both the priests were martyred in Rome. Though St Valentine continues to be deemed as a saint by the Roman Catholic Church, due to lack of reliable evidence he was eliminated from the General Roman Calendar in 1969.
The most popular association with St Valentine of Rome and the lovers was brought about by a legend that claims that he was a physician and priest who defied the Roman rule and decree. During the reign of Claudius II, he performed the wedding ceremonies for men and women who were banned from entering into wedlock. The ban was instated so that young men could be recruited for the military without the hindrance of familial responsibilities or home-sickness that may affect their performance. St Valentine was then said to be imprisoned for blatant violation of the law.
An early account that dates back to the third century records the imprisonment of St Valentine who ministered to the Christians who were persecuted under the iron fist of the Roman Empire. The blind daughter of his jailer was then said to have been healed by him. By the 18th century, the anecdote was tinted with affection in conjunction with the valentine theme, alleging that St Valentine wrote a farewell letter signed as " Your Valentine" addressed to the girl, before his execution.
The Charter of the Court of Love gives us an early account of February 14th being celebrated as an annual love day celebration in 1400. It was issued at Mantes-la-Jolie by Charles VI of France describing a lavish celebration attended by many from the royal court as well.  The day was celebrated with erotic songs, dancing, jousting, poetry competitions, and a feast. The ladies attending these festivities would also listen and give a judgment on lovers' quarrels or disputes.
Since the 14th and 15th century the day has been linked with the notion of courtly love along with the picturesque imagery of love birds of early spring. Valentine's day messages made their grand entry in the 1500s and were known as Valentines. These romantic notions turned into an occasion by the 18th century, when couples began to hand over greeting cards, confectionery, and flowers along with their pounding hearts.
Many signs and images became the heralds of valentine's day including the heart outline, cupids, and doves. The hype surrounding valentines day was taken advantage of by various sectors. The custom of exchanging hand-written cards paved the way for the mass production of Valentine's day cards known as "mechanical valentines" with verses and sketches. The factory-assembled valentines day cards took off by the 19th century and even the expensive postage bills couldn't hinder the love birds from sending valentines cards.
Today Valentine's Day is not only a popular celebration in the US and the UK, it has gained momentum in many East Asian countries like Singapore, China, and South Korea who spend most of their money on Valentine's gifts.
Humans are made for love. Love is both a noun and a verb. The verb part of it is often overlooked by many. So this Valentine's Day doesn't only say "I Love You" with your words, but also with your actions!
There are many love languages, some show their love through words of affirmation, receiving or giving gifts, helping, spending quality time, and physical touch. Your love language could be one or a mixture of these. Understanding your and your partner's love language is a great way to bond with each other! What's your love language?
How Can We Observe Valentine's Day:
Say "I Love You" or "I Love You Too"!
You may have been telling these sentences a lot before getting married. But many married couples eventually decrease the number of times they tell "I Love You" to each other. Expressing your love to your spouse through your words is essential to lay down deep roots of love in your marriage! The same applies to anyone who is in a serious relationship!
A Special Gift For A Special Someone
You can give your loved one a special gift today! It could be anything from chocolates, cards to diamonds and platinum!
Send Her Favorite Flowers
Does your special someone love flowers? Get to know her favorite flowers and send her some to show that you love her! Flowers brighten up the place and fill the air with their sweet smell!
Write A Love Letter
Writing a love letter today is considered old school. But a romantic love letter is considered very precious to the old and the new! Take time to pen down the beautiful things about your relationship!
Pick A Card That Expresses Your Love
If you are finding it difficult to pen down your thoughts or simply couldn't make time, head to one of the best card stores to pick a card that best conveys your feelings for your special one! You can send digital love cards or shop for them online.
Plan A Romantic Dinner
Food is the best way to reach most humans and especially the ones you love! Book a table in his/her favorite restaurant or prepare dinner at home and enjoy them under the moon or with some candles!
Spend Time With Your Loved One Today!
The best way to celebrate Valentine's Day is to spend your time with your loved one. You could meet for food, to shop, to visit a nice place, go to a movie, dance to your favorite music or simply cuddle up in bed!
Just Party!
Hit the nearest pub, spend your time with your special one with great food, drinks, and dancing to the DJ's special number!
Turn To History
If you are a curious lot, dig into the history to know more about this interesting holiday!
Show Love To The Needy And Helpless People
Today as a couple you could share your love with the needy and the helpless people. Make your Valentine's day more memorable by donating money or basic necessities.
Celebrate Love By Supporting Your Favorite Non-profit Organization
There are many non-profit organizations that need your love too. Do show your love by supporting in any way you can. You could even organize special Valentine's Day-themed fundraisers to support important causes that these organizations are working for.
Find Inspiration
There are many books on love for you to read and be inspired by! Be it fictitious or real-life stories, a love story never fails to teach us a few things about love! If you are looking for some inspiration this day, you know where to find some!
Last But Not Least – A Proposal!
What other romantic day do you need to tell your special someone that you love them and want to be with them the rest of your life? Get down on your knees and simply pop the big question!
Share Your Thoughts On Love On Your Social Media Pages
Use your social media to share your thoughts on love, your favorite pictures, or fun videos to celebrate the day! You could also share important tips for people getting into romantic relationships or raising funds for a special cause using social media! Use #ValentinesDay with all your posts today!
Interesting Facts About Valentine's Day:
Here are some interesting facts surrounding Valentine's Day
The Romans celebrated a harsh festival called Lupercalia. During this festival, young maidens were stripped and spanked by men in the hopes of increasing their fertility.
Valentine was executed by the Roman Emperor Claudius II as he disobeyed the orders against marrying or performing marriages. St. Valentine was found performing secret marriages and was believed to be executed on February 14th.
The poem dedicated by Charles Duke of Orleans to his wife in 1415 is the oldest record of a Valentine we have today.
Esther Howland is the first to manufacture Valentines in the U.S. Back in the 1850s alone, she earned over $3 million annually for her skilled designs!
According to Hallmark, Over 144 million Valentines' greeting cards are exchanged in the U.S alone!
Over 65% of the U.S. believed that red and pink represent love and prefer gifts to be packed in these colors!
The French and the Italian artists in the 14th century are believed to have come up with the idea of the heart symbol we all love to use today!
The red roses were considered the favorite flowers of the Roman goddess Venus as they symbolized strong romantic feelings.
As per a 2017 study conducted among millennials, 43% of them preferred to propose or to be proposed on February 14th.
On 2019's Valentine's Day, Americans spent over $ 20.7 billion!
As per the National Confectioners Association, both men and women prefer chocolates over flowers on Valentines Day
75% of sales on Valentine's Day are on chocolates
The National Retail Federation's survey revealed that 3 in 10 adults did not celebrate Valentine's Day because they were single, or the holiday was highly exaggerated.
National Retail Federation's survey in 2020 reveals that 27% of Americans preferred to celebrate Valentine's Day with their pets and even brought gifts for them. On 2010's valentines' Day, over $450 million was spent on gifts for pets.
The Society of American Florists reports that florists enjoy 30% more sales on Valentines' Day than any other Holiday!
16% of women bought flowers for themselves on Valentine's Day!
Good Housekeeping reports that teachers were the highest recipients of Valentines when they play the fun Valentine exchange games in their class!
California has 137 chocolate artisans making them the largest chocolate makers followed by Pennsylvania with 119 chocolate makers
There's a city in Texas called Valentine that has all the holiday spirit you cannot find anywhere else in the world.
History of Valentine's Day:
The history of Valentine's Day links to many people and dates since the second century AD. It was recognized as a day of romance, not until the 14th century. The correct origin and creator are best to held as an unresolved investigation.
Irrespective of how you'd like to celebrate the day, do share all the love in your heart!