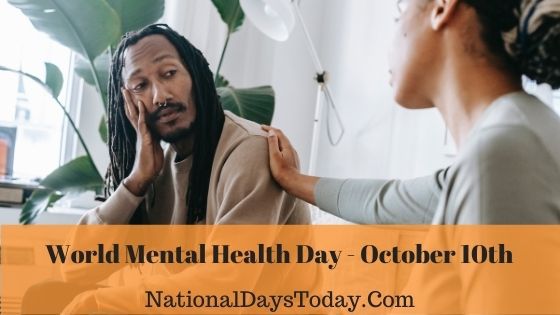 World Mental Health Day:
World Mental Health Day Celebration is on October 10 every year, and as the understanding of mental health grows, people grow along with it.
| | | | |
| --- | --- | --- | --- |
| Year | Date | Day | Where |
| 2023 | 10th October | Tuesday | United States |
| 2024 | 10th October | Thursday | United States |
| 2025 | 10th October | Friday | United States |
Twitter Hashtags:
#WorldMentalHealthDay
Related: Other National Days Celebrated on October 1oth:
Why World Mental Health Day?
There are several reasons to celebrate this particular day to some extent. Multiple factors can cause mental health issues relating to external factors and body conditions. Those are psychological trauma, neglect, and early loss of a parent. Here are some of the popular reasons to observe World Mental Health Day.
The mind's idea is an abstract concept, and this day allows you to think about your feelings and thoughts. You are continually evolving beyond outdated perceptions and releasing the disgrace of mental health. Therefore, you can properly diagnose the mental conditions and take care of yourself. The battle becomes considerably more comfortable with the burden and fear removed from mental health issues. So you can celebrate this day to bring positivity to your life.
There is a saying that pain decreases if you share it with your close ones. This day reminds you that you are not alone. In most cases, the person thinks that he is the only person going through such a situation. Therefore you must remind yourself that other people also have gone through such cases. So you are not the only one in this world. If you find someone going through the same mental condition, you must make him realize that this thing happens to most people.
Proper treatment is essential in the case of mental health disorders. First of all, you will find that more effective if you go through appropriate treatment right on time. On the other side, the researchers will also get some data for their research. You must understand that proper medication and necessary therapy help you operate more significantly.
Mental health has been there for a long way since the early nineties. The WFMH or World Federation of Mental Health officially established the day.
How can we Observe World Mental Health Day?
Everything depends on how you are going to celebrate this wonderful day. Here are suggestions for you.
If you feel that your mental condition is not in a good position, you must first identify the problem. Go to your nearby mental health center and consult with the doctor. Go for some therapy to keep your mental condition nice and subtle. You can register for a group therapy workshop at your place of work or residence area. Working out with a therapy group can allow you and your coworkers to express themselves in a safe environment. We tend to hold onto the idea that pushing through and carrying on is the best way, but unexpected issues can arise if they do not deal properly.
Self-care is essential in any kind of mental condition. You can make any changes to your life that can continue the celebration of World Mental Health Day. You can start developing a regular sleep routine, adjusting your diet to healthier options, taking lunch breaks, and going on long walks. The point of self-care is to understand your specific needs. Please find time to ask yourself what you want and go for it.
Every year there is a theme set for celebrating this particular day. In some cases, you find that the theme doesn't involve your struggles directly. But you can still learn something useful from it. You can spend some time on your own and research on that. Awareness programs extend beyond yourself, and they could provide you with the proper tools to better understand others.
What you are doing to celebrate World Mental Health Day, you can share it with your friends. That will bring happiness to your life. You can take some pictures of the activities you have done on the day and post them on social media under the #WorldMentalHealthDay hashtag. Your friends will see that and discuss your experiences. Sharing experiences with friends help you both to learn something new from each other. On the other side, talking with other people will also help you refresh your mind and mental conditions.
History of World Mental Health Day:
In 1992, the World Federation of Mental Health, led by the deputy secretary-general at the time, Richard Hunter, created World Mental Health Day. They didn't have a precise objective other than to advocate for mental health as a whole. It was an uphill climb to change a plethora of harmful and dangerous habits that made a difficult situation worse.
The world had a host of untreated mental health issues. There were struggles to gain public funding for treatment in France, inhumane treatment in New Zealand, and overall mental health ignorance. The WFMH knew that they needed to act on a global scale to solve a global crisis.
There was a two-hour telecast broadcast across the globe through the US information agency satellite for the first three years. The studio was in Tallahassee, Florida, and it became a useful way to get their advocacy message out to the world. They participated from Chile, England, Australia, and Zambia, while Geneva, Atlanta, and Mexico City pre-taped segments for the broadcast.
The first World Mental Health Day theme was  "Improving the Quality of Mental Health Services throughout the World" in 1994. Twenty-seven countries sent feedback reports after the campaign, and there were national campaigns in Australia and England. Continuing this momentum, WFMH Board members across the globe arranged events according to the day, and its growing popularity among government departments, organizations, and civilians alike.
So this is brief information about World Mental Health Day. It is always advisable that you must not neglect any mental issue under any circumstances.