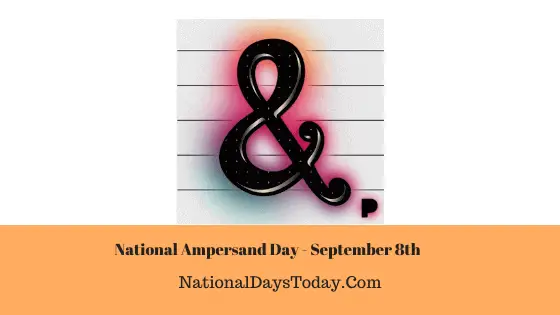 National Ampersand Day:
Celebrated on September 8th every year. The day is to applaud "&", a Latin script and a logogram that represents the conjunction "AND".
| | | | |
| --- | --- | --- | --- |
| Year | Date | Day | Where |
| 2023 | 8th September | Friday | United States |
| 2024 | 8th September | Sunday | United States |
| 2025 | 8th September | Monday | United States |
Twitter Hashtags:
#NationalAmpersandDay
#AmpersandDay
Related: Other National Days Celebrated on September 8th:
National Pediatric Hematology/ Oncology Nurses' Day
Why Ampersand Day?
The day is to applaud "&", a Latin script and a logogram that represents the conjunction "AND". The ampersand is in use right from the 1st century AD. Besides, in many of the old textbooks, the ampersand is represented as the 27th character of the alphabets.
Now it is generally used in business centric companies name like Johnson & Johnson and in certain abbreviations like those that Research & Development (R&D) and normally used in informal way of writing for example like taking notes for self-reference. In social Medias like WhatsApp, Facebook and twitter, this logogram is commonly used now a day and even all our keyboard Layout does have this ampersand as a Symbol.
How we can Celebrate National Ampersand Day:
Let us have fun. Just tag your previous posts in Instagram or any other social media, and let us check how many ampersand you have used in the last 10 days. Use this hashtag #AmpersandDay to post about the history and evolution of ampersand logogram. Use your skill, if you are good enough in art and post your art in which you have used ampersand.
Search for a book that represents ampersand as the 27th character and post in the social media so that others could explore about the history and evolution of the symbol. List out the uses of ampersand using this hashtag #AmpersandUses. Explore more about the difference ways of writing ampersand.
Enjoy the National Ampersand Day by Exploring more about the Logogram and Typographical Symbol,"&".
Interesting Facts About Ampersand Day:
The origin of Ampersand is from Latin language and the alphabet position as per Latin is 27.
Ampersand is used as a replacement for "AND". However, it is not used as a separator and it is commonly used while taking self-reference hints.
Usage of Ampersand:
It is formally used in computing and the ampersand is included as a character in Unicode that is used for encoding and decoding. There are even different varieties of symbol with respect to Unicode, which includes, & SMALL AMPERSAND, TURNED AMPERSAND, & FULLWIDTH AMPERSAND, B HEAVY AMPERSAND ORNAMENT.
In all the URL's, Ampersand is used. It is also used in TEX markup language, Unix Shell and web standards. In UNIX shell, it represents the metacharacter and used in regular expression whereas in Web Standards, the name value pair is separated by Ampersand. For Instance: http: //www .123 . com/ logf n php?username=test&password=blank .
In The QWERTY Keyboard Layout, Ampersand can be used by clicking shift + 7.In AZERTY Keyboard layout; it is placed above "A". It is used in the Programming languages like C, C++, PEW, MySQL, PERL and the usage differs from language to language.
Along with Ampersand, the other typographical symbols are Bracket, Colon, Comma, Copyright Symbol, Caret, Asterisk, Apostrophe, Dagger, Ellipsis, exclamation mark, Hyphen, Full stop, Question Mark, Trademark Symbol, semicolon, Quotation mark, Dash, Degree, etc.
History of Ampersand Day:
Chaz DeSimone, an author, designer and typographer created the National Ampersand Day in the year 2015. His project named "AmperArt" attributes ampersand as an art. He created this day to declare ampersand symbol with to be used as a fun art.