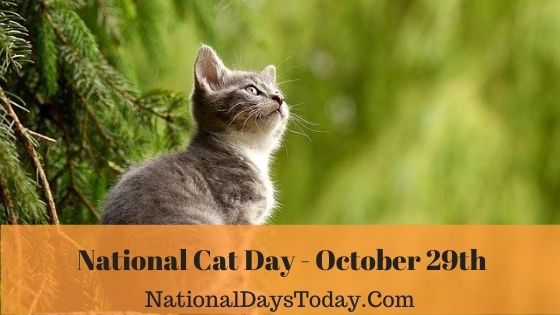 National Cat Day:
National Cat Day is celebrated on October 29 and was founded by Colleen Paige (Lifestyle and pets expert) along with other philanthropic days.
| | | | |
| --- | --- | --- | --- |
| Year | Date | Day | Where |
| 2023 | 29th October | Sunday | United States |
| 2024 | 29th October | Tuesday | United States |
| 2025 | 29th October | Wednesday | United States |
Twitter Hashtags:
#NationalCatDay
#CatDay
Related: Other National Days Celebrated on October 29th:
Why National Cat Day?
This day reminds us to show extra love and affection to our feline friends and emphasizes the importance of spaying and neutering your cats to avoid their overpopulation and abandoning. Cats are excellent companions; just like dogs, they can feel your emotions. Cats can be much more athletic than dogs, so keep your shoes ready for a run! These claw-ever little munchkins wait for your love and compassion, so this National Cat Day, find a purr-fect friend to snuggle close to your pussy friend!
Millions of cats are killed every year in the US. Many of them are severely mutilated on the streets and succumb to death. Colleen Paige wanted the people to understand the ardent need to people aware of how life is choked out of these pretty little creatures and what we can do to protect them.
It was started to recognize the atrocities against stray cats and spread awareness about the same.
How can we observe National Cat Day:
By observing this day, people show love and care towards cats and dote on their furry cutie-pies. This philanthropic holiday is observed on August 8 in Canada. Several hashtags go trending on social media on this day. Some of them are #InternationalCatDay, #CatsOfInstagram, #HugYourCat, CatMomLife, #FluffyCat, #CatsOfIg, #HugYourCatDay etc.
Adopt a furry friend
#NationalCatDay is that time of the year when you can boldly show your pet love. It's time to adopt a cat if you haven't had one. Visit the nearest pet shelter to adopt one. Try to visit them multiple times so that they choose you more than you choose them. Rather than buying one, make an effort to adopt one!
Visit cat shelter homes.
If you can't adopt one, and can't wait to hear those meows, then you can volunteer to visit pet shelter homes to shower all your love on the abandoned cats. Donate food and clothes. If you are running out of money or are just a teen and are purr-haps running out of money, you can still do your best and hug them. Trust us; they need it!
Caress them
If you have a meow friend to snuggle with, then on this day, take the best care of her. Give them special treatment by taking them to their favorite place or by just visiting a veterinarian for their routine checkup, cleaning, and grooming. Feed them on their special food. And last but not least, cuddle your softball of cuteness.
Donate
Every year, thousands of feral cats are killed brutally, and there's no one to take notice of them. Many NGOs and cat shelter homes work incessantly to improve their condition. If you are capable of donating even a meagre amount. Do it. The kind of joy and content it gives is immeasurable. If not this, then make your bid by volunteering to take care of cats at least once a week.
Protect them with the latest technology
Technology has proliferated zillion times beyond your imagination. Gift your cat a GPS tracker, and you can be with them everywhere and every time. You can trace their mischievous footsteps with a GPS tracker mobile app.
Gift them a toy
You gotta be kitten me if you don't know cats love toys! For e.g., slowly, cats become fur-miliar with the fact that if they snuggle against your cheeks, legs, or any other body part, they are getting their treat. So gift them one this #NationalCatDay.
Spoil them a little more
On National Cat Day, Spoil your little brat some more. Let them eat their scrumptious meals for the day. You don't want them to get spoiled, do you? Play with them their favorite games.
Buy your cat a bed
If you haven't bought them a soft corner to spend their languid evenings, make sure you buy one now. Many cats don't get comfortable in new beds easily. You can DIY your old pillow and pass it on to your little friend. They'll love it. Old pillows have their owner's fragrance; thus, cats feel safe and secure in old pillows rather than in the new foam.
Grooming
You would definitely want your cat to look the best on their special day. While most of the time, cats groom themselves, they still need extra care and grooming from their owners. You can take your cat to a grooming shop. They enjoy the euphoria of grooming. Give them the pleasure of brushing, nail clipping, bathing, and a lot more.
Interesting facts about National Cat Day:
Cats are mysterious mammals. Just when you thought, you know everything about them, but in a trice, we'll blow your mind with some amazing unbeknown facts about your furry mate. Here are s captivating facts about cats:
According to the American Society for the Prevention of Cruelty to Animals (ASPCA), approximately 85 million cats are owned by US citizens, which comprise 35% of all US families.
Cats can jump up to nearly six times their height.
The oldest cat existed approximately 9500 years ago.
If you are planning to allure your cat with ice cream, sorry, but it's of no use. Cats are not at all drawn to sweet things as they can't detect them.
Cats can heal themselves by purring. It is believed that their purring has a frequency of 25-250 Hertz, the frequency at which muscles and bones grow and repair themselves.
According to the Guinness Book of World Records, the smallest cat passed away in 1997. Its name was Tinker Toy.
The richest cat in the world named Blackie was bequeathed wealth worth $12.5 million.
Black-footed cats are considered the deadliest and most dangerous cats in the world.
Cats spend nearly 70% of their lives sleeping! They sleep for about 13-16 hours a day.
A cat named Felicette became the first and the only cat to fly into space on October 18, 1963.
Carmen de Aldana has the largest collection of cat-related items and has a private museum of cat items in Guatemala.
In 1995, a green cat was born in Denmark.
Cats purrs are believed to reduced blood pressure, heart disease, and many stress-related medical conditions in human beings.
A cat was the mayor of an Alaskan town for 20 years.
Cats prefer food that is at 100 degrees F as it is indicative of a fresh kill. This is the reason why they turn down cold food as it signals that the prey is way too long dead.
Your female felines are way too possessive about themselves. Cats spend about 50% of their day grooming themselves.
Cats get their synonym as feline due to their genus name, i.e., Felis.
A cat walks like a giraffe or a camel. Whoa!
House cats replicate approximately 96% of their genetic material with tigers.
 Due to their flexible muscles, cats can rotate their ears 180 degrees.
Most of the cats don't have any eyelashes!
Among some of the myths related to cats, good fortune is awaiting you if you dream about a white cat.
History of National Cat Day:
The scrumptious little beings who melt your heart down when the world has been too hard on you. Wagging their tails, these tiny balls of cuteness have had domesticated themselves since 4400 BC in Southwest Asia and Europe. As mentioned earlier, Lifestyle writer Colleen Paige initiated National Cat Day to awaken the people about the no. of cats to be rescued each year and to cherish the unconditional love these munchkins bring to our lives.
The earliest interaction of cats and humans dates back to 8000 years ago when they darted behind rodents into humans' agricultural fields and later approached the human settlements. Evolutionary geneticist and article coauthor Eva-Maria Geigl says that cats didn't have to change themselves much to blend with human beings. They were never particularly domesticated. They slowly and gradually adapted themselves to live with humans, unlike dogs, who were made to perform specific tasks.
Ancient Egyptians believed cats were symbolic of good fortune; thus, people housed them. They were adorned in extravagant jewelry and were fed royalty treats. When they died, they were mummified. It is believed that in ancient Egypt, when a cat died in a family, the whole family would shave off their eyebrows to symbolize mourning. Many Egyptian papyrus illustrated cats. According to Egyptian mythology, gods and goddesses had the prowess to transform into different animals, one of them being a cat. Thus cat was a sacred animal for them that was worshipped. These consecrated cats were honored to the extent that people who killed them, even if accidentally, were sentenced to death.
Cats Protection is not a novel concept. It dates back to 1927, when animal welfare campaigner Jessy Wade launched Cat Protection League. Several strict statutes have been introduced in the US to punish the perpetrators. The Dog and Cat Protection Act prohibit any exportation and importation of any cat or dog fur into and out of the act's U.S. Violators are remedied through civil penalties and debarment. Anyone who violates these will be assessed a civil penalty of up to $10,000.