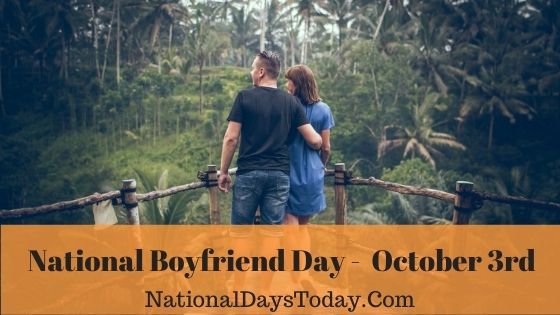 National Boyfriend Day:
For  love, there is no bound, nor is there a fixed day. But 3rd October is the one day of the year where you could celebrate your love towards your Boyfriends for it's the National Boyfriend day.
| | | | |
| --- | --- | --- | --- |
| Year | Date | Day | Where |
| 2023 | 3rd October | Tuesday | United States |
| 2024 | 3rd October | Thursday | United States |
| 2025 | 3rd October | Friday | United States |
Twitter Hashtags:
#NationalBoyfriendDay
#BoyfriendDay
Related: Other National Days Celebrated on October 3rd:
Why National Boyfriend Day?
A person who makes a girl's Eyeshine and her heart smile is her boyfriend. He does not just create magic named love; he also fills color to a girl's dream and trusts her capability to achieve her dream. It's strange to note that the soul who cherishes you like a superwoman and protects you like a baby girl is your boyfriend in this world of conflicts. He shows what love is and makes you feel what love is; the essence of love can't be tasted unless you've fallen for someone. Every man's approach is unique when it comes to expressing his love towards her princess. Surprises and celebrations play a vital role in a relationship, but not just gifts and surprises can make one happy.
A perfect boyfriend gives you the respect that you deserve and cherishes you for the person you are. Even though he doesn't agree with you always, he tries to see things from your perspective. It's quite common that men often fail to recall important days, but they still care about your happiness and try to make you feel great on your special occasions. Nowadays, we celebrate and glorify all relations, including Father's Day, Mother's day, Brother's day, Sister's day, Siblings day, and so on, just like that it is a day to celebrate your boyfriend is what National Boyfriend day is meant for.
People say wine improves with age; the taste is much more pleasurable with aged wine. Similarly, the essence of love develops over years of togetherness. Most men hate advice and hate to be advised, but a man who purely loves you will take your advice and ideas into consideration on a controversy.
A boyfriend is playful every time, yet he will be the best guard when it comes to your protection; he will think of you as his pride. He will fight for your well-being. Fight for you may sometimes also mean fighting with you; he argues with you to make you understand the right path for you and your relationship. Whether your relationship is new or seasoned, it needs to be cherished on this day. Though your boyfriend doesn't acknowledge this day, it's your duty to celebrate him.
At times, he also compromises his needs since your happiness is his priority; he is ready to comprise over anything that will put a smile on your face. The latest survey shows that the desirable qualities possessed by a boyfriend include attractiveness, humor, kindness, communication, loyalty, and honesty. Boyfriends put a lot of effort and work into a relationship since they know these two are important for a perfect relationship. Starting from picking you up for a date to dropping you back on a late-night, helping you fix your households, and supporting you to plan your work, the best boyfriends try hard to make the best impression. They are your secret keepers, a partner in crime, a trusted friend, and everything in between.
Not just women are the backbone of men; there are many loyal men who truly support their partners to achieve their goals. Most people are good at promising, but keeping up the promise is rare; getting one such partner is an asset for life. The person who is emotionally connected to your soul will definitely fulfill his promises. He will notice all those little things which make you feel better; it's not a big deal for him to bring a cup of coffee for you. Let us acknowledge this day to commemorate those great boyfriends who really deserve this kind of rich appreciation.
How Can We celebrate National Boyfriend Day?
A boyfriend works 365 days a year to express his love, show his care, devotion, always the first one to make a move in the worst situations, let goes of his ego just because you're more important. So, it is your time to appreciate him for his love and care. Here we suggest some romantic and passionate ideas to have a memorable time with your boyfriend on this special day.
Make him understand your love towards him.
The most important thing for a sustainable relationship is understanding. You are a team. It is necessary that both of you understand each other in every situation and stand by each other in all sorts of crises. On this special day, make him understand more about your love towards him.
Surprise him with the best outfit
Every individual in this world is fond of the latest fashion trends; probably you know your boyfriend's choices, so splurge on him. Other than clothes, you can also gift him glasses, watches, wallets but something innovative and close to his heart.
Not just women like to go out for dinner, and even men wish to spend some quality time with their girlfriends; it can be a candlelight dinner, party or even it could be a private place where he can hold your hand without any hesitation. Treat him on a date night and make him feel cared for and loved.
Take him for a long drive.
Surprise your man by showing up unannounced and taking him on a long drive. Go to a memorable spot outside the city or drive through the streets listening to his favorite songs. Plan an outing where all he needs to do is sit back and relax.
Let him know his importance in your life.
As I said before, inclusive of understanding each other, realizing each other's importance in the relationship is also necessary. On this special day, make him realize his importance in your life.
This special day complements him on the things you find endearing, charming, and volatile about him. Tell him what makes him so special and brighten his day by dedicating it to all his success and achievements. Fortify your love towards each other by talking about your romance's early days and what made you fall for him.
As a girlfriend, you know what things will make your boyfriend happy. Arrange for a surprise party, invite all your friends or hang out with your friends and make sure that he enjoys the whole day by doing those things that make him smile from his heart. It was a day filled with things that he loved doing before but didn't find the time to do it anymore.
Tell him he is the best the way he is
Men love to get compliments from their partners; you must value their personality, appearance, behavior, and gesture. Appreciate him for all the love and care he expresses towards you.
Gift him the loveliest picture of you
The beautiful moments of your love life will be captured as a photograph, and the most special picture describing your love life can be gifted as a frame or some other kind of customized gift that uses the photograph.
This day you make the first move.
Passion and romance boost any relationship, so make each and every moment romantic. A recent survey informs that 80 percent of Men initiate the first move towards romance in a relationship on average. On this special day, you make the first move, hold his hands during walking, make yourself comfortable near him, kiss him passionately, express your love through your eyes, and show the intensity of your passion in every touch. Let him feel you're the one who deserves his love.
Surprise him through a scavenger hunt
Pen down your lovable sayings along with the clues of a scavenger hunt; those words will explore your love towards him. You can vary the size of the hunt according to your preference and gift. If you wish to play a simple scavenger hunt, then you can place the clues within your home or apartment; in case of making ideas to play a larger scavenger hunt, you can preferably use perfect hiding spots in the public places you commonly visit. The first clue must be kept in a common place where your boyfriend often goes.
Take him to a movie or a concert.
Consider getting tickets for a movie or a music concert or a live show, or your boyfriend's favorite sports game. Hide those tickets in his wallet or make a sticky note and fix it on the fridge or mirror. The best place to hangout is the movie theatre, where your love pops like popcorns.
Try cooking his favorite dishes and serve him.
They say a way to man's heart is through his stomach. So, if you are an expert in cooking, cook your boyfriend's best-loved foods, and serve them with more love. In case you can't cook, get his favorite food for him from his favorite restaurant. Your efforts will make him happier than the delicious food.
Spend as much time as possible
The time you spend together is what you gift your boyfriend on his special day; love is an emotional bond between two hearts. The more time you put into your relationship, it is returned as a memory for a lifetime.
Most of all, whatever surprises you do are where ever you hang out with your boyfriend, never fail to take a selfie or click a picture together and post it on your social media pages with the hashtag #NationalBoyfriendDay and #BoyfriendDay.
Interesting facts on National Boyfriend Day:
Here are some fascinating facts about Boyfriend Day,
The word boyfriend came to use in 1909, literally meaning "woman's paramour."
In the 1920s, the idea of dating originated; until the early twenties, people were interested in courtship, which was a community interest. As days passed and the idea of courtship began to fade, dating became the tentative step towards relationships.
In Japan, people celebrate White Day one month after Valentine's Day on 14th March and is celebrated inversely to 14th February, that is a person who received gifts on valentine's day returns gifts to those who gave them.
In South Korea, Black Day is enjoyed on April 14 for those who neither got any gifts on Valentine's Day nor white day. They treat themselves.
From the latest survey, it is known that 59% of people agree that online dating apps are a great way to meet people.
The amount of time taken by average women to say, I Love You to her boyfriend lasts between less than a month to 6 months; in exceptional cases, it will be 1 year. After 6 months of dating, a couple starts to focus on their future and wedding.
Couples fight because they lack time to spend together, small pet peeves, lack of communication, money, and variation in tastes.
A bond of 6 months is more than enough to decide your future with your dating partner yet; it is a proven fact that it likely takes 3 to 4 years to completely understand someone.
History of National Boyfriend Day:
National Boyfriend Day noticeably began on October 3, 2012. It was started by a group of Twitter users who decided to write appreciation posts to their boyfriends with the hashtag #NationalBoyfrienDay. We state that this day is totally an Internet-generated phenomenon.