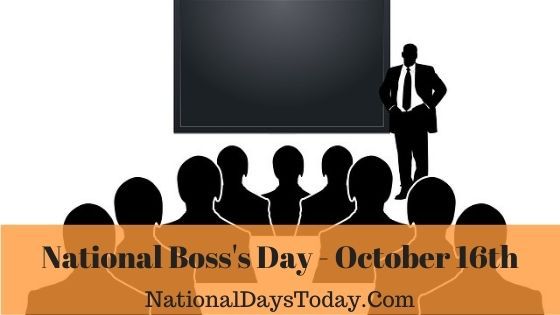 National Boss's Day:
Celebrated annually on or around October 16th, the National Boss's Day encourages us to appreciate our Bosses and the tremendous work they do to keep the organization running smoothly! So surprise your boss or bosses by celebrating Boss's Day at the office!
| | | | |
| --- | --- | --- | --- |
| Year | Date | Day | Where |
| 2023 | 16th October | Monday | United States |
| 2024 | 16th October | Wednesday | United States |
| 2025 | 16th October | Thursday | United States |
Twitter Hashtags:
#NationalBoss'sDay
#Boss'sDay
Related: Other National Days Celebrated on October 16th:
Why National Boss's Day?
We all do some of the other work for a living. In the US itself approximately 155.76 million people are employed as per 2019 records! So most of us have bosses who keep us employed or play managerial roles of supervising and guiding us and have bosses themselves.
We often fail to appreciate the efforts, risks, and struggles they take for the company. When things go wrong from the employee side, it is the employer who faces the brunt directly from the clients and is accountable to investors, stakeholders, and the government as well!
And the boss's role is such that it doesn't allow much space and time for employer and employee relationships. Thus the National Boss's Day is celebrated to appreciate our bosses' and their invisible efforts to keep our works going!
It is natural for us to assume that our employers are heartless robots but the truth is they are as human as we are! Their experience enables them to judge people rightly, mentor them and give leadership positions when they are ready! Some bosses have gone way beyond to help their employees in their personal lives as well.
This day has been celebrated for over five decades now. It was declared as an official holiday in 1962 by Governor Otto Kerner, four years later than when it was first registered with the U.S Chamber of Commerce.
National Boss's Day also received thumbs down as much as it received thumbs up as employees feel it is a holiday of unfair pressure as they expected to give gifts to a person who earns way more than them.
Experts suggest that gifting in the workplace should be from the upper-level management to the employees and not vice versa. The context here is that employees shouldn't feel obligated to give someone who has power over their earnings and bosses shouldn't be benefiting from their power dynamic this way.
You could also leave it to HR to take the lead in appreciating upper management in case you work for large companies!
So, today we can show our appreciation for everything they do as bosses in our little ways and not necessarily with posh gifts or parties!
Don't take unnecessary stress and celebrate our fair, and hardworking bosses!
How Can We Observe National Boss's Day:
Pitch in with your coworkers!
Pitch in with your coworkers to plan the day for your boss. You could check with his/her PA or secretary to understand their schedule for the day. You could all get a cute greeting card that conveys your appreciation and ask all your colleagues to sign their names! Or you could also chip in to buy a fun gift hamper or voucher!
Send your appreciation in writing!
If you are good with words, write an email or a lovely letter the old-fashioned way appreciating all that your boss does best!
Bake a special cake with your team!
Get to know your boss's favorite cake flavor and whip some cake with your team! It's a great way to present your team effort and not stress about the outcome!
Offer to help your boss today!
If you aren't sure of your boss's taste in gifts or flowers you could simply offer a helping hand with any tasks he needs today! Or keeping everything for him!
Give your Bosses a shoutout on social media!
Surprise your boss by tagging him on your social media for the best boss that he/she is! Help others understand the significance of Boss's Day as well! Use #NationalBossDay and #BossDay in all your posts today!
Interesting Facts About National Boss's Day:
The Dutch word 'baas' meaning master was what led to the word 'boss'.
Hallmark did not have a greeting card for Boss's Day until 1979. Today they offer nearly 56 different cards honoring bosses.
It is a controversial holiday.
It is not mandatory to give gifts to your boss on this day! 
History of National Boss's Day:
National Boss's Day was founded by Patricia Bays Haroski in 1958. Being employed as a secretary at her father's company she believed that bosses deserved to be appreciated for their efforts and sacrifices. She also aimed to create a better office relationship between employers and employees by making employees aware of the hard work, and dedication their employers and managers face. She chose her father's birthday – October 16th to commemorate this day! It was only in 1962 that this registration was backed by Governor Otto Kerner and was officially recognized as a holiday.