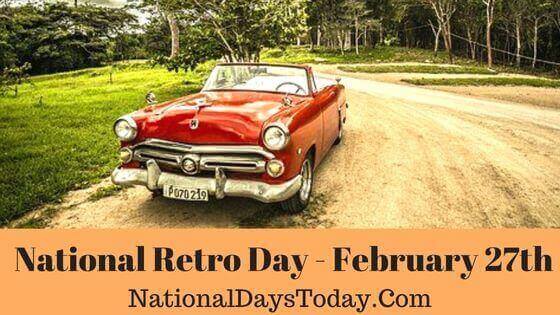 National Retro Day:
Every year the National Retro Day is celebrated on the 27th Of February. It is a day to celebrate the old times, much before smartphones and the internet, while still remaining in the present.
| | | | |
| --- | --- | --- | --- |
| Year | Date | Day | Where |
| 2023 | 27th February | Monday | United States |
| 2024 | 27th February | Tuesday | United States |
| 2025 | 27th February | Thursday | United States |
Twitter Hashtags:
#NationalRetroDay
#RetroDay
Related: Other National Days Celebrated on February 27th:
Why National Retro Day?
Every generation reflects on the past and says, "Remember when?" National Retro Day celebrates our nostalgia for the good old days while keeping us grounded in the present.
Choose a point in time when people talked more face to face than text to text, ate supper at home around the table, and the kids played non-internet games.
We spent more time focusing on each other while we were together because we didn't have smartphones, the internet, or social media. Each moment is saved in memory for us to look back on in the future, not for the entire world to see.
How can we observe National Retro Day:
Return to a time when face-to-face communication was the norm rather than texting, social media, and video chatting; when supper was more typically eaten around a table rather than in front of a television or with smartphones in hand; and when children spent more time outside and played activities that didn't require the internet. The day should be free of social media, smartphones, and the internet. Here are some suggestions for how to commemorate National Retro Day:
If you have a vintage automobile, truck, or motorcycle, make sure you use it.
Listen to vinyl, 8-track tape, cassette, or even compact disc music from the second half of the 20th Century. Choose a genre or an artist, or hear many of them. You can listen, including rock-and-roll, disc, soul, funk, punk rock, country, hip-hop, and pop, some popular genres of the past decades.
See a retro movie. From the 1950s, you might see the graduate, Strangelove: Or How I have Learned to Stop Worrying, And Love The Bomb, from 1970s, Taxi Driver, One Flew On Cuckoo's Nest, from 1980, you could watch back to tomorrow, the Goonie, Ghostbusters, from the 1990s; from 1980, you could see Back to The Future, The Goonies, and from the '90s, you could see the Taxi Driver. You might look to the Nest. If you'd truly like to see any of these shows or movies, it's best to view them on VHS or laserdisc, or perhaps a DVD or real movies.
Purchase clothes or wear a throwback. Styles are different depending on the era. In some retro outfits, bells, leather jackets, platform shoes, and fun outfits are frequently used.
One of the day's official tips is to share what you're doing in social media throwback using the #NationalRetroDay. That would be ironic, considering the Internet and smartphones should also be avoided throughout the day. You may be able to shoot photos of your experience with a vintage camera and then upload them online the following day.
Interesting Facts On National Retro Day:
Here are some intriguing facts to keep you entertained during the day!
The day was founded in 2017 when a man named Robert Duran in TEXAS saw his neighbor throwing away an old projection screen.
He contacted the National Day Calendar to find if there was any day celebrating the old retro lifestyle.
As Robert was the one who founded the day, National Retro Day is celebrated every year on Robert's birthday.
History Of The National Retro Day:
Somewhere in Austin, Texas, maybe late in 2017, Robert Duran resided in a four-room townhouse, with no space for any peace and tranquility. He took advantage of the garage, which he called his own place, and built the conventional "man-cave." One day, he saw a neighbor going to throw a projection screen away, and it started to rain. Robert knew Mitsubishi was unable to waste that projection screen and recognized the ideal place to call home. Obviously, the garage. Robert, a fan of video games, created the Nintendo Wii after putting up the projector and 55-inch screen and was able to download Nintendo Entertainment System (NES) games from the old school. The original Super Mario Brothers he chose this night.
The memory of carefree, simple youth and general innocence caught him by the koopas, the piranha, and the green tunnels. Like many other fantastic ideas in a garage, Robert's attitude was about to ask if "National Retro Day" had occurred? He could not locate anything that fulfilled the criteria after around 15 minutes of investigation and to Robert's amazement. He pushed it to a more profound level and wanted to know what firms or who ruled the day.
Soon afterward, the National Day Calendar authorized a validation submission known as Duran and worked on the following financial investment and content authoring stages. During this period, Duran could clarify his plans, as the National Day Calendar believed that he would only recall the past. Robert presented his ideas and aspirations and just let them realize that the National Retro Day is so much more than recollections. Nevertheless, on 27 February (Robert's birthday!), the National Retro Day was created and is honored every calendar year.