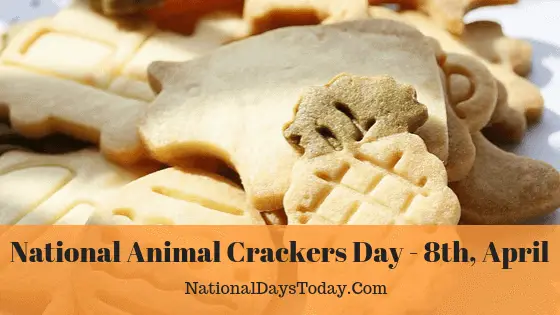 National Animal Crackers Day:
Celebrated on April 8th, every year. The day is to enjoy with Animal Crackers.
| | | | |
| --- | --- | --- | --- |
| Year | Date | Day | Where |
| 2020 | 8th April | Wednesday | United States |
| 2021 | 8th April | Thursday | United States |
| 2022 | 8th April | Friday | United States |
Twitter Hashtags:
#AnimalCrackersDay
#NationalAnimalCrackersDay
Why Animal Crackers Day?
This day is to celebrate and relish crunching sweet animal crackers. It is the time to adore your kid's quarel between each other to get over their beloved animal crackers.
How we can Celebrate National Animal Crackers Day:
An Animal cracker is a cookie/cracker prepared in the shape of animals to delight children and it mainly features animals in circus and zoo. Since 1902, 106 animal shaped crackers have been made, some of them include Giraffe, tiger, kangaroo, sheep, gorilla, monkey, bear, Seal, Elephant and Hippo.
Let's try out a delicious recipe to celebrate animal crackers day with your family.
Animal Cracker Fudge:
Ingredients:
Butter-3 tbsp
Vanilla white chocolate chips-12 ounces
Mini Marshmallows-10 ounces
Animal crackers crushed-1 cup
Whole Animal crackers-15 pieces
Chopped nuts, Mini M&M's, Dried fruits-1 1/2 cup
Sugar Sprinkles.
Preparation:
1)Take a medium vessel, fill half amount of water and heat it. Add butter, chocolate chips in a separate bowl and mix it well. Place this bowl on the vessel of boiling water. Remove excess hot water from thevessel if it is likely to enter into the bowl. Set the flame to medium-high. Stir the butter-chocolate mix occasionally with a rubber spatula till it gets melted. Add marshmallows to the butter-chocolate mixture and allow it to dissolve. Once it is done, take away the bowl from hot water and place it in a microwave at high temperature.After a minute, take the bowl from microwave and once again place it in the vessel of hot water. To the chocolate-marshmallow mixture, add crushed animal cracker pieces and nuts.
2.Line an 8×8 pan with an aluminum foil. Using nonstick spray, sprinkle oil over the foil. Fill the pan with the mixture prepared and spread it using a rubber spatula to make it's surface even.
3.On the top of the prepared fudge press whole animal crackers in serial rows. Spread some sugar sprinkles and mini M&Ms, press it so that it sticks well on the fudge. Let it cool for 1-2 hours.
4.Once it gets cooled, lift up the foil to take the fudge out and cut it into square pieces with one whole animal cracker atop per piece. Enjoy this delicious fudge with your kids and family.
Share your childhood memories on enjoying animal crackers using this hashtag '#animalcrackers' to post it on social media.
Interesting Facts About National Animal Crackers Day:
During the 19th century, animal crackers were imported from England to the US. Owing to the high demand for animal crackers, bakers in the US started to produce it on their own. In 1871,Stauffer's Biscuit Company in Pennsylvania started preparing slightly sweet animal crackers. In 1902, National Biscuit Company produced circus theme based animal crackers representing the animals in the Barnum and Bailey circus. Later these animal crackers were named and sold as 'Barnum animals'.
 In August 2018, Mondelez international company(Ancestor company of Nabisco) released a new design of its' Burnum animal crackers' wrapper box showcasing the animals freed from its circus boxcar cages. Following a suggestion from PETA, it has been redesigned with the images of animals zebra, lion, elephant, giraffe, and gorilla wandering in an African landscape.
 "Animal crackers" is a movie released in the year 2017, its storyline revolves around magical animal crackers.
 Dockers are the name of holes present in animal crackers. Dockers are made to let the air out from the crackers with an intention to retain the animal shape in crackers or else it would bulge like other cookies when it is baked.
 Every year, nearly 17 million animal crackers are sold in the US and foreign countries.
 In 1935, Sherly temple, an American Actress has sung the song "Animal crackers in my soup".Many companies use this song for branding their animal cracker products.
 Nabisco well known for Barnum animal crackers, always included bears, elephants, lions, and tigers in its product, from day 1 of its crackers production.
 In September 2002, On account of the 100th anniversary of animal crackers, a poll has been conducted to select either koala, penguin, or walrus in the crackers list, koala has been chosen based on the maximum number of consumer votes against other animals.
 A string attached over the animal crackers box is used to hang it as an ornament on the Christmas tree, along with colorful bells and balls.
History of National Animal Crackers Day:
Origin and creator of "National Animal Crackers Day" is not known.