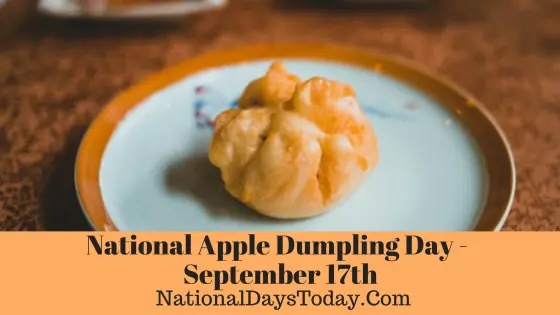 National Apple Dumpling Day:
National Apple Dumpling Day is celebrated on the 17th of September every year. This day is dedicated to all apple and apple dumpling lovers.
| | | | |
| --- | --- | --- | --- |
| Year | Date | Day | Where |
| 2023 | 17th September | Sunday | United States |
| 2024 | 17th September | Tuesday | United States |
| 2025 | 17th September | Wednesday | United States |
Twitter Hashtags:
#NationalAppleDumplingDay
#AppleDumplingDay
Related: Other National Days Celebrated on September 17th:
Constitution Day and Citizenship Day
Why National Apple Dumpling Day?
Being one of the most favorite fruits, apples are a part of many American desserts. In this case, apple dumpling takes a significant role. It became a common dessert dish among Americans. In fact, there are some special festivals that are dedicated to apple dumplings.
So, you can understand why observing this day is relevant for many people. Sweet lovers celebrate this day with full enthusiasm. And who would miss an opportunity to celebrate an event related to food?
On the other hand, apple dumplings also represent the culture of the country. And it's a good way to know more about the culinary history of our country.
How Can We Observe National Apple Dumpling Day:
When apple day can keep doctors away, celebrating this event can make your day more exciting. And the best thing is you can observe this day in many ways. On the other hand, you can also implement your ideas. Keep reading the following list to discover the best ways to observe this day:
You can't celebrate this day without tasting the best apple dumplings. Be it homemade or you want to visit a sweet shop, have your dumplings. If you are arranging a dinner party, make sure you include apple dumplings for dessert.
One of the best ways to observe this event is by preparing apple dumplings. You see, it doesn't take a lot of time to prepare this delicious dessert. For the recipe, you can get help from the internet. Making your own dumplings will be exciting. 
Kids love dessert. And it will be more exciting for them if you involve them in preparing the dessert. They can learn something new in this way. You can also share some interesting facts with them. 
First time celebrating this event? You can ask your friend to join you. Well, sharing food can be magical and you will be able to spend some time with your friend. If they can't come, you can also send apple dumplings. 
Visiting a local bakery is another way to celebrate this special day. As we noted before, you can take your apple dumplings by visiting a sweet store or bakery. Plus, you can have other desserts that are prepared with apples. 
There are so many desserts that are made with apples. If you have time after preparing apple dumplings, make sure you try another one. Hence, you can add some more ingredients to make it more unique. 
Make sure you share your celebration story on social media by using the #NationalAppleDumplingDay hashtag.
Interesting Facts About National Apple Dumpling Day:
When you celebrate a new event, you can learn a lot of things. There are some interesting facts about apples. When you learn about these facts, the celebration can be more exciting. Hence, you can share these facts with other people as well.
Apple is a patient fruit as an apple tree takes 3-5 years to produce the first apple.
China is the top producer of apples. According to a report, China produces almost 50% of the world's total production.
There was a time when the apple was used as a sign of love's confession. During the ancient Greek period, throwing an apple at someone was considered one's love.
After harvesting, apples can be preserved fresh throughout the year with agricultural facilities.
As per a report, the apple is one of the most popular fruits in America.
History of National Apple Dumpling Day:
Apple is a favorite fruit for many Americans. Hence, most people take an apple as the first fruit of the day. And an apple dumpling is a delicious pastry that can be prepared with peeled apples that are into quarters and wrapped in dough. It can be prepared either by baking or boiling.
You see, apple dumpling is a popular food item in the northeastern United States, especially in Pennsylvania. Most people take apple dumplings as breakfast or dessert. There is an Annual apple dumpling festival that is held in several towns in Pennsylvania. However, we have no idea when this day was first observed.