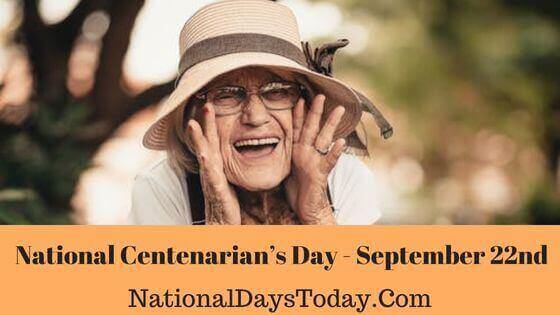 National Centenarian's Day
National Centenarian's Day is observed on 22nd September every year. This special day is dedicated to all those people who have reached the age of 100.
| | | | |
| --- | --- | --- | --- |
| Year | Date | Day | Where |
| 2023 | 22nd September | Friday | United States |
| 2024 | 22nd September | Sunday | United States |
| 2025 | 22nd September | Monday | United States |
Twitter Hashtags:
#NationalCentarian'sDay
#Centarian'sDay
Related: Other National Days Celebrated on September 22nd:
Why National Centenarian's Day?
Older citizens, especially centenarians, have contributed a lot to our society. Celebrating this special day is like a return gift. The key motive for observing this event is to appreciate and honor them.
On the other hand, they can add more value to our lives. For example, you can learn a lot about American history from them. Plus, celebrating this day with centenarians can give you a sweet memory. That's why we will share how observing this event can be a beautiful experience for you.
How Can We Observe National Centenarian's Day:
The best thing is there are so many ways to observe this day. And Americans try to do something unique every year. If it's your first time, you can also implement your unique ideas. That's why we will share our top ideas in the following list:
Spend a Whole Day With Centenarians
It's the only day in a whole year that honors centenarians. So, you have to do something beautiful to observe this event. And what's better than spending a whole day with them? Well, if you have someone in your family, it's a plus point. Or, you can find a centenarian from your neighborhood. 
One of the best ways to celebrate this day is by learning their life story. You see, old citizens have seen a lot of things in the past century. So, they have so many interesting stories. And you can take advantage by learning about the old days. 
Collect Their Favorite Recipe
Besides interesting stories, centenarians have some amazing recipes. In the advanced world, we are forgetting about traditional recipes. However, you have a chance to collect them from these older people. Hence, it's one of the best ways to celebrate this special day. 
It's a great opportunity to make our precious citizens smile. And they will be very happy to meet other people in their age group. If you have time and want to do something special, you can start a group chat with centenarians. In fact, you can learn a lot of things from them. 
If you want to add more fun, host a party. Make sure you invite all centenarians you know. Moreover, you can also invite people by using social media platforms. It will be a good way to show respect towards them. On the other hand, you can also collaborate with an organization to host a party. 
Last but not least, collecting photos is another unique way to celebrate this day. It will make them so happy. Besides 100 photos, you can also add 100 songs, 100 stories, 100 facts, and other things. 
Celebrating this day is a good way to honor centenarians. So, don't forget to share your story on social media by using the #NationalCentenariansDay hashtag.
Interesting Facts About National Centenarian's Day:
It's such an amazing celebration. If this is your first time observing this event, there are so many things to learn. The best thing is there are some cool facts about centenarians. In the following section, we will share these interesting facts about centenarians. Let's find out:
As per a report, the percentage of female centenarians is higher than male centenarians.
According to a survey, most old citizens are living in urban areas.
In the US, a state with more population has more citizens.
The centenarian population in the US is less diverse compared to other countries.
History of National Centenarian's Day:
The number of centenarians has increased over years. As per the UN's report, we have around 570,000 centenarians in the world. On the other hand, Japan has the highest number of above 100 citizens. And the country is expected to reach 200,000 centenarians by 2050.
As we noted before, National Centenarian's Day is celebrated to honor old citizens who have reached 100. You see, these precious citizens had a depressive memory of the World Wars. Plus, they have seen a lot of things in the last century.
This special day was founded by Williamsport Nursing Home. However, we don't have the exact data about when they started the event.