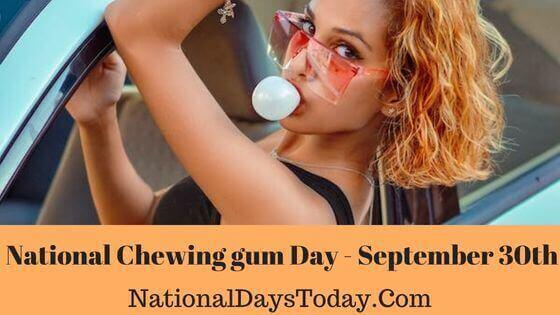 National Chewing gum Day:
Every year September 30 is designated as National Chewing Gum Day to celebrate with ever favorite chewing gums.
| | | | |
| --- | --- | --- | --- |
| Year | Date | Day | Where |
| 2023 | 30th September | Saturday | United States |
| 2024 | 30th September | Monday | United States |
| 2025 | 30th September | Tuesday | United States |
Twitter Hashtags:
#NationalChewingumDay
#ChewinggumDay
Related: Other National Days Celebrated on September 30th:
Why National Chewing gum Day?
The advantages of chewing gum are not limited to the health of your mouth alone. Having more saliva in your mouth might help restore the acid-base balance in your esophagus, therefore alleviating the symptoms of acid reflux.
Chewing gum is another possible remedy for dry mouth, at least in the short term. However, like reflux, it is not a cure for the condition.
Additional advantages to your health may be gained through chewing gum, such as:
Calories are being burned. Chewing gum may result in a calorie burn of up to 11 per hour—these tally up over time.
Improving the capacity of your memory. Chewing gum increases the amount of blood that flows to the brain, which may enhance memory.
They are combating feelings of tiredness. If you are feeling weary, chewing gum might help keep you attentive.
You are eliminating nausea. Chewing gum may make you feel better since it stimulates saliva production if you have a stomach-ache. This is particularly important to keep in mind while dealing with morning sickness or motion sickness when pregnant.
Several studies have shown that chewing gum may assist boost memory, lower stress levels, and raise attentiveness.
Chewing sugar-free gum helps improve digestion and dental hygiene while also reducing food cravings and making it easier to resist temptation.
To celebrate the existence of chewing gums, this day is being recognized.
 How can we observe National Chewing gum Day:
Spend the day commemorating this special occasion by purchasing a pack of your preferred flavor of chewing gum. Give some of it to your friends to share. You might also host a competition to see who can blow the giant bubble. When it explodes, make sure you don't get any of it in your hair.
Reminisce about chewing bubble gum. Recount the story so that everyone may listen to it, whether in the distant past or in more recent times.
Find out which bubble gum brands hold the most world records.
Record a video of yourself blowing your greatest bubble.
Treat yourself to some ice cream flavored like bubble gum.
Investigate the most effective methods for removing ice cream from your hair, furniture, or carpet.
Check behind your desk to check if any gory remnants from the people who came before you are still there.
Look for anything that has a bubble gum flavor to it. Take, for instance, a chopstick, some sweets, or some icing. What are additional products available with the bubble gum flavor or scent?
When posting on social media, use the hashtag #NationalChewinggumDay and #ChewinggumDay.
Interesting facts about National Chewing gum Day :
Although the rationale for the foundation of this day is intriguing, there is more to it than that.
In 1928, Freer Company worker Walter Dimer came up with the idea and created the first commercially available bubble gum. It was often referred to as Dabble Bubble.
Children are inspired to be charitable as a result of Bubble Gum Day. Schools are allowed to support a cause congruent with the institution's guiding principles.
In 1928, the first bubble gum made more than one million and a half dollars in sales, which was a significant amount of money.
History of National Chewing gum Day :
The origin of this day is not found however the history of chewing gum dates back to Neolithic period!
Many anthropologists think that chewing gum evolved via a convergent evolutionary cultural process, as shown by the fact that this activity has happened throughout history in various societies at the same time in different places. It is claimed that chewing gum dates back to the Neolithic Period, which occurred roughly 12,000 years ago. Researchers have discovered something like chewing gum in Kierikki, Finland, approximately 6,000 years old. The gum was manufactured from birch bark tar. Because teeth impressions can still be seen in it, they could deduce that it had been eaten. 
In addition to gum derived from the mastic tree resin, many other civilizations chewed gum made from plants, grasses, and other resins.
In 1848, "The State of Maine Pure Spruce Gum," which was the first chewing gum to be sold commercially, was created by John B. Curtis and marketed by that name.
Around the year 1850, a gum manufactured from paraffin wax was discovered. This gum quickly became more popular than spruce gum.
William Simple submitted a patent application for chewing gum on December 28, 1869, which was given the number 98,304.
It doesn't have to be challenging to celebrate National Bubble Gum Day. A simple act of sharing a bit of bubble gum with a friend, family member, or colleague may suffice. Blow some bubbles using some of your favorite bubble gum brands, such as Hubba Bubba or Double Bubble.