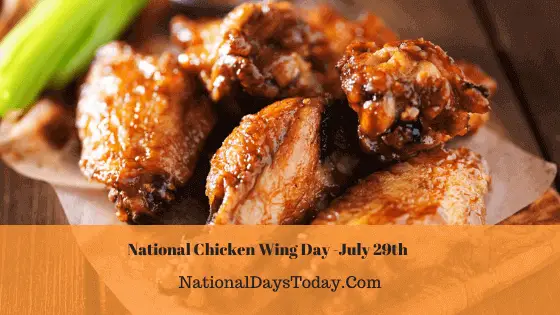 National Chicken Wing Day:
Celebrated on July 29th every year. This day is to admire the American's favorite dish, Chicken Wings, a widely consumed poultry meat.
| | | | |
| --- | --- | --- | --- |
| Year | Date | Day | Where |
| 2023 | 29th July | Saturday | United States |
| 2024 | 29th July | Monday | United States |
| 2025 | 29th July | Tuesday | United States |
Twitter Hashtags:
#NationalChickenWingDay
#ChickenWingDay
Related: Other National Days Celebrated on July 29th:
Why Chicken Wing Day?
This day is to admire the American's favorite dish, Chicken Wings, a widely consumed poultry meat. Whether it is hot and sweet or spicy, we love it. What more we need than chicken wings. Right! Despite, we love chicken delights like lollipops, liver fry or whatever, our love for the wings is immense.
The crispy drumsticks, when dunked in mayonnaise, make us to slurp in no time. Many restaurants on this day in the United States offer chicken wings at discounted deals.
How we can Celebrate National Chicken Wing Day:
Well, we all know how to celebrate this. Go to some fine restaurant, which is famous for Chicken wings with your friends and families. Enjoy the chicken wings with mayonnaise and sauces. You can also prepare chicken wings at your home.
Here is a simple recipe for you. Chicken Wings Recipe:
Ingredients:
Chicken Wings -10 in number
Soya Sauce – 3 teaspoon
Ginger paste – 2 teaspoon
Garlic paste – 3 tablespoons
Quarter cup of Corn flour
Sweet pepper powder – 2 teaspoons
Vinegar – 1 tablespoon
Sugar – 1 tablespoon
Garlic – 5 cloves, finely chopped
Chillies – 2
Preparation Method:
Step 1: Take a bowl; add a pinch of salt, ginger paste, garlic paste and sweet pepper powder.
Step 2: Add chicken wings and mix well. You can add little amount of oil to set it well. Marinate it for half an hour.
Step 3: Take a chicken wing gently from the mixture and coat it well with corn flour.
Step 4: Preheat the oven and place the chicken wing on the baking tray. Follow the procedure for all the chicken wings and place it on the baking sheet.
Step 5: Bake it until it turns golden brown or for 15 minutes.
Step 6: Take a saucepan, add chillies, chopped garlic, vinegar, and sugar and soya sauce. Stir it well.
Step 7: Add the baked chicken wings and gently stir it to mix well.
Step 8: Transfer it into a serving plate and sprinkle white sesame seed. Serve hot with tomato sauce, mayonnaise and chilli sauce. The sugar gives a bit sweet taste.
Enjoy this day with hot delicious chicken wings.
Interesting Facts About Chicken Wing Day:
Fried chicken wings are low in cholesterol but the flying process nullifies the protein present in the chicken wings. Otherwise, it acts as a great source of protein. A normal sized chicken wing consisted of nearly 8 to 9 grams of protein approximately. As reported by U.S Department of Agriculture, the fried chicken wings with skin and coated with batter has 160 calories approximately.
However, removing the skin before the preparation could reduce a considerable amount of calories. Avoiding batter further deplete calories. Chicken is an Anti-depressant agent since it consists of high proportion of amino acid and that is the reason we often experiences a satisfaction after consumption since it boosts our mind.
It provides a great bone strength and further, it represses the homotysteine level, which helps in the regulation of heart functioning. Moreover, the phosphorous present in the chicken improve the nervous system, kidney, liver and teeth functions. In addition, the selenium helps in better immune system. The presence of Niacin plays a vital role in preventing cancer. The enormous amount of vitaminB6 present in the chicken prevents cardio-vascular diseases.
Chicken is American's favourite meat. A report says that the Americans rank first in chicken consumption. As of 2016, an american averagely consumes 92 pounds of chicken per year.
Famous chicken wings restaurants in the United States:
CRISP: The restaurant, famous for heavenly interior and harmonious music, is situated in Chicago, Illinois. The chicken wings are prepared with Korean cuisine combination making it a definite feast. Just make your time to crisp if possible.
KOCHIX: The Korean based restaurant located in Washington, DC is famous tor Korean style preparation of chicken wings. Other than Wings, it is also famous for some of its other delights. Commonly noted as the best in the city, this restaurant strikes our list for its combo deals.
MONTE CARLO: Located in Minneapolis, Minnesota, it is famous for its secret spices as ingredients. The ingredients are kept secret making it a unique delight. Head out to Monte Carlo, if you are at Minneapolis.
MORIARTY'S PUB: Located in Philadelphia, Pennsylvania, it is an Irish pub famous for chicken wings and one of the best restaurants in Philadelphia. The combination chicken wings, music and beer give you more pleasure.
ANCHOR BAR: Anchor Bar is the pioneer in chicken wings recipe; it is located in New York and considered as the best chicken wings in all over United States.
Also, have a note that, a new study has found that, not only the fried chicken wings, but also eating fried foods lead to the severe increase in body mass index eventually resulting in obesity. Therefore, it is not a diet friendly food.
History of Chicken Wing Day:
Buffalo wings, a famous chain restaurant established this day in the year 1997. It is well-known for its different versions of Chicken Wings and Buffalo wings varieties. Further, it established restaurants like Anchor Bar, Wings n Things, Duff's which, and all are famous for Chicken Wings and Buffalo wings.