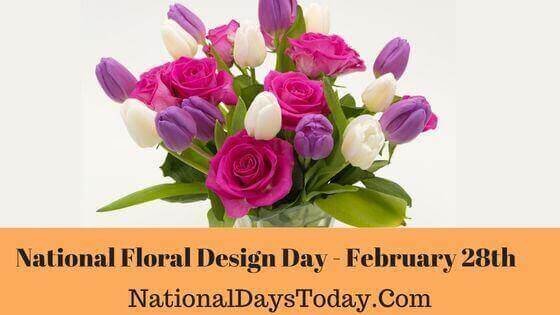 National Floral Design Day:
Celebrated every year on the 28th of February is a celebration of the art and history behind floral designing for many years.
| | | | |
| --- | --- | --- | --- |
| Year | Date | Day | Where |
| 2023 | 28th February | Tuesday | United States |
| 2024 | 28th February | Wednesday | United States |
| 2025 | 28th February | Friday | United States |
Twitter Hashtags:
#NationalFloralDesignDay
#FloralDesignDay
Related: Other National Days Celebrated on February 28th:
National Chocolate Souffle Day
Why National Floral Design Day?
Flowers are among the few things that get everyone's attention while also ensuring that the place turns lively by its mere presence. And when presented in the art form, they are the most eye-catching. The floral design has been an important form representing our culture for a long time now and it is inevitable that we celebrate this beautiful art. The National Floral Design Day is celebrated to commemorate this special art while also paying homage to all the floral designers.
How Can We celebrate National Floral Design Day:
Floral designs and floral arrangements are found across many places including gardens, buildings, and even in bouquets, and can be used for other occasions. When presented in the most artistic form, these can literally make the place and the day special. On the National Floral Design Day when we are celebrating the flowers and their artistic designs, here are some tips on how you can make this day special.
Indulge in creating your own floral design or learning to create one that highlights your favorite flowers.
You can also give a shout-out to a floral designer in your locality or share your ideas on floral designing on this day.
You can use this day to learn more about flowers and the meanings behind them, also on which flowers suit which occasions, etc.
Share information about the National Floral Design Day and how it brightens our lives on social media.
Floral designers need to have a good eye and perspective for the art form to be successful. Remember to use this day as a way to remember and honor their contribution to brightening and bringing color to our lives.
Remember to use the hashtag #NationalFloralDesignDay when you post about your celebration or when you share your ideas on this day over online forums.
Interesting facts about National Floral Design Day:
Being an industry that grosses billions of dollars every year, floral designing finds its place in many areas including bridal bouquets to historical gardens and landscapes. Having the right floral design can easily brighten up space around you and also add a touch of liveliness to your life.
On the National Floral Design Day, we bring some interesting facts about flowers which is how the floral design came into existence.
The oldest flower in the world is in China. It is the Archaefructussinensis whose fossil was discovered around 2002 and it bloomed more than 125 years back in China.
Known as the corpse flower, the Sumatran Titan Atrum has a smell that will remind you of dead bodies and hence the name. This is probably the only flower to leave an unpleasant smell.
In Russia, until a couple of hundred years ago, tulips were gifted to Valentines and the trend of giving roses came into existence quite recently.
So far, there have been more than 270000 flowers discovered by scientists of which 35000 are from the family of roses.
During the 17th century, the tulips were considered more precious and expensive than gold and silver in Holland. In fact, the cost of one bulb of Tulip was around $2000 at that time. However, the price has gone down since then and they are used as a replacement for onions in certain dishes in the country.
You would be surprised to know that roses are actually relatives of fruits and almonds.
History of National Floral Design Day:
Carl Rittner, who founded the Rittners School of Floral Design is the reason behind the celebration of National Floral Design Day. The institute which is located in Boston, initiated the celebration of his birthday as a special day to commemorate the floral design as an art form. The day was celebrated both by the Floral Design School and also by Mr. Rittner to honor floral designing. It was in 1995, when Governor of Massachusetts, William F. Weld announced this day as the National Floral Design Day and it has been celebrated ever since every year.