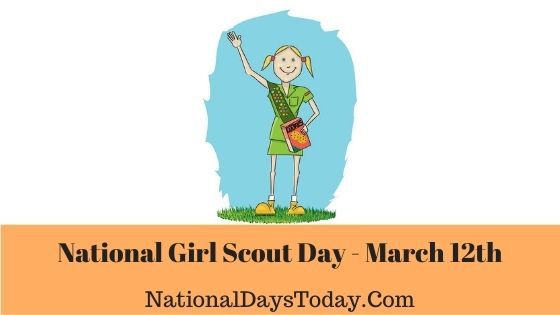 National Girl Scout Day:
The national girl scout day is a unique celebration of America's girl scouts, which is celebrated on 12th March every year.
| | | | |
| --- | --- | --- | --- |
| Year | Date | Day | Where |
| 2022 | 12th March | Sunday | United States |
| 2023 | 12th March | Tuesday | United States |
| 2024 | 12th March | Wednesday | United States |
Twitter Hashtags:
#NationalGirlScoutDay
#GirlScoutDay
Related: Other National Days Celebrated on March 12th:
Why National Girl Scout Day?
The "National Girl Scout Day" is when the first-ever girl scout in the history of America was formed by a woman named 'Juliette Daisy Gordon Low.' There were initially 18 girls that gathered in Savannah, Georgia, on 12 March 1912. And now, if we look at the number, the community has grown to around 3.7 million. This is a tremendous achievement for the cause.
The day's motto is " Be prepared," which symbolizes being ready to serve society and do something good. The same implies to the slogan, which says, "Do a good turn daily." The day focuses on enhancing the strength and courage of women. It is about a hundred-year-old concept that is still successfully prevalent in the United States of America.
Every year, adorable American girls from the age group of 5 to 18 gather in groups or known as troops. They do different activities like camping, community services, etc., all together. Young women celebrate this day to make themselves more independent and responsible. The motivation behind this organization is quite high. They have certain goals to achieve, which is to enhance the self-esteem of the women who are becoming a part of it.
This girl scout thing has somewhat become an organization in which people become members. Several interesting things are taught as part of this cause, like training of basic things that help society like building some generic shelter or creating a bonfire or doing first aid in case of emergency.
The girls also offer cookies as a part of the celebration of the day. And they wander from door to door selling these cookies. It brings out feelings of kindness and a sense of giving to society since food is a privilege for many.
This is a wonderful day to witness women's empowerment and enthusiasm. There is so much positivity that is spread due to this cause that it inspires all the people globally.
It is the day that glorifies the legacy of girl scouting. It is celebrated with so much enthusiasm and zeal by the 3.7 million members.
How can we observe National Girl Scout Day?
To engage in the celebration of this day, different activities could be performed. The motive behind all such activities is the same that is to serve society and to empower women. On this day, activities like
doing the first aid of a person with some injury,
creating bonfires,
building temporary shelters to keep oneself safe,
serving food in the form of cookies,
teaching the significance of different organic fruits and vegetables is carried out by the girl scout member.
If you are capable of teaching, you can, and if you want to be a learner, that is also possible for you. This organization also raises money by organizing various events like marathons, so if you participate in such events, you can also be of immense help. Simply supporting the cause and doing the best, you can be a contribution.
Post photos and videos of your favorite activities using #Nationalgirlscoutday and #Girlscoutday on your social media pages today!
Interesting facts on National Girl Scout Day:
Some of the super awesome facts about the Girl Scout Day we are sharing here. Hope you'll like them!
This concept of forming Girl Scouts is about 100 years old.
The Girls Scout is actually an institution in America.
The members of this organization are currently around 3.7 million.
The sign of the Girl Scout is three fingers showing promise.
There were many celebrity alums of this organization.
You can actually visit the birthplace of the founder of this day.
On this day, nearly 200 million packets of cookies are sold by the Girl Scouts.
History of National Girl Scout Day:
The history of National Girl Scout Day is dated back to 12 March 1912 when a girl named Juliette Low decided to do something for her society to make them feel more confident and skilled. This is why she started by forming a troop of 18 girls, and they all committed to performing activities in order to serve society. There are multiple activities performed on this day, but the motive behind them is the same to empower women of America.
The Girl Scout is a national organization run by women and women from this organization's membership. They wear uniforms and indulge in outdoor activities. The original name of this organization was "Girl Guides of America." Then it was changed to the Girls Scouts of America. Millions of women are associated with this cause worldwide through its organization named "USA Girls Scouts Overseas."