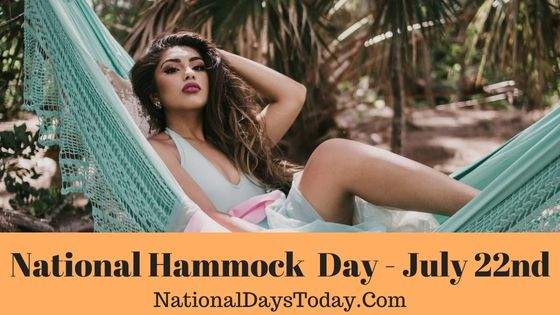 National Hammock  Day:
Every year on July 22, National Hammock Day is observed to honor the global expression of relaxation.
| | | | |
| --- | --- | --- | --- |
| Year | Date | Day | Where |
| 2023 | 22nd July | Saturday | United States |
| 2024 | 22nd July | Monday | United States |
| 2025 | 22nd July | Tuesday | United States |
Twitter Hashtags:
#NationalHammockDay
#HammockDay
Related: Other National Days Celebrated on July 22nd:
Why National Hammock Day?
Obviously, hanging a hammock and climbing into it is an easy way to celebrate National Hammock Day. However, there may be some other more intriguing ways to get up higher and extend your day's enjoyment. Try some of these inventive ways, or come up with your own, to give National Hammock Day the place it deserves:
National Hammock Day is growing in popularity across the world, particularly in the outdoor activity, climbing, and outdoor living subcultures.
We have to concede, one of the nicest things about being a kid was taking afternoon naps. Through this day as an excuse, you can take an adult siesta without feeling guilty. A 20-30 minute sleep can help you in improving your mood, attentiveness, and productivity.
How Can We Observe National Hammock Day: 
There is no better way to enjoy the day than by sitting back and relaxing in a hammock. The hammock is now widely associated with summer, enjoyment, relaxation, and simple, carefree life. So fetch a good book, kick your feet up, and unwind!  Bring your own or borrow a hammock to mark the occasion. 
To post images of yourself relaxing on a hammock on social media, use the hashtag #NationalHammockDay or #HammockDay. 
Some people are more fortunate than others . If you're one of the lucky ones, relax and enjoy the simplicity and tranquility of hammock lounging.
Interesting Facts of National Hammock Day: 
Some facts of Hammock: 
Hammocks have a long and illustrious past. Hammocks have been attributed directly 1000 years to Central America, according to some scientists.
A hammock Day  serves as a gentle reminder to slow down, enjoy, and keep things simple. Simply soak it all in and appreciate the rare moment of aloneness, something we could all use more of in the midst of our stressful work days and weekend schedules.
After Columbus 'discovers' hammocks day  in Latin America, the first reference of them comes.
Hammock originated from an Arawakan phrase from the Northeast district civilization that means "to rest."  "stretch of cloth" in the Caribbean, and was managed to acquire from it by Spanish.
To conserve trees, certain countries, such as California and Maryland, have begun to prohibit hammock day  in public parks and on university campuses.
Because life may be so chaotic, self-care is essential. So, relax and recuperate from all of the chaos.
Whatever the facts are, one thing is certain: the hammocking Day  revolution is a timeless fad that isn't going anywhere anytime soon!
History of National Hammock Day:
 History of Hammock Day could not be traced; however, People have loved napping and resting in hammocks strung together between two trees since the 13th century. The Taino Arwakan term "fully the benefits" superficially  resembles "Hammock.". Hammocks were traditionally fashioned from the bark of the Hammock tree, thus the name. Though hammocks are prevalent all throughout the world, their popularity is likely at its pinnacle in Latin America, Some believe that hammocks represent the laid-back "comfortable lifestyle" that is so popular in those countries and the Caribbean.
 This one was invented by Middle and South American Americans, who termed them "Hamacas" in Taino. The hammock was first identified in the Bahamas by Columbus. People were sleeping in nets between the trees," he saw in 1492. He carried the hammock back to Europe, where sailors began to use it often because swinging while hung in the air provided a sufficient amount of sleep than sleeping on the filthy ship floor.
For some, the hammock is now a bed, while for others, it is a symbol of relaxation. With their elegant materials and colors, popular companies like Multiple values have made hammocking fashionable. Many individuals nowadays regard hammocking to be a sociable activity or a place to unwind. Hammocking may be a nice way to spend time with your closest friends and family. We hope you enjoy National Hammock Day no matter where, how, or with whom you spend it.
Hammocks at work are getting increasingly popular. Some of the world's most well-known corporations opted to think outside the box and installed hammocks over luxurious carpet to allow its staff to recharge for the second part of the day. Productivity is built on a foundation of feeling rested. Remember to acquire your boss's approval beforehand.