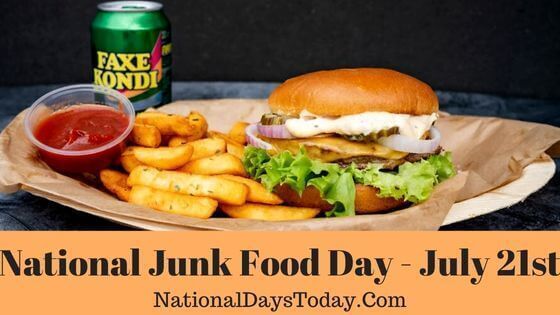 National Junk Food Day:
National Junk Food Day is celebrated on every July 21st to celebrate our biggest enemy, Junk Food!
| | | | |
| --- | --- | --- | --- |
| Year | Date | Day | Where |
| 2023 | 21st July | Friday | United States |
| 2024 | 21st July | Sunday | United States |
| 2025 | 21st  July | Monday | United States |
Twitter Hashtags:
#NationalJunkFoodDay
 #JunkFoodDay 
Related: Other National Days Celebrated on July 21st:
Why National Junk Food Day?
"Junk Food", a fearsome term! We can see a consistent number of consequences due to the intake of Junk Food. No one is an exception. At some point every one of us would have carved for a street food at least once in our life despite knowing the fact that its totally unhealthy! We can see many people or even some of us would eat junk food irrespective of health impacts, if you are one among them, then this day is for you!
Yes! Eat Junk Food! But only today! Just once in a year! Even small children now adays die because of cancer due to junk food, not only they die, but alarm us to keep our children safe!
Taste always outsmarts our practices, a plate of junk food not only add calories, but also toxic substances! And of course, on some time, is okay than always!  We all know that junk Food is the tastiest food than our home made, but at the same time, the oil proportion and other toxic ingredients severely deplete our cells.
Eat Junk Food Today! Only once every year!  Overcome your temptations to avoid needless health complications.
How can we observe National Junk Food Day?
Eat: Eat your favorite junk food. This is the most straightforward and pleasurable way to remember National Junk Food Day. The day is about ignoring all the health guidelines and indulging in guilty pleasures such as pizza, French fries, ice cream sundaes, and cheeseburgers. But never forget that those are junk foods, so should not be eaten regularly!  The creator must have created in a good intention that once a day is designated to it, then people might do only on that day!
Host a Party: host a junk food buffet for friends or spend time alone watching movies and eating junk food. This implies you may consume as much as you want of chips or other junk meals as long as you don't overdo it, specifically if you have health conditions that prevent you from consuming harmful foods. 
List out: List out Your junk food that you always prefer!
Some of the popular junk food in U.S,
Ice Cream
Fried Chicken
Hamburgers
Hot Dogs
Pizza
Tacos
Donuts
French Toast
Potato chips
Waffles
Burritos
Share your favorite junk food using hashtags #NationalJunkFoodDay and #JunkFoodDay on social media.
Interesting facts about National Junk Food Day:
Let's see some of the facts about Junk Food as a part of exploring this day,  
The word "junk food" was first used in the 1960s, but it gained popularity in the 1970s when the song "Junk Food Junkie" hit the top of the charts.
Americans eat 22 teaspoons of sugar per day on average, the majority of which comes from high-fructose corn syrup found in beverages and candy bars.
Cracker Jack would have to be the original American junk food. In 1893, Louis and Frederick Rueckheim launched this invention at the Chicago World's Fair. People found the salty and sweet combination of peanuts, popcorn, and molasses enticing, and it quickly became highly popular. By 1916, this junk food had become not just the best-selling snack in the United States, but also the entire world.
While it may appear that eating ice cream is a great method to cool down, the high fat content of the sweet dessert actually heats the body.
Vanilla is the most popular ice cream flavor, according to member firms of the International Ice Cream Organization. The next most famous flavors were Chocolate Chip Mint and Cookies & Cream.
Every year, Americans consume around 20 billion hot dogs, or roughly 70 hot dogs per person.
Junk food first entered the American diet in the 1920s, but it wasn't until after WWII that junk food became more widely available, prompting nutritionists to become worried.
According to a poll conducted by a children's food campaign, some infant food has as much, if not more, saturated fats and sugar than junk food.
French fries are not native to the Americans. In fact, they were created in Belgium in 1876. The term "French" refers to the manner potatoes are chopped before being cooked.
Risk of obesity is the major complications of Junk Food that Americans face today. Potato chips is the one of most popular junk food which far ahead from healthier intake.
A Research concluded that around 400000 children and adolescents of 0-19 years develop cancer which is closely attributed to junk food. After infancy, Cancer is a serious threat to American children.
As per the statistics of recent study, around 39% of Americans just don't like Junk Food or snacks.
History of National Junk Food Day:
The origin and the founder of this day are unknown but the Junk food was Popularized in the U.S in the 1950s itself.
Junk food is a word that describes food that is high in calories but low in nutritious value. The term was popularized in the United States in the 1950s and is now frequently used to describe overly processed meals that are rich in sugars, fats, and salt.
The phrase "junk food" is in use only after 1972. Sure, unhealthy foods existed before that, but the phrase "junk food junkie" wasn't coined until Larry Croce's song "Junk Food Junkie" was published in 1976, and it didn't enter the public vernacular until then.
Since people travel and dine out more, fast food businesses and the frozen food aisle exploded in popularity. Junk food, on the other hand, did not have this poor reputation until the 1970s. However, it was only in later years that junk food is termed as unhealthy due to the unhealthy ingredients that are just added for color, flavor and taste without considering health benefits.
This day, Just urges to eat junk food only on today and it might have been created just in case, the creator believed that if there is a day to do a thing, means it need not to be done on other days.