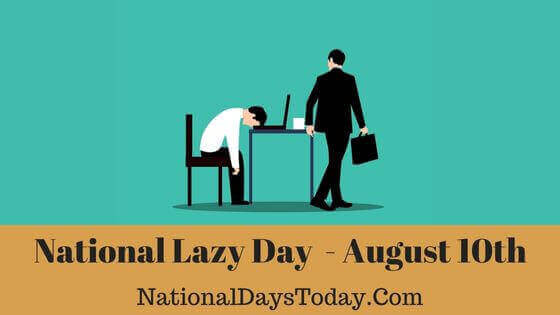 National Lazy Day:
Lazy Day can be described as a day of relaxation observed in the United States, and maybe elsewhere, on August 10. It's a day that allows people to unwind from their routine work and enjoy all day doing nothing. It's the perfect day to be a lazy couch potato or loafer.
| | | | |
| --- | --- | --- | --- |
| Year | Date | Day | Where |
| 2023 | 10th August | Thursday | United States |
| 2024 | 10th August | Saturday | United States |
| 2025 | 10th August | Sunday | United States |
Twitter Hashtags:
#NationalLazyDay
#LazyDay
Related: Other National Days Celebrated on August 10th
Why National Lazy Day?
We're exhausted
We need a day off to relax, and our goal is to accomplish this in the shortest amount of effort feasible.
It's great for us.
Medical science and science have the same result: we work too much all the time. The day reminds us to take a step back, relax, inhale and be relaxed and happy at least once in a while.
We can connect.
Being aware of this day means reconnecting with what we cherish — such as family and the beautiful outdoors. Be sure to observe this day regardless of whether you're with your family, outdoors in nature, or don't perform anything. Just. Be. Lazy. At least once in your life.
How Can We observe National Lazy Day?
There are many ways to celebrate this day.
Do nothing, relax, Do nothing, relax or slack and then procrastinate.
Please don't do any work you cannot do the next day.
Instead of cooking, grab a bite to eat and relax in front of the TV, watching back-to-back episodes of your favorite television show.
You can lie in bed all day and don't bother responding to messages and phone calls.
It is also possible to watch the comedy film of 1929, Lazy Day.
Use the hashtags #NationalLazyDay and #LazyDay to share your thoughts regarding Lazy Day on social media.
Interesting Facts About National Lazy Day:
Even though it's one in which we are supposed to perform nothing, however, we decided to look into the subject of laziness. During the research, we came across several interesting facts about sloths confirmed by current research. If you're looking to know more about laziness as you did before when you went on vacation, stay with us because it's sure to be an enjoyable journey.
Some People Are Born To Be Lazy
According to research findings, certain people have the "laziness" gene. The gene mutation is connected to dopamine receptors located in the person's brain. Dopamine is a key component of an individual's desire to exercise, which could be why certain people are slow to do their work.
Sometimes It Pays To Be Lazy
There are a few situations where it is beneficial not to be lazy—for instance, two mice who want to steal cheese from a trap. One mouse has been devoted to grabbing the cheese and, consequently, is hit in the face by the trap. The second mouse waiting in the wings to watch what happens will be a bit more relaxed and grab the cheese for himself.
This isn't just an interesting, though not a snarky observation. Early man didn't always leap straight into the middle of the action. There were times when the people who initially jumped in were struck dead by the circumstances. Most of the time, those who intervened later, after observing what had happened to them, were capable of securing their lives.
Laziness Can Lead To Increased Creativity
When someone is working, their brains are occupied with working on the task in front of them. This doesn't give the brain ample room for creative, imaginative thought. The brain's activity is only at its peak when it's relaxed that the amazing imaging capabilities of the brain are released. This allows ideas to rise into the air.
Laziness Depends On Perspective
Of course, some might say that laziness does not exist in the first place and that it's just a word that people use to denigrate other human beings. If this is the scenario, everyone should enjoy this day without guilt! Put on your pajamas and relax and enjoy the rest of your day.
History of National Lazy Day:
The history behind National Lazy Day is unknown. We researched the subject but were lazy and didn't go into detail. It is possible that the people who created the holiday were too busy to write down the motivation behind the idea. All we know is that it's observed on August 10 by being a bit slack.
The entire point is to be lazy, good-for-nothing, and unwind. This is when nobody can make you feel out for laying at home all day long or sitting on the couch in front of the TV, snacking on food. We're not asking you to step out of your comfort zone.
However, a few extras can provide you with entertainment, for instance, listening to the song from 2010 by Bruno Mars, titled 'The Lazy Song', or picking up a copy of "The Myth of Laziness" by Mel Levine to understand better the myths that surround laziness and its effect on productivity.
While it's not appreciated, laziness is a blessing. Sometimes, it's not because a person is lazy, but that they'd rather put aside their energy for essential things. The lazy are generally healthy and enjoy the benefits of restorative sleep, including better memory, less stress, a better focus, and reduced inflammation.
The great thing about laziness is that you're less likely to be burned out. Being lazy can allow your body to replenish and restore energy and balance, and it can cause depression, insomnia, and long-term fatigue.